Abstract
We report the case of a 64-year-old woman with recurrent mediastinal dedifferentiated liposarcoma. She had undergone surgical resection twice. Subsequently, on regular follow-up visits, chest computed tomography demonstrated a third local recurrence of the tumor with invasion into adjacent intrathoracic organs. Adhesion of the heart to the anterior chest wall through a pericardial defect that had been inadvertently created at the second operation was suspected. We decided to use a thoracoabdominal approach with four-dimensional computed tomography (4DCT) for preoperative guidance. The patient had also undergone MRI; however, the result was equivocal regarding adhesion of intrathoracic organs. The use of 4DCT enabled successful en bloc resection of the tumor. Results of the pathology examination showed complete resection of a dedifferentiated liposarcoma. The patient's postoperative course was uneventful, and she was discharged on postoperative day 19.
This is a preview of subscription content, log in to check access.
Access options
Buy single article
Instant unlimited access to the full article PDF.
US$ 39.95
Price includes VAT for USA
Subscribe to journal
Immediate online access to all issues from 2019. Subscription will auto renew annually.
US$ 99
This is the net price. Taxes to be calculated in checkout.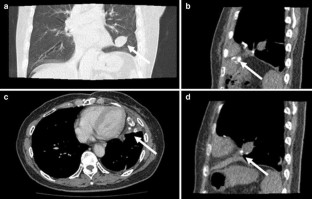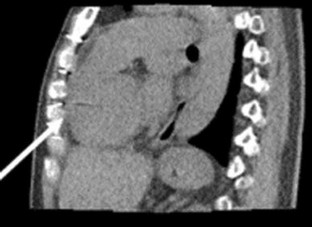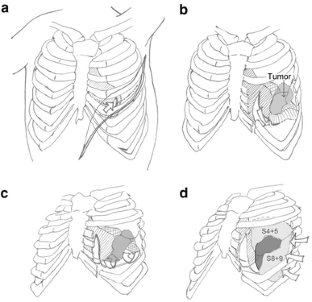 References
1.

Dei Tos AP. Liposarcoma: now entities and evolving concepts. Ann Diagn Pathol. 2000;4:252–66.

2.

Schweitzer DL, Aguam AS. Primary liposarcoma of the mediastinum. Report of a case and review of the literature. J Thorac Cardiovasc Surg. 1977;74:83–97.

3.

Wong WW, Pluth JR, Grado GL, Schild SE, Sanderson DR. Liposarcoma of the pleura. Mayo Clin Proc. 1994;69:882–5.

4.

Italiano A, Toulmonde M, Cioffi A, Penel N, Isambert N, Bompas E, et al. Advanced well-differentiated/differentiated liposarcomas: role of chemotherapy and survival. Ann Oncol. 2012;23:1601–7.

5.

Jae SS, Young JK, Byoung WC, Kyu OC. Usefulness of magnetic resonance imaging for evaluation of cardiovascular invasion: evaluation of sliding motion between thoracic mass and adjacent structures on cine MR images. J Magn Reson Imaging. 2005;22:234–41.

6.

Eisenstat R, Bruce D, Williams LE, Katz DS. Primary liposarcoma of the mediastinum with coexistent mediastinal lipomatosis. AJR Am J Roentgenol. 2000;174:572–3.
Acknowledgments
We thank Dr. Mitsugu Omasa, Department of Thoracic Surgery, and Dr. Takeshi Kubo, Department of Diagnostic Imaging and Nuclear Medicine, Kyoto University Hospital, for arranging and analyzing 4DCT. We thank Prof. Dr. Kohei Yokoi, Nagoya University, for providing us with former operation records and Prof. Dr. Kouichi Kaneko, Saitama Medical University, for presentation of the patient's latest clinical course.
Conflict of interest
All the authors have declared no competing interest.
Electronic supplementary material
Below is the link to the electronic supplementary material.
Video 1: Four-dimensional computed tomography (4DCT) suggests that the tumor is infiltrating adjacent organs. 4DCT shows the synchronized movement of the tumor with the surrounding structures, including the diaphragm, anterior chest wall, pericardium (left, mediastinal condition), and lung (right, lung condition), suggesting adhesion and probable invasion of the tumor into these structures. The left panel also shows synchronized movement of the lung and the chest wall, suggesting that pleural adhesion is likely caused by previous operations. (WMV 971 kb)
Video 2: 4DCT suggests separation of the heart from the chest wall. It demonstrates non-synchronized movement of the heart and the anterior chest wall, suggesting separation of these structures. (WMV 867 kb)
About this article
Cite this article
Fujimoto, R., Sato, M., Miyata, R. et al. Successful resection of recurrent mediastinal liposarcoma using preoperative evaluation of organ invasion by four-dimensional computed tomography. Gen Thorac Cardiovasc Surg 64, 488–491 (2016) doi:10.1007/s11748-014-0510-y
Received:

Accepted:

Published:

Issue Date:
Keywords
Recurrence

Mediastinal liposarcoma

Dedifferentiated liposarcoma

Four-dimensional computed tomography