Abstract
Objective
Aortoesophageal fistula (AEF) is relatively rare and usually life-threatening. Lots of strategies have so far been discussed for this entity including the role of endovascular repair. The aim of this study is to review our experiences and reconsider the surgical strategy for aortoesophageal fistula in the endovascular era.
Methods
This is a retrospective multicenter study. From 1995 to 2011, 10 aortoesophageal fistula cases were identified in four institutions. For all of these cases surgical procedures and results were retrieved from medical records.
Results
Six patients underwent open aortic repair and four patients underwent thoracic endovascular aortic repair (TEVAR) as a primary intervention. Three patients who underwent open aortic repair with esophagectomy and omental coverage in early phase, either as a primary intervention or performed after bridging TEVAR, showed 100 % 1-year survival. On the other hand, three patients with TEVAR alone did not survive more than 1 year without recurrence. One patient with bridging TEVAR underwent concomitant esophageal resection and conventional aortic graft replacement 2 days later, and simultaneous gastric tube reconstruction was performed with intact whole omentum covering the aortic prosthesis. This patient is doing well with no sign of infection at 1-year follow-up.
Conclusion
For AEF, TEVAR as a primary approach is quite useful to stabilize the patients' condition. However, definitive aortic repair with omental coverage should be performed as early as possible as a next step. It may be one of the strategies for the treatment of AEF that concomitant esophageal resection and aortic graft replacement is performed with simultaneous gastric tube reconstruction with intact whole omentum after removing the stent graft, so far as the patient's physical condition permits.
This is a preview of subscription content, log in to check access.
Access options
Buy single article
Instant access to the full article PDF.
US$ 39.95
Price includes VAT for USA
Subscribe to journal
Immediate online access to all issues from 2019. Subscription will auto renew annually.
US$ 99
This is the net price. Taxes to be calculated in checkout.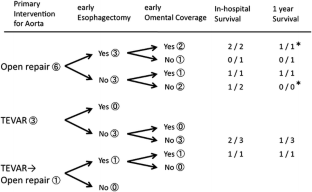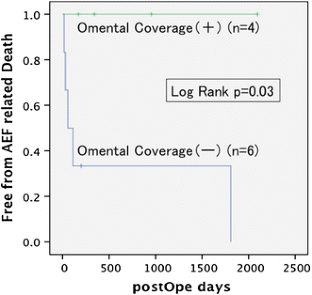 References
1.

McNamara JJ, Pressler VM. Natural history of arteriosclerotic thoracic aortic aneurysms. Ann Thorac Surg. 1978;26:468–73.

2.

Hollander JE, Quick G. Aortoesophageal fistula: a comprehensive review of the literature. Am J Med. 1991;91:279–87.

3.

Kawamoto S, Saiki Y, Oda K, Nitta Y, Akasaka J, Miyazaki S, et al. Successful management of esophagoparaprosthetic fistula after aortic surgery. Ann Thorac Surg. 2008;85:1449–51.

4.

da Silva ES, Tozzi FL, Otochi JP, de Tolosa EM, Neves CR, Fortes F. Aortoesophageal fistula caused by aneurysm of the thoracic aorta: successful surgical treatment, case report, and literature review. J Vasc Surg. 1999;30:1150–7.

5.

Flores J, Shiiya N, Kunihara T, Yoshimoto K, Yasuda K. Aortoesophageal fistula: alternatives of treatment case report and literature review. Ann Thorac Cardiovasc Surg. 2004;10:241–6.

6.

Baril DT, Carroccio A, Ellozy SH, Palchik E, Sachdev U, Jacobs TS, et al. Evolving strategies for the treatment of aortoenteric fistulas. J Vasc Surg. 2006;44:250–7.

7.

Topel I, Stehr A, Steinbauer MG, Piso P, Schlitt HJ, Kasprzak PM. Surgical strategy in aortoesophageal fistulae. Endovascular stentgrafts and in situ repair of the aorta with cryopreserved homografts. Ann Surg. 2007;246:853–9.

8.

Isasti G, Gómez-Doblas JJ, Olalla E. Aortoesophageal fistula: an uncommon complication after stent-graft repair of an aortic thoracic aneurysm. Interact Cardiovasc Thorac Surg. 2009;9:683–4.

9.

Jonker FHW, Heijmen R, Trimarchi S, Verhagen HJM, Moll FL, Muhs BE. Acute management of aortobronchial and aortoesophageal fistulas using thoracic endovascular aortic repair. J Vasc Surg. 2009;50:999–1005.

10.

Jonker FH, Schlösser FJ, Moll FL, van Herwaarden JA, Indes JE, Verhagen HJ, et al. Outcomes of thoracic endovascular aortic repair for aortobronchial and aortoesophageal fistulas. J Endovasc Ther. 2009;16:428–40.

11.

Zhang X, Liu J, Li J, Hu J, Yu F, Li S, et al. Diagnosis and treatment of 32 cases with aortoesophageal fistula due to esophageal foreign body. Laryngoscope. 2011;121:267–72.

12.

Lai H, Ge D, Zheng YJ, Li J, Wang C. Surgical management of aortoesophageal fistula caused by foreign bodies. Eur J Cardiothorac Surg. 2011;40:13–6.

13.

Nienaber CA, Fattori R, Lund G, Dieckmann C, Wolf W, von Kodolitsch Y, et al. Nonsurgical reconstruction of thoracic aortic dissection by stent-graft placement. N Engl J Med. 1999;340:1539–45.

14.

Chiesa R, Melissano G, Marone EM, Kahlberg A, Marrocco-Trischitta MM, Tshomba Y. Endovascular treatment of aortoesophageal and aortobronchial fistulae. J Vasc Surg. 2010;51:1195–202.

15.

Orend KH, Scharrer-Pamler R, Kapfer X, Kotsis T, Görich J, Sunder-Plassmann L. Endovascular treatment in diseases of the descending thoracic aorta: 6-year results of a single center. J Vasc Surg. 2003;37:91–9.

16.

Ghosh SK, Rahman FZ, Bown S, Harris P, Fong K, Langmead L. Survival following treatment of aortoesophageal fistula with dual esophageal and aortic intervention. Case Rep Gastroenterol. 2011;5:40–4.

17.

Vallabhajosyula P, Komlo C, Wallen T, Szeto WY. Two-stage surgical strategy for aortoesophageal fistula: emergent thoracic endovascular aortic repair followed by definitive open aortic and esophageal reconstruction. J Thorac Cardiovasc Surg. 2012;144:1266–8.

18.

Marone EM, Coppi G, Kahlberg A, Tshomba Y, Chiesa R. Combined endovascular and surgical treatment of primary aortoesophageal fistula. Tex Heart Inst J. 2010;37:722–4.

19.

Assink J, Vierhout BP, Snellen JP, Benner PM, Paul MA, Cuesta MA, et al. Emergency endovascular repair of an aortoesophageal fistula caused by a foreign body. J Endovasc Ther. 2005;12:129–33.

20.

D'Ancona G, Dagenais F, Bauset R. Endoluminal stenting of the aorta as treatment of aortoesophageal fistula due to primary aortic disease. Tex Heart Inst J. 2002;29:216–7.

21.

Kitayama J, Morota T, Kaisaki S, Nakayama H, Ishigami H, Yamashita H, et al. Complete coverage of in situ aortograft by total omental pedicle flap as the most reliable treatment of aortoesophageal fistula. Am J Surg. 2006;192:130–4.

22.

Coselli JS, Crawford ES. Primary aortoesophageal fistula from aortic aneurysm: successful surgical treatment by use of omental pedicle graft. J Vasc Surg. 1990;12:269–77.
About this article
Cite this article
Kubota, S., Shiiya, N., Shingu, Y. et al. Surgical strategy for aortoesophageal fistula in the endovascular era. Gen Thorac Cardiovasc Surg 61, 560–564 (2013). https://doi.org/10.1007/s11748-013-0280-y
Received:

Accepted:

Published:

Issue Date:
Keywords
Aortoesophageal fistula

Endovascular aortic repair

Esophagectomy

Omental coverage