Abstract
A 61-year-old man had a Stanford type A acute aortic dissection, and the total aortic arch was replaced with 22-mm knitted Dacron graft in 1996. In 2006, he underwent mitral valve replacement and tricuspid valve repair due to severe mitral and tricuspid valve regurgitation. Although preoperative computed tomography (CT) scan suggested pseudoaneurysm around the Dacron graft replaced with aortic arch, it could not be repaired concomitantly. Four months later, in view of the technical difficulties of an open surgical procedure, the prosthetic graft failure was repaired by endovascular stent graft consisting of a Gianturco Z stent covered with an UBE woven Dacron graft. However, during a follow-up, aneurysm sac diameter increased without any sings of endoleak in follow-up CT scans. Redo endovascular stent graft placement using a Gore-TAG device was performed. Subsequently, shrinkage of the pseudoaneurysmal sac could be observed.
This is a preview of subscription content, log in to check access.
Access options
Buy single article
Instant access to the full article PDF.
US$ 39.95
Price includes VAT for USA
Subscribe to journal
Immediate online access to all issues from 2019. Subscription will auto renew annually.
US$ 99
This is the net price. Taxes to be calculated in checkout.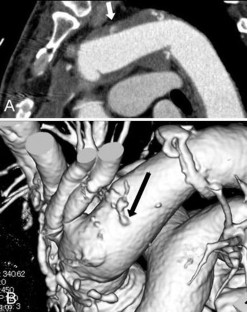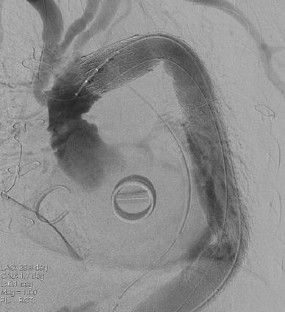 References
1.

Shingu Y, Aoki H, Ebuoka N, Eya K, Takigami K, Oba J. Late rupture of knitted Dacron graft. Ann Thorac Cardiovasc Surg. 2005;11(5):343–5.

2.

Khaira HS, Vohra H. True aneurysm in a femoro-popliteal Dacron graft—a case report and literature review. Cardiovasc Surg. 2002;10:644–6.

3.

Okabe T, Ishikawa S, Otaki A, Takahashi T, Koyano T, Morishita Y. A case of late non-anastomotic rupture of a Dacron prosthesis. Jpn J Vasc Surg. 1998;7:759–63.

4.

Kawata M, Morota T, Takamoto S, Kubota H, Kitahori K. Non-anastomotic rupture in the guideline of a Dacron thoracic aortic graft. J Vasc Surg. 2005;42:573.

5.

Kawamura M, Ogino H, Matsuda H, Minatoya K, Sasaki H, Kitamura S. Late-stage, nonanastomotic rupture of double-velour Dacron graft after descending aortic replacement. J Thorac Cardiovasc Surg. 2006;132:961–2.

6.

Anzai T, Shimizu H, Yozu R, Hashimoto S, Kuribayashi S, Inoue K. Repeated transluminal endovascular Inoue stent graft placement for progressive dilatation of prosthetic graft that had been repaired with Inoue stent graft placement for dilatation 23 years after extraanatomical bypass. Gen Thorac Cardiovasc Surg. 2007;55:76–9.

7.

Ofer A, Nitecki S, Hoffman A, Engel A. Dacron graft aneurysm treated by endovascular stent-graft. Cardiovasc Intervent Radiol. 2001;24(1):60–4.

8.

Stavropoulos SW, Charagundla SR. Imaging techniques for detection and management of endoleaks after endovascular aortic aneurysm repair. Radiology. 2007;243:641–55.
About this article
Cite this article
Yamaguchi, S., Asakura, T., Miura, S. et al. Nonanastomotic rupture of thoracic aortic Dacron graft treated by endovascular stent graft placement. Gen Thorac Cardiovasc Surg 61, 414–416 (2013). https://doi.org/10.1007/s11748-012-0158-4
Received:

Accepted:

Published:

Issue Date:
Keywords