Abstract
We investigated the incidence and prognostic value of anemia as well as of the iron status in non-selected patients admitted to an intensive cardiac care unit (ICCU). 392 patients (mean age 70 ± 13.8 years, 43 % women), 168 with acute coronary syndromes (ACS), 122 with acute decompensated heart failure, and 102 with other acute cardiac disorders were consecutively, prospectively assessed. The biomarkers of iron status—serum iron concentration (SIC), total iron binding capacity (TIBC), and transferrin saturation (TSAT) together with standard clinical, biochemical and echocardiographic variables—were analyzed. In-hospital mortality was 3.8 % (15 patients). The prevalences of anemia (according to WHO criteria), and iron deficiency (ID) were 64 and 63 %, respectively. The level of biomarkers of iron status, but not anemia, was lower in patients who died (p < 0.05). Anemia was less frequent in patients with ACS as compared to the remaining ICCU population (p = 0.019). The analysis by logistic regression indicated the highest risk of death for age [odds ratio (OD) 1.38, 95 % CI 1.27–1.55], SIC (OR 0.85, 95 % CI 0.78–0.94), TIBC (OR 0.95, 95 % CI 0.91–0.98), left ventricle ejection fraction (OR 0.85, 95 % CI 0.77–0.93), as well as hospitalization for non-ACS (OR 0.25, 95 % CI 0.14–0.46), (p < 0.05). The risk of death during hospitalization tended to increase with decreasing levels of TIBC (p = 0.49), as well as with the absence of ACS (p = 0.54). The incidence of anemia and ID in heterogeneous ICCU patients is high. Parameters of the iron status, but not anemia per se, independently influence in-hospital mortality. The prevalence of anemia is higher in non-ACS patients, and tends to worsen the prognosis.
This is a preview of subscription content, log in to check access.
Access options
Buy single article
Instant unlimited access to the full article PDF.
US$ 39.95
Price includes VAT for USA
Subscribe to journal
Immediate online access to all issues from 2019. Subscription will auto renew annually.
US$ 99
This is the net price. Taxes to be calculated in checkout.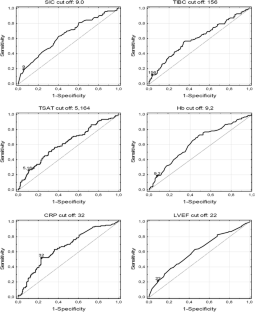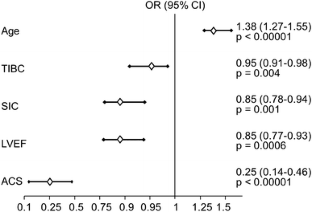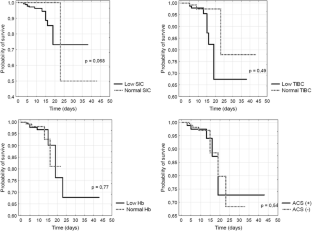 References
1.

Horwich TB, Fonarow GC, Hamilton MA, MacLellan WR, Borenstein J (2002) Anemia is associated with worse symptoms, greater impairment in functional capacity and a significant increase in mortality in patients with advanced heart failure. J Am Coll Cardiol 39:1780–1786

2.

Ezekowitz JA, McAlister FA, Armstrong PW (2003) Anemia is common in heart failure and is associated with poor outcomes: insights from a cohort of 12065 patients with new-onset heart failure. Circulation 107:223–225

3.

Kosiborod M, Smith GL, Radford MJ, Foody JM, Krumholz HM (2003) The prognostic importance of anemia in patients with heart failure. Am J Med 114:112–119

4.

Carmel R (2001) Anemia and aging: an overview of clinical, diagnostic and biological issues. Blood Rev 15:9–18

5.

Andres E, Federici L, Serraj K, Kaltenbach G (2008) Update of nutrient-deficiency anemia in elderly patients. Eur J Intern Med 19:488–493

6.

Weiss G, Goodnough LT (2005) Anemia of chronic disease. N Engl J Med 352:1011–1023

7.

Weiss G (2009) Iron metabolism in the anemia of chronic disease. Biochim Biophys Acta 1790:682–693

8.

Arosio P, Levi S (2002) Ferritin, iron homeostasis, and oxidative damage. Free Radic Biol Med 33:457–463

9.

Punnonen K, Irjala K, Rajamaki A (1997) Serum transferrin receptor and its ratio to serum ferritin in the diagnosis of iron deficiency. Blood 89:1052–1057

10.

Mainous AG 3rd, Gill JM, Carek PJ (2004) Elevated transferrin saturation and mortality. Ann Fam Med 2:133–138

11.

Kim KS, Son HG, Hong NS, Lee DH (2012) Associations of serum ferritin and transferrin % saturation with all-cause, cancer, and cardiovascular disease mortality: Third National Health and Nutrition Examination Survey follow-up study. J Prev Med Public Health 45:196–203

12.

Menke A, Muntner P, Fernández-Real JM, Guallar E (2012) The association of biomarkers of iron status with mortality in US adults. Nutr Metab Cardiovasc Dis 22:734–740

13.

Ma J, Stampfer MJ (2002) Body iron stores and coronary heart disease. Clin Chem 48:601–603

14.

Zegrean M (2009) Association of body iron stores with development of cardiovascular disease in the adult population: a systematic review of the literature. Can J Cardiovasc Nurs 19:26–32

15.

Levey AS, Bosch JP, Lewis JB, Greene T, Rogers N, Roth D (1999) A more accurate method to estimate glomerular filtration rate from serum creatinine: a new prediction equation. Modification of Diet in Renal Disease Study Group. Ann Intern Med 130:461–470

16.

Nutritional anaemias. Report of a WHO scientific group (1968). World Heath Organ Tech Rep Ser 405:5–37

17.

Jankowska EA, Rozentryt P, Witkowska A, Nowak J, Hartmann O, Ponikowska B, Borodulin-Nadzieja L, von Haehling S, Doehner W, Banasiak W, Polonski L, Filippatos G, Anker SD, Ponikowski P (2011) Iron deficiency predicts impaired exercise capacity in patients with systolic chronic heart failure. J Card Fail 17:899–906

18.

Okonko DO, Mandal AK, Missouris CG, Poole-Wilson PA (2011) Disordered iron homeostasis in chronic heart failure: prevalence, predictors, and relation to anemia, exercise capacity, and survival. J Am Coll Cardiol 58:1241–1251

19.

Parikh A, Natarajan S, Lipsitz SR, Katz SD (2011) Iron deficiency in community-dwelling US adults with self-reported heart failure in the National Health and Nutrition Examination Survey III: prevalence and associations with anemia and inflammation. Circ Heart Fail 4:599–606

20.

Cohen-Solal A, Damy T, Terbah M, Kerebel S, Baguet JP, Hanon O, Zannad F, Laperche T, Leclercq C, Concas V, Duvillié L, Darné B, Anker S, Mebazaa A (2014) High prevalence of iron deficiency in patients with acute decompensated heart failure. Eur J Heart Fail. doi:10.1002/ejhf.139

21.

Camaschella C, Strati P (2010) Recent advances in iron metabolism and related disorders. Intern Emerg Med 5:393–400

22.

Liu Y, Yang YM, Zhu J, Tan HQ, Liang Y, Li JD (2012) Anaemia and prognosis in acute coronary syndromes: a systematic review and meta-analysis. J Int Med Res 40:43–55

23.

Lawler PR, Filion KB, Dourian T, Atallah R, Garfinkle M, Eisenberg MJ (2013) Anemia and mortality in acute coronary syndromes: a systematic review and meta-analysis. Am Heart J 165(143–53):e5

24.

Salisbury AC, Kosiborod M, Amin AP, Reid KJ, Alexander KP, Spertus JA, Masoudi FA (2011) Recovery from hospital-acquired anemia after acute myocardial infarction and effect on outcomes. Am J Cardiol 108:949–954

25.

Aronson D, Suleiman M, Agmon Y, Suleiman A, Blich M, Kapeliovich M, Beyar R, Markiewicz W, Hammerman H (2007) Changes in haemoglobin levels during hospital course and long-term outcome after acute myocardial infarction. Eur Heart J 28:1289–1296

26.

Miklík R, Felsöci M, Parenica J, Tomcíková D, Jarkovskỳ J, Spinar J (2010) The prevalence of anemia and its impact on hospitalization mortality in patients with acute heart failure. Vnitr Lek 56:382–391

27.

von Haehling S, Schefold JC, Hodoscek LM, Doehner W, Mannaa M, Anker SD, Lainscak M (2010) Anaemia is an independent predictor of death in patients hospitalized for acute heart failure. Clin Res Cardiol 99:107–113

28.

Tarantini L, Oliva F, Cantoni S, Cioffi G, Agnoletto V, Alunni G, De Cian F, Di Lenarda A, Lucci D, Pulignano G, Scelsi L, Maggioni AP, Tavazzi L (2013) Prevalence and prognostic role of anaemia in patients with acute heart failure and preserved or depressed ventricular function. Intern Emerg Med 8:147–155
Acknowledgments
Grant supported by Medical University in Bialystok, Poland, No 123-53714L.
Conflict of interest
None.
About this article
Cite this article
Uscinska, E., Sobkowicz, B., Sawicki, R. et al. Parameters influencing in-hospital mortality in patients hospitalized in intensive cardiac care unit: is there an influence of anemia and iron deficiency?. Intern Emerg Med 10, 337–344 (2015) doi:10.1007/s11739-014-1170-8
Received:

Accepted:

Published:

Issue Date:
Keywords