Abstract
Use of protective coverings can be an economically viable option in fruit nurseries than in fully mature commercial orchards. In protected nurseries, photoselective coverings can influence the growth of rootstocks, budding success, and budding growth of the budded scion cultivar. The effect of photoselective coverings (white, silver, green, red and stainless steel net house) along with open conditions (control) was studied on plant growth, nutrient uptake and root growth of rough lemon and Carrizo citrange rootstock seedlings which were subsequently budded with Kinnow and Daisy mandarin cultivar buds, respectively. The rough lemon plants under red net had better height, internodal length and budding success, while in open conditions, higher seedling diameter, root diameter, shoot and root dry weight, leaf number and secondary root number were recorded in rough lemon seedlings. The Carrizo seedlings in red net had better seedling diameter, internodal length, leaf area and number, shoot dry weight and budding success. The higher nitrogen, phosphorus, potassium and zinc levels were recorded in the leaves of rough lemon and Carrizo citrange under red shade net. The plant height of rough lemon seedlings was positively correlated to internodal length, budding success and leaf areaas well as leaf phosphorus and iron levels. The highest buddable seedlings were recorded in open conditions but, budding success in red shade net house. The highest sprout lengths of Kinnow and Daisy mandarin saplings were recorded in red net followed by green net and white net. Higher photosynthesis and stomatal conductance were recorded under red shade net, whereas lowest PAR interception was recorded in open conditions.
This is a preview of subscription content, log in to check access.
Access options
Buy single article
Instant unlimited access to the full article PDF.
US$ 39.95
Price includes VAT for USA
Subscribe to journal
Immediate online access to all issues from 2019. Subscription will auto renew annually.
US$ 99
This is the net price. Taxes to be calculated in checkout.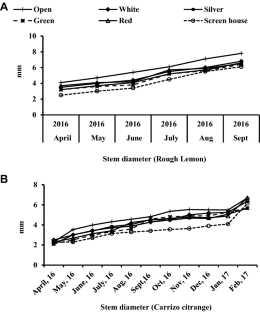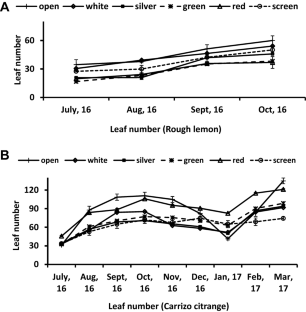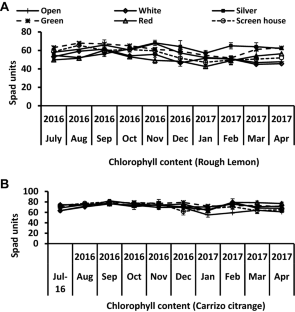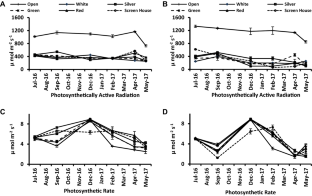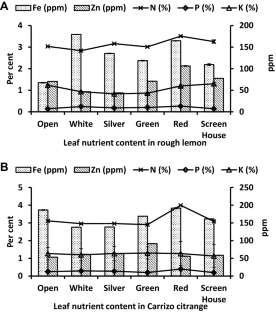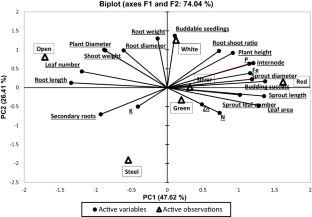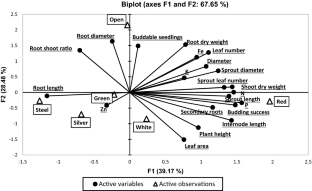 References
Al-Helal AM, Abdel-Ghany IM (2010) Responses of plastic shading nets to global and diffuse PAR transfer: optical properties and evaluation. NJAS Wageningen J Life Sci 57:125–132. https://doi.org/10.1016/j.njas.2010.02.002

Alkalai-Tuvia S, Goren A, Perzelan Y et al (2014) The influence of coloured shade nets on pepper quality after harvest—a possible mode-of-action. Agric For 60:7–18

Arthurs S, Stamps R, Giglia F (2013) Environmental modification inside photoselective shadehouses. HortScience 48:975–979

Assmann SM (1988) Stomatal and non-stomatal limitations to carbon assimilation: an evaluation of the path-dependent method. Plant Cell Env 11:577–582

Ayala TF, Sanchez MR, Partida RL et al (2015) Bell pepper production under colored shade nets. Rev Fitotec Mex 38:93–99

Bastías RM, Manfrini L, Grappadelli L (2012) Exploring the potential use of photoselective nets for fruit growth regulation in apple. Chil J Agric Res 72:224–231

Bastías R, Losciale P, Chieco C et al (2011) Physiological aspects affected by photoselective nets in apples: preliminary studies. Acta Hortic 907:217–220

Bevington K, Castle W (1985) Annual root growth pattern of young citrus trees in relation to shoot growth, soil temperature, and soil water content. J Am Soc Hortic Sci 110:840–845

Bhagat S, Thakur A, Dhaliwal HS (2013) Organic amendments influence growth, buddability and budding success in rough lemon (Citrus jambhiri Lush.). Biol Agric Hortic 29:46–57

Brutnell T (2006) Phytochrome and control of plant development. In: Taiz L, Zeiger E (eds) Plant physiology, 4th edn. Sinauer Associated Inc, Sunderland, pp 417–440

Costa LCM, Pinto JEBP, De Castro EM et al (2010) Effects of coloured shade netting on the vegetative development and leaf structure of Ocimum selloi. Bragantia 69:349–359

Damodar MP (2014) Comparative performance of coloured shadenet house and open field condition on growth and yield of cabbage varieties. Mahatma Phule Krishi Vidyapeeth, Rahuri, Maharashtra

Elad Y, Messika Y, Brand M et al (2007) Effect of colored shade nets on pepper powdery mildew (Leveillula taurica). Phytoparasitica 35:285–299

FAOSTAT (2016) Food and agriculture organization corporate statistical database. https://www.fao.org/faostat/en. Accessed 18 Apr 2019

Gaurav AK, Raju DVS, Janakiram T et al (2016) Effect of coloured shade net on production of Dracaena fragrans. Indian J Hort 73:94–98

Germanà C, Continella A, Tribulato E (2001) Bio-agronomic effects of net shading on "Primosole" mandarin. Acta Hortic. https://doi.org/10.17660/ActaHortic.2001.559.43

Gilbert DL, Bertling I, Savage MJ (2013) Radiation transmission through coloured shade netting and plastics and its effect on Eucalyptus grandis × E. nitens hybrid mini-hedge shoot internode length, stem diameter and leaf area. Acta Hortic. 10.17660/ActaHortic.2013.1007.91.

Haijun L, Cohen S, Lemcoff JH et al (2015) Sap flow, canopy conductance and microclimate in a banana screenhouse. Agric For Meteorol 201:165–175. https://doi.org/10.1016/J.AGRFORMET.2014.11.009

Hammer GL, Wright GC (1994) A theoretical analysis of nitrogen and radiation effects on radiation use efficiency in peanut. Aust J Agric Res 45:575–589. https://doi.org/10.1071/AR9940575

Healey KD, Hammer GL, Rickert KG, Bange MP (1998) Radiation use efficiency increases when the diffuse component of incident radiation is enhanced under shade. Aust J Agric Res 49:665–672. https://doi.org/10.1071/A97100

Ilic SZ, Milenkovic L, Šunic L et al (2017) Effect of shading by coloured nets on yield and fruit quality of sweet pepper. Zemdirb-Agric 104:53–62. https://doi.org/10.13080/z-a.2017.104.008

Ilic ZS, Milenkovic L, Sunic L, Fallik E (2015) Effect of coloured shade-nets on plant leaf parameters and tomato fruit quality. J Sci Food Agric 95:2660–2667. https://doi.org/10.1002/jsfa.7000

Ilic ZS, Fallik E (2017) Light quality manipulation improves vegetable quality at harvest and postharvest: a review. Environ Exp Bot 139:79–90. https://doi.org/10.1016/J.ENVEXPBOT.2017.04.006

Incesu M, Yesiloglu T, Çimen B, Yilmaz B (2016) Effects of nursery shading on plant growth, chlorophyll content and PSII in "Lane Late" navel orange seedlings. Acta Hortic. https://doi.org/10.17660/ActaHortic.2016.1130.44

Jutamanee K, Onnom S (2016) Improving photosynthetic performance and some fruit quality traits in mango trees by shading. Photosynthetica 54:542–550. https://doi.org/10.1007/s11099-016-0210-1

Kasperbauer MJ, Hamilton JL (1984) Chloroplast structure and starch grain accumulation in leaves that received different red and far-red levels during development. Plant Physiol 74:967–970

Kotilainen T, Robson T, Hernández R (2018) Light quality characterization under climate screens and shade nets for controlled-environment agriculture. PLoS ONE 13:e0199628. https://doi.org/10.1371/journal.pone.0199628

Mahmood A, Hu Y, Tanny J, Asante EA (2018) Effects of shading and insect-proof screens on crop microclimate and production: a review of recent advances. Sci Hortic (Amsterdam) 241:241–251. https://doi.org/10.1016/j.scienta.2018.06.078

Márquez-Quiroz C, Robledo-Torres V, Benavides-Mendoza A et al (2014) Shade nets: an alternative to increase the cherry tomato production. Ecosistemas Recur Agropecu 1:175–180

Mata D, Botto J (2011) Photoperiod, light, and temperature requirements to control plant architecture and flowering time in Salvia exserta. J Hortic Sci Biotechnol 86:408–414

Medina CL, Souza RP, Machado EC et al (2002) Photosynthetic response of citrus grown under reflective aluminized polypropylene shading nets. Sci Hortic (Amsterdam) 96:115–125. https://doi.org/10.1016/S0304-4238(02)00085-7

Meena R, Vashisth A, Singh A et al (2015) Microenvironment study under different colour shade nets and its effects on biophysical parameters in spinach (Spinacia oleracea). In: Mishra GC (ed) Agriculture: towards a new paradigm of sustainability I. Excellent Publishing House, New Delhi, pp 11–16

Mupambi G, Musacchi S, Serra S et al (2018) Protective netting improves leaf-level photosynthetic light use efficiency in 'honeycrisp' apple under heat stress. HortScience 53:1416–1422. https://doi.org/10.21273/HORTSCI13096-18

Noordwijk M, Cadisch G, Ong CK (2004) Below-ground interactions in tropical agrosystems: concepts and models with multiple plant components. CABI, Wallingford

Oren-Shamir M, Gussakovsky E, Eugene E et al (2001) Coloured shade nets can improve the yield and quality of green decorative branches of Pittosporum variegatum. J Hortic Sci Biotechnol 76:353–361. https://doi.org/10.1080/14620316.2001.11511377

Pérez M, Plaza BM, Jiménez S et al (2006) The radiation spectrum through ornamental net houses and its impact on the climate generated. Acta Hortic. https://doi.org/10.17660/ActaHortic.2006.719.73

Pretzsch H, Biber P, Uhl E, Hense P (2012) Coarse root–shoot allometry of Pinus radiata modified by site conditions in the Western Cape province of South Africa. South For J For Sci 74:237–246. https://doi.org/10.2989/20702620.2012.741794

Shahak Y, Gal E, Offir Y, Ben-Yakir D (2008) Photoselective shade netting integrated with greenhouse technologies for improved performance of vegetable and ornamental crops. Acta Hortic 797:75–80. https://doi.org/10.17660/ActaHortic.2008.797.8

Shahak Y, Gussakovsky EE, Cohen Y et al (2004a) Colornets: a new approach for light manipulation in fruit trees. Acta Hortic 636:609–616. https://doi.org/10.17660/ActaHortic.2004.636.76

Shahak Y, Gussakovsky EE, Gal E, Ganelevin R (2004b) Colornets: crop protection and light-quality manipulation in one technology. Acta Hortic 659:143–151. https://doi.org/10.17660/ActaHortic.2004.659.17

Shahak Y, Kong Y, Ratner K (2016) The wonders of yellow netting. Acta Hortic 1134:327–334

Sinclair TR, Horie T (1989) Leaf nitrogen, photosynthesis, and crop radiation use efficiency: a review. Crop Sci 29:90–98

Singh A, Thakur A, Sharma S et al (2018) Bio-inoculants enhance growth, nutrient uptake, and buddability of citrus plants under protected nursery conditions. Commun Soil Sci Plant Anal 49:2571–2586. https://doi.org/10.1080/00103624.2018.1526946

Smith H (2000) Phytochromes and light signal perception by plants—an emerging synthesis. Nature 407:585–591

Stamps RH (1994) Evapotranspiration and nitrogen leaching during leather leaf fern production in shade houses. Florida, USA

Stuefer JF, Huber H (1998) Differential effects of light quantity and spectral light quality on growth, morphology and development of two stoloniferous Potentilla species. Oecologia 117:1–8

Tinyane PP, Sivakumar D, Soundy P (2013) Influence of photo-selective netting on fruit quality parameters and bioactive compounds in selected tomato cultivars. Sci Hortic (Amsterdam) 161:340–349. https://doi.org/10.1016/j.scienta.2013.06.024

Toyomasu T, Kawaide H, Mitsuhashi W et al (1998) Phytochrome regulates gibberellin biosynthesis during germination of photoblastic lettuce seeds. Plant Physiol 118:1517–1523. https://doi.org/10.1104/pp.118.4.1517

Wachsmann Y, Zur N, Shahak Y et al (2014) Photoselective anti-hail netting for improved citrus productivity and quality. Acta Hortic 1015:169–176. https://doi.org/10.17660/ActaHortic.2014.1015.19

Zhou K, Jerszurki D, Sadka A et al (2018) Effects of photoselective netting on root growth and development of young grafted orange trees under semi-arid climate. Sci Hortic (Amsterdam) 238:272–280
Acknowledgements
The authors are grateful to Punjab Agricultural University, Ludhiana, India which provided necessary funds and facilities for the investigations.
Additional information
Publisher's Note
Springer Nature remains neutral with regard to jurisdictional claims in published maps and institutional affiliations.
Communicated by P. K. Nagar.
Electronic supplementary material
Below is the link to the electronic supplementary material.
About this article
Cite this article
Brar, H.S., Thakur, A., Singh, H. et al. Photoselective coverings influence plant growth, root development, and buddability of citrus plants in protected nursery. Acta Physiol Plant 42, 18 (2020). https://doi.org/10.1007/s11738-019-2998-3
Received:

Revised:

Accepted:

Published:
Keywords
Shade nets

Nutrient uptake

Photosynthesis

Stomatal conductance

Humidity

PAR