Chlorophyll a fluorescence as a tool to monitor physiological status of plants under abiotic stress conditions
Abstract
Plants living under natural conditions are exposed to many adverse factors that interfere with the photosynthetic process, leading to declines in growth, development, and yield. The recent development of Chlorophyll a fluorescence (ChlF) represents a potentially valuable new approach to study the photochemical efficiency of leaves. Specifically, the analysis of fluorescence signals provides detailed information on the status and function of Photosystem II (PSII) reaction centers, light-harvesting antenna complexes, and both the donor and acceptor sides of PSII. Here, we review the results of fast ChlF analyses of photosynthetic responses to environmental stresses, and discuss the potential scientific and practical applications of this innovative methodology. The recent availability of portable devices has significantly expanded the potential utilization of ChlF techniques, especially for the purposes of crop phenotyping and monitoring.
Keywords
Chlorophyll fluorescence 
JIP-test 
Photosynthesis 
Photosystem II 
Quantum efficiency 
Stress detection 
Abbreviations
ABS

Absorption flux

Chl

Chlorophyll

ChlF

Chlorophyll fluorescence

CS

Cross section of the sample

Cyt b6f

Cytochrome b6f

DF

Delayed (chlorophyll) fluorescence

DFI

Drought factor index

LHC (II)

Light-harvesting complex (of PSII)

OEC

Oxygen-evolving complex

P680*

Excited PSII reaction center

P700

PSI reaction center

PAR

Photosynthetically active radiation

PC

Plastocyanin

PCA

Principal component analysis

PF

Prompt (chlorophyll) fluorescence

Pheo

Pheophytin

PQ

Plastoquinone

PSI, PSII

Photosystem I, II

QA

Primary plastoquinone electron acceptor of PSII

QB

Secondary plastoquinone electron acceptor

RC

Reaction center

ROS

Reactive oxygen species
Introduction
Over the course of the 21st century, global agriculture must produce more food to sustain a growing human population (Beddington et al. 2012). However, this goal is threatened by anthropogenic climate change which has the potential to dramatically reduce yields in affected regions (Lobell et al. 2008). Recent studies indicate that Chlorophyll fluorescence (ChlF) measurements may provide unique benchmarks to improve global agricultural productivity models, improving the reliability of crop yield projections under climate change scenarios (Guanter et al. 2014; Malaspina et al. 2014). More generally, ChlF is emerging as a very powerful tool in agricultural, environmental, and ecological studies (Gottardini et al. 2014). One of its main advantages is that ChlF is a non-invasive tool, allowing scientists to get information on the photosynthetic process without destroying the tested sample.
Under natural conditions, plants are exposed to many adverse environmental stress factors. These can disrupt the photosynthetic apparatus, causing a decrease of plant productivity and overall yield. Photosynthesis is particularly sensitive to environmental constraints (see Kalaji et al. 2012), making photosynthetic measurements an important component of plant stress studies. However, traditional methods, even technically advanced ones such as the measurements of photosynthetic rates through gas exchange (CO2, H2O, and O2), are time-consuming and provide incomplete information on overall photosynthetic function. In contrast, ChlF measurements represent a simple, non-destructive, inexpensive and rapid tool for analyzing light-dependent photosynthetic reactions and for indirectly estimating chlorophyll content within the same sample tissue (See reviews by Govindjee 1995; Papageorgiou and Govindjee 2011; and by Stirbet and Govindjee 2011, 2012). These technical advantages of ChlF approaches have made it a popular technique among plant breeders (e.g., for crop phenotyping and monitoring), biotechnologists, plant physiologists, farmers, gardeners, foresters, ecophysiologists, and environmentalists.
Critically, from the perspective of plant stress studies, ChlF measurements also provide indirect information about the physiological condition of plants. Analysis of chlorophyll fluorescence (ChlF) induction curves allows the evaluation of the physiological condition of photosystem II (PSII) and photosynthetic electron transport chain components. It also provides information on the cooperation of light-dependent photochemical reactions and light-independent biochemical reactions. More generally, ChlF measurements relate, directly or indirectly, to all stages of light-dependent photosynthetic reactions, including photolysis of water, electron transport, pH gradient formation across the thylakoid membrane, and ATP synthesis and thus general bioenergetic condition of the photosynthetic machinery (Bernát et al. 2012).
Numerous ChlF techniques and applications have now been developed, each one contributing to knowledge of photosynthesis. In this review, we focus on results from fast fluorescence analysis induced by continuous illumination. These studies were made possible by the development of a reliable mathematical model known as the JIP-test (Strasser et al. 2004) that allowed the analysis of fluorescence changes that occur in less than 1 s. Such analyses provide detailed information on the status and function of PSII reaction centers, antenna, as well as on donor and acceptor sides of PSII. The main focus of the review is to outline the effects of stress factors on the photochemical processes as reflected in changes in fast ChlF kinetics and related biophysical parameters.
Analysis of polyphasic chlorophyll fluorescence kinetics
Illumination of a dark-adapted photosynthetic sample allows a polyphasic chlorophyll fluorescence induction curve to be obtained (O–J–I–P-transient) (Fig. 
1
). The curve's trajectory provides considerable information about the structure and function of the photosynthetic apparatus (Kautsky and Hirsch
1931
; Schreiber et al.
1994
). The JIP-test is based on the rise in polyphasic fast chlorophyll
a
, and is used for investigating the correlation between light-dependent reactions and ChlF. It is based on the theory of "energy flow" across thylakoid membranes (Strasser et al.
2000
). This theory can be operationalized in simple algebraic equations, representing the balance between total energy inflows and outflows for each of the examined light-harvesting complexes and providing information on the probable distribution of absorbed energy. With these equations, it is possible to describe the energetic communication (also known as the "grouping" or "connectivity" and "overall grouping probability") between the PSII complexes (Stirbet
2013
).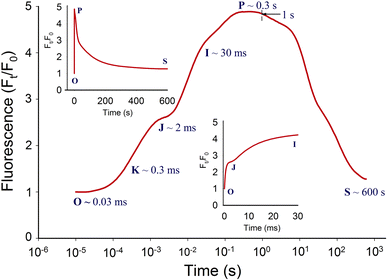 The name of the JIP-test (OJIP) originates from the specific points on the induction curve formed by the recorded ChlF signal (Fig. 1): these correspond to the gradual reduction of QA and the primary electron acceptor of PSII. The shape of the curve depends from PSII grouping (L-band) (Tsimilli-Michael and Strasser 2013) and the balance between electron donation from OEC → P680+ and electron accept from Q A − (K-band) (Strasser et al. 2005). The O–J part of the fluorescence rise relates to the closure of some of the PSII reaction centers in response to the reduction of QA to a level determined by the ratio between the trapping rate and QA reoxidation rate by QB and the rest of the electron transfer chain. The J–I part of the curve corresponds to the reduction of the secondary electron acceptor QB, plastoquinone (PQ), cytochrome (Cyt b6f), and PC. The increase in ChlF in the I–P part of the induction curve is typically attributed to the reduction of electron transporters (ferredoxin, intermediary acceptors, and NADP) of the PSI acceptor side. Stress conditions such as high temperature, excessive PAR, nitrogen deficiency, or drought inhibit the oxygen-evolving complex (OEC) and block the electron transport between the OEC and tyrosine (Guha et al. 2013). Under stressful conditions, a peak occurs (the K-band) within the 200–300 μs range of the ChlF induction curve, indicating a disruption of the OEC.
The JIP-test parameters characterizing the PAR energy absorption and electron transport can be categorized into four main groups: (1) basic measured and calculated values [fluorescence (F t) and variable fluorescence (V t) values, initial slope, etc.]; (2) quantum yields and probabilities; (3) energy fluxes; and (4) vitality indices. The biophysical parameters representing the energy fluxes are divided into specific and phenomenological. The specific parameters are calculated per reaction center (RC), while the phenomenological parameters are calculated per sample cross section (CS).
The vitality indices represent the products of several independent parameters combining structural and functional criteria. These criteria include the density of reaction centers, the quantum efficiency of primary photochemistry, and conversion of excitation energy in electron transport (Strasser et al. 2000, 2004, 2010; Zushi et al. 2012). The vitality indices were created as non-specific parameters to be used mostly in practical applications, such as screening for enhanced stress tolerance underfield conditions (Srivastava et al. 1999; Strasser et al. 2004; Brestic and Zivcak 2013).
Chlorophyll fluorescence kinetics can also be used to reveal PSII heterogeneity of photosynthetic apparatus. PSII is naturally heterogeneous in terms of antenna and reducing side. Antenna heterogeneity includes variations in antenna size and in connectivity (grouping) of antenna molecules. Based on antenna size, PSII centers have been classified as alpha (α), beta (β), and gamma (γ) (Melis and Homann 1976). These differ from each other in life span and number of associated chlorophylls. Reducing side heterogeneity is related to the ability to transfer an electron from QA. Centers which are capable of transferring electrons from QA to QB are termed QB reducing centers, while those which are unable to do so are termed QB non-reducing centers. Specific characteristics of PSII heterogeneity have been reviewed in Jajoo (2013). Recent studies have shown changes in PSII heterogeneity under high temperature (Mathur et al. 2011b), high salt (Mehta et al. 2010a), and some pollutants like polycyclic aromatic hydrocarbons (PAH) (Tomar and Jajoo 2013, 2014). Changes may relate to the number of active/inactive reaction centers, interconversion of active alpha centers into inactive beta and gamma centers, and increases in the number of QB non-reducing centers under various stress conditions.
Chlorophyll fluorescence kinetic parameters in response to various abiotic stresses
In the following sections, we review the evidence that ChlF kinetics may serve as an useful indicator of the negative impacts of climate change and human activities, such as high and low temperature, drought, salinity, nutrient deficiencies, and heavy metals.
Limitations of prompt ChlF methods
Mathematical models for analysis of prompt ChlF kinetics, such as JIP-test, were developed exclusively as a biophysical tool for assessment of the cascade of chloroplast redox reactions at microsecond or millisecond scales. Nevertheless, even early studies generated interesting empirical knowledge on the relationship between the physiological status of the sample and the shape of fluorescence transient (Strasser et al. 2000). There have subsequently been many articles documenting the direct relationship between the physiological status of leaves and prompt ChlF transient. This reflects the fact (often neglected) that the measured signal is the mixture of many signals (see paragraph on PSII heterogeneity above) related to processes associated with adjusting of structure and function of photosynthetic apparatus to current metabolic needs or environmental conditions. Thus, several factors need to be carefully monitored to avoid erroneous and over-simplified interpretations (Evans 2009).
The simplicity and rapidity of the method together with misunderstanding of the basic principles has also led to incorrect applications. The use of integrative parameters such as performance index (PI) can be more useful than complex of specific biophysical parameters, which require a deeper understanding of photochemical processes to interpret the data correctly. Pros and Cons of the analysis of the OJIP transient by the so-called JIP-test are well discussed by Stirbet and Govindjee (2011). To avoid the mistakes in ChlF applications, all users are strongly encouraged to be familiar with practical aspects of measurements (reviewed in Kalaji et al. 2014a).
Concluding remarks
This review paper brings up-to-date information on the vast opportunities of the application of chlorophyll fluorescence technique in plant science, agricultural and ecological research. Measured signals of chlorophyll fluorescence and its statistical analysis (e.g., by JIP-test) can be used to predict, monitor, and identify stress in plants. Consequently, it could be applied in almost any ecological study of plants as a bioindicator. The versatility of ChlF measurements means they can be applied at the level of a single plant to grassland, cropland, and even marine ecosystems. However, this potential versatility emphasizes the need for more practical and conceptual studies that would allow scientists to draw reliable information about plant growth and health. Such an approach would not only lead to improvements in our understanding of the physiological basis of photosynthesis but could also contribute to efforts to understand and remediate the impacts of climate change on crop yields and food security.
Author contribution statement
Kalaji M. H. and Jajoo A. created the idea of the manuscript and put the first items to be considered in this paper. Moreover, they edited the main lines of the text.  Samborska I. A., Cetner M. D., and Łukasik I. developed the initial work suggested by the first two co-authors and added proper details and examples. Brestic M., Zivcak M., Oukarroum A., and Goltsev V. enhanced the text by adding the proper references, figures, and built up the discussion in this manuscript. Richard J. Ladle provided professional (biological) language corrections. We confirm that, all above-listed co-authors contributed equally to this work.
Notes
Acknowledgments
The authors thank Prof. Govindjee for supporting the idea of this paper, reading, and commenting on the draft of this paper.
Copyright information
© The Author(s) 2016
Open AccessThis article is distributed under the terms of the Creative Commons Attribution 4.0 International License (http://creativecommons.org/licenses/by/4.0/), which permits unrestricted use, distribution, and reproduction in any medium, provided you give appropriate credit to the original author(s) and the source, provide a link to the Creative Commons license, and indicate if changes were made.