Encapsulation of 2-amino-2-methyl-1-propanol with tetraethyl orthosilicate for CO2 capture
Open Access
Research Article
Abstract
Carbon capture is widely recognised as an essential strategy to meet global goals for climate protection. Although various CO2 capture technologies including absorption, adsorption and membrane exist, they are not yet mature for post-combustion power plants mainly due to high energy penalty. Hence researchers are concentrating on developing non-aqueous solvents like ionic liquids, CO2-binding organic liquids, nanoparticle hybrid materials and microencapsulated sorbents to minimize the energy consumption for carbon capture. This research aims to develop a novel and efficient approach by encapsulating sorbents to capture CO2 in a cold environment. The conventional emulsion technique was selected for the microcapsule formulation by using 2-amino-2-methyl-1-propanol (AMP) as the core sorbent and silicon dioxide as the shell. This paper reports the findings on the formulated microcapsules including key formulation parameters, microstructure, size distribution and thermal cycling stability. Furthermore, the effects of microcapsule quality and absorption temperature on the CO2 loading capacity of the microcapsules were investigated using a self-developed pressure decay method. The preliminary results have shown that the AMP microcapsules are promising to replace conventional sorbents.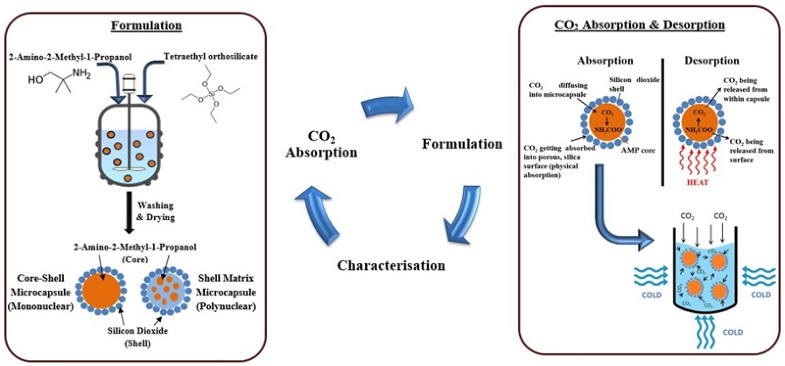 Keywords
carbon capture 
microencapsulated sorbents 
emulsion technique 
low temperature adsorption and absorption 
Notes
Acknowledgements
The authors gratefully acknowledge the financial support of the Engineering and Physical Science Research Council (EPSRS) of the United Kingdom under the grants EP/N000714/1 and EP/N021142. We would also like to thank our colleagues at the Birmingham Centre for Energy Storage (BCES) for their expertise and insight that assisted the research.
Copyright information
© The Author(s) 2019
Open Access This article is licensed under a Creative Commons Attribution 4.0 International License, which permits use, sharing, adaptation, distribution and reproduction in any medium or format, as long as you give appropriate credit to the original author(s) and the source, provide a link to the Creative Commons licence, and indicate if changes were made. The images or other third party material in this article are included in the article's Creative Commons licence, unless indicated otherwise in a credit line to the material. If material is not included in the article's Creative Commons licence and your intended use is not permitted by statutory regulation or exceeds the permitted use, you will need to obtain permission directly from the copyright holder. To view a copy of this licence, visit http://creativecommons.org/licenses/by/4.0/.