Structural effect of fluorophore on phenylboronic acid fluorophore/cyclodextrin complex for selective glucose recognition
Abstract
Based on the design of the fluorescent site of a fluorescent probe, we have created a unique system that changes its twisting response to sugar. Two probes were synthesized, in which phenylboronic acid and two kinds of aromatic fluorescent site (pyrene or anthracene) were conjugated by an amide bond. In the fluorescence measurement of pyrene-type probe 1, dimer fluorescence was observed at high pH. In induced circular dichroism (ICD) experiments, a response was observed only in the presence of glucose and γ-cyclodextrin, and no response was seen with fructose. On the other hand, in the fluorescence measurement of anthracene-type probe 2, dimer fluorescence was observed in the presence of both glucose and galactose, and the fluorescence was different from the case of fructose. When the ICD spectra of these inclusion complexes were measured, an inversion of the Cotton effect, which indicates a change in the twisted structure, was observed in galactose and glucose. These differences in response to monosaccharides may originate in the interaction between the fluorescent site and the cyclodextrin cavity.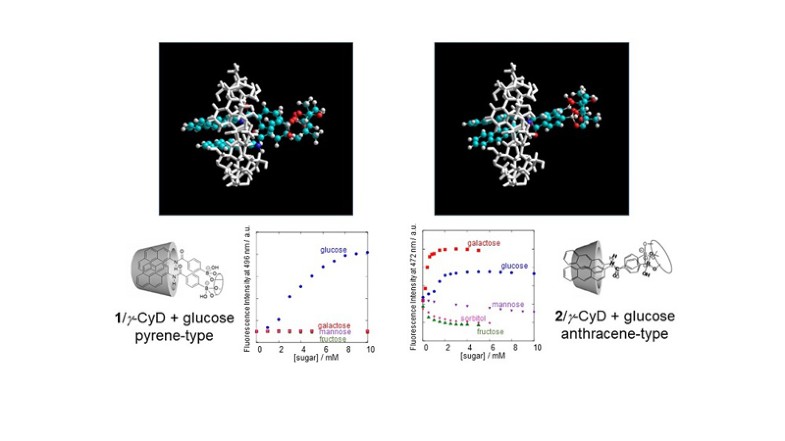 Keywords
sugar recognition 
phenylboronic acid 
cyclodextrin 
fluorescence response 
induced circular dichroism 
Notes
Acknowledgements
This work was financially supported by Grants-in Aid for Scientific Research (C) (Grant Nos. 15K05548 and 18K05180) from the Japan Society for the Promotion of Science (JSPS) and a Grant-in-Aid for Scientific Research (A) (Grant No. 26248038) from the Ministry of Education, Culture, Sports, Science and Technology, Japan.
Copyright information
© Higher Education Press and Springer-Verlag GmbH Germany, part of Springer Nature 2019