Performance assessment of a power-to-gas process based on reversible solid oxide cell
Abstract
Due to the foreseen growth of sustainable energy utilization in the upcoming years, storage of the excess production is becoming a rather serious matter. In this work, a promising solution to this issue is investigated using one of the most emerging technologies of electricity conversion: reversible solid oxide cells (RSOC). A detailed model was created so as to study the RSOC performance before implementing it in the global co-electrolysis Aspen Plus
TM
model. The model was compared to experimental results and showed good agreement with the available data under steady state conditions. The system was then scaled up to a 10MWco-electrolysis unit operating at 1073 K and 3 bar. The produced syngas is subsequently directed to a methanation unit to produce a synthetic natural gas (SNG) with an equivalent chemical power of 8.3 MW
th
. Additionally, as a result of a heat integration analysis, the methanation process provides steam and electricity to operate the rest of the units in the process. A final CO
2
capture step is added to ensure the required specifications of the produced SNG for gas network injection. Lastly, the overall performance of the power-to-gas process was evaluated taking into account the energy consumption of each unit.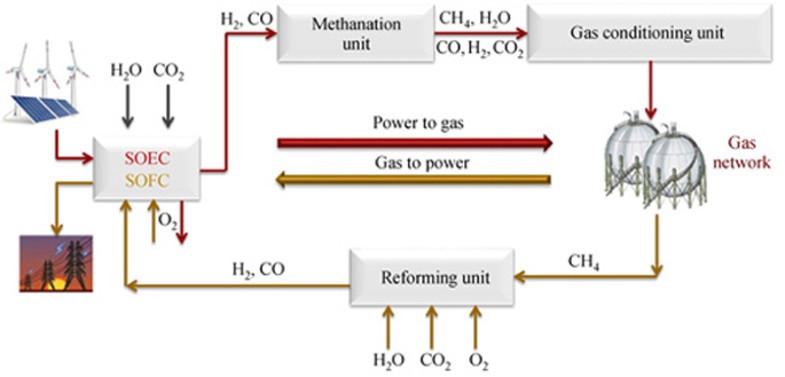 Keywords
renewable electricity 
storage 
co-electrolysis 
methanation 
carbone capture 
Notes
Acknowledgements
This work is supported by the French National Research Agency (ANR) trough "Systèmes Energétiques Efficaces et Décarbonés (SEED)" Program (project DEMETER) ref. ANR-11-SEED- 0005-02.
Copyright information
© Higher Education Press and Springer-Verlag GmbH Germany, part of Springer Nature 2018