Spatial targeting evaluation of energy and environmental performance of waste-to-energy processing
Abstract
Waste-to-energy supply chains are important potential contributors to minimising the environmental impacts of municipal solid waste by reducing the amounts of waste sent to landfill, as well as the fossil fuel consumption and environmental footprints. Accounting for the spatial and transport properties of the waste-to-energy supply chains is crucial for understanding the problem and improving the supply chain designs. The most significant challenge is the distributed nature of the waste generation and the household energy demands. The current work proposes concepts and a procedure for targeting the size of the municipal solid waste collection zone as the first step in the waste-to-energy supply chains synthesis. The formulated concepts and the provided case study reveal trends of reducing the net greenhouse gas savings and energy recovery by increasing the collection zone size. Population density has a positive correlation with the greenhouse gas saving and energy recovery performance. For smaller zone size the energy recovery from waste approaches and in some cases may surpass the energy spent on waste transportation. The energy recovery and greenhouse gas savings remain significant even for collection zones as large as 200 km
2
. The obtained trends are discussed and key directions for future work are proposed.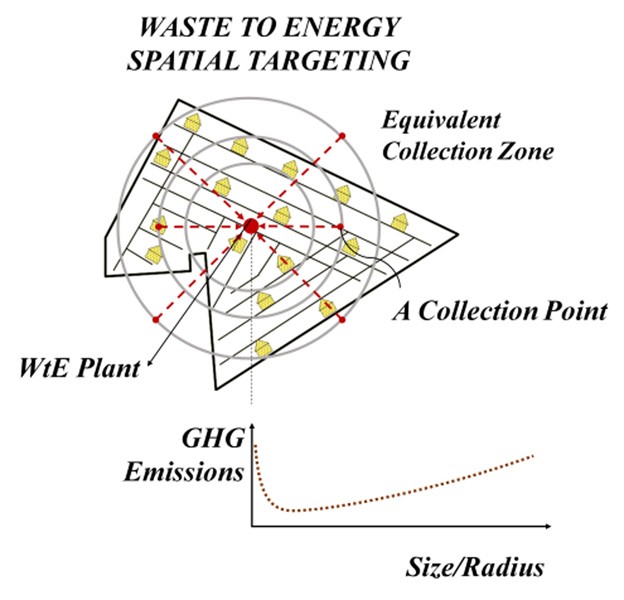 Keywords
waste-to-energy 
supply chain optimisation 
GHG savings 
energy recovery ratio 
Notes
Acknowledgements
This research has been supported by the EU project "Sustainable Process Integration Laboratory—SPIL", project No. CZ.02.1.01/0.0/0.0/15_003/0000456 funded by EU "CZ Operational Programme Research, Development and Education", Priority 1: Strengthening capacity for quality research and under the cooperation agreement with The University of Manchester, UK.
Copyright information
© Higher Education Press and Springer-Verlag GmbH Germany, part of Springer Nature 2018