Methyl acetate–methanol mixture separation by extractive distillation: Economic aspects
Abstract
Methyl acetate is considered low toxicity volatile solvent produced either as a by-product during methanol carbonylation or via acetic acid esterification with methanol. In both cases, pure methyl acetate has to be isolated from the reaction mixture. Simulation of methyl acetate separation from its mixture with methanol by extraction distillation was carried out in ASPEN + software. In total three case studies were assumed using two different extraction solvents and two solvent regeneration strategies. In case A, novel extraction solvent 1-ethyl-3-methylimidazolium trifluoromethanesulfonate ionic liquid, was considered. Raw material separation was achieved in an extraction distillation column while the solvent regeneration was accomplished in a second distillation column in this case. In case study B, the same extraction solvent was used; however, its regeneration was carried out in a single-effect evaporator. Dimethyl sulfoxide was the second extraction solvent selected. Its use in methyl acetate-methanol separation is presented in case study C. As high purity of dimethyl sulfoxide was required for the methyl acetate-methanol azeotrope breaking, its regeneration was carried out in the second distillation column only. To simulate the ternary methyl acetate–methanol–extraction solvent mixtures separation, vapor–liquid equilibrium was predicted based on the NRTL equation. Further, unknown properties of the considered ionic liquid and variation of these properties with temperature were predicted and introduced into the ASPEN + components properties database. Based on these data, optimum operation parameters of the respective separation equipment were established. In all case studies, the same condition had to be fulfilled, namely minimum methyl acetate content in the distillate from the extraction distillation column of 99.5mol-%. Results of simulations using the respective optimum operation parameters were employed in the economic evaluation of the three separation unit designs studied. It was found that the least energy-demanding design corresponds to the case study B in terms of both capital as well as operation expenses.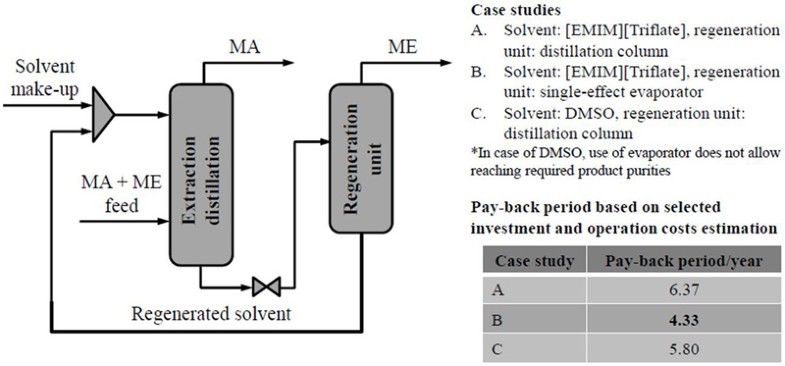 Keywords
methyl acetate 
1-ethyl-3-methylimidazolium trifluoromethanesulfonate 
extraction distillation 
dimethyl sulfoxide 
economic evaluation 
Notes
Acknowledgements
This work was supported by the Research and Development Assistance Agency APVV (APVV-0858-12).
Copyright information
© Higher Education Press and Springer-Verlag GmbH Germany, part of Springer Nature 2018