Self-assembled bright luminescent hierarchical materials from a tripodal benzoate antenna and heptadentate Eu(III) and Tb(III) cyclen complexes
Abstract
The europium heptadentate coordinatively unsaturated (Eu(III)) and the terbium (Tb(III)) 1,4,7,10- tetraazacyclododecane (cyclen) complexes 1 and 2 were used in conjunction with ligand 3 (1,3,5-benzene-trisethynylbenzoate) to form the supramolecular self-assembly structures 4 and 5; this being investigated in both the solid and the solution state. The resulting self-assemblies gave rise to metal centered emission (both in the solid and solution) upon excitation of 3, confirming its role as a sensitizing antenna. Drop-cased examples of ligand 3, and the solid forms of 4 and 5, formed from both organic and mixture of organic-aqueous solutions, were analyzed using Scanning Electron Microscopy, which showed significant changes in morphology; the ligand giving rise to one dimensional structures, while both 4 and 5 formed amorphous materials that were highly dense solid networks containing nanoporous features. The surface area (216 and 119 m2·g–1 for 4 and 5 respectively) and the ability of these porous materials to capture and store gases such as N2 investigated at 77 K. The self-assembly formation was also investigated in diluted solution by monitoring the various photophysical properties of 3–5. This demonstrated that the most stable structures were that consisting of a single antennae 3 and three complexes of 1 or 2 (e.g., 4 and 5) in solution. By monitoring the excited state lifetimes of the Eu(III) and Tb(III) ions in H2O and D2O respectively, we showed that their hydration states (the q-value) changed from ∼2 to 0, upon formation of the assemblies, indicating that the three benzoates of 3 coordinated directly to the each of the three lanthanide centers. Finally we demonstrate that this hierarchically porous materials can be used for the sensing of organic solvents as the emission is highly depended on the solvent environment; the lanthanide emission being quenched in the presence of acetonitrile and THF, but greatly enhanced in the presence of methanol.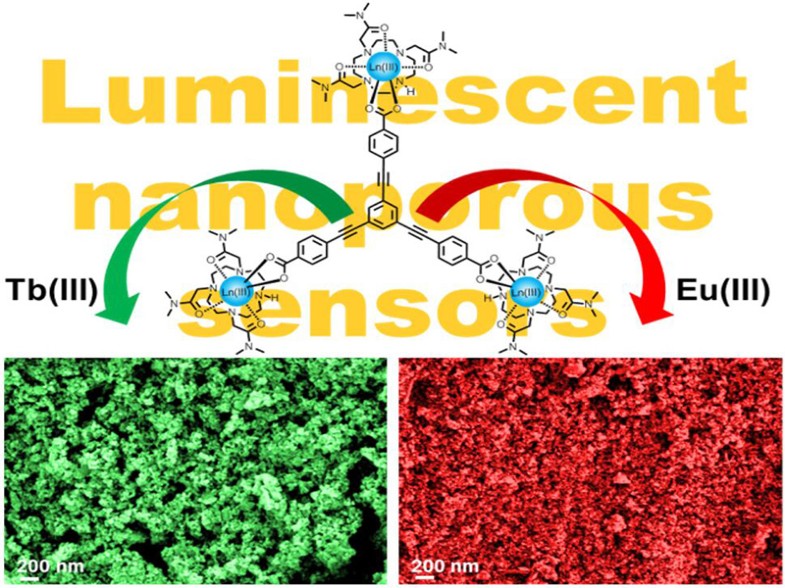 Keywords
self-assembly 
supramolecular chemistry 
lanthanides 
Eu(III) and Tb(III) complexes 
luminescence 
metallostars 
Notes
Acknowledgements
The authors gratefully acknowledge Science Foundation Ireland (PI awards 13/IA/1865 to T.G. and 13/IA/1896 toW.S.), the Irish Research Council (Postgraduate Scholarship to DC), the European Research Council (CoG 2014–647719 to W.S.) and the School of Chemistry, Trinity College Dublin.
Copyright information
© Higher Education Press and Springer-Verlag GmbH Germany, part of Springer Nature 2018