Automated retrofit targeting of heat exchanger networks
Abstract
The aim of this paper is to develop a novel heat exchanger network (HEN) retrofit method based on a new automated retrofit targeting (ART) algorithm. ART uses the heat surplus-deficit table (HSDT) in combination with the Bridge Retrofit concepts to generate retrofit bridges option, from which a retrofit design may be formulated. The HSDT is a tabular tool that shows potential for improved re-integration of heat source and sink streams within a HEN. Using the HSDT, retrofit bridges—a set of modifications that links a cooler to a heater to save energy—may be identified, quantified, and compared. The novel retrofit method including the ART algorithm has been successfully implemented in Microsoft ExcelTM to enable analysis of large-scale HENs. A refinery case study with 27 streams and 46 existing heat exchangers demonstrated the retrofit method's potential. For the case study, the ART algorithm found 68903 feasible unique retrofit opportunities with a minimum 400 kW·unit–1 threshold for heat recovery divided by the number of new units. The most promising retrofit project required 3 new heat exchanger units to achieve a heat savings of 4.24 MW with a favorable annualised profit and a reasonable payback period.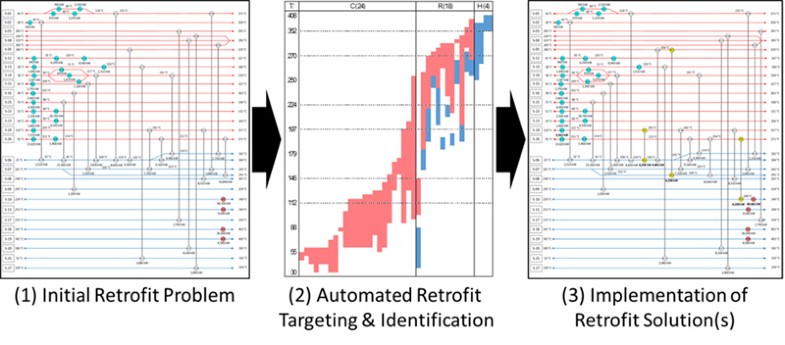 Keywords
process retrofit 
pinch analysis 
heat exchanger network 
heat recovery 
Notes
Acknowledgements
This research has been supported by: the EU project "Sustainable Process Integration Laboratory – SPIL," project No. CZ.02.1.01/0.0/0.0/15_003/0000456 funded by EU "CZ Operational Programme Research and Development, Education," Priority 1: Strengthening capacity for quality research, in a collaboration agreement with the University of Waikato, New Zealand; and, the Todd Foundation Energy PhD Research Scholarship.
Copyright information
© Higher Education Press and Springer-Verlag GmbH Germany, part of Springer Nature 2018