Fabrication of high-capacity cation-exchangers for protein adsorption: Comparison of grafting-from and grafting-to approaches
Abstract
In this work, we have synthesized two polymer-grafted cation exchangers: one via the grafting-from approach, in which sulfopropyl methacrylate (SPM) is grafted through atom transfer radical polymerization onto Sepharose FF (the thus resulting exchanger is referred as Sep-g-SPM), and another via the grafting-to approach, in which the polymer of SPM is directly coupled onto Sepharose FF (the thus resulting exchanger is called as Sep-pSPM). Protein adsorption on these two cation exchangers have been also investigated. At the same ligand density, Sep-g-SPM has a larger accessible pore radius and a smaller depth of polymer layer than SeppSPM, due to the controllable introduction of polymer chains with the regular distribution of the ligand. Therefore, high-capacity adsorption of lysozyme and γ-globulin could be achieved simultaneously in Sep-g-SPM with an ionic capacity (IC) of 308 mmol$L–1. However, Sep-pSPM has an irregular chain distribution and different architecture of polymer layer, which lead to more serious repulsive interaction to proteins, and thus Sep-pSPM has a lower adsorption capacity for γ-globulin than Sep-g-SPM with the similar IC. Moreover, the results from protein uptake experiments indicate that the facilitated transport of adsorbed γ-globulin occurs only in Sep-pSPM and depends on the architecture of polymer layers. Our research provides a clear clue for the development of high-performance protein chromatography.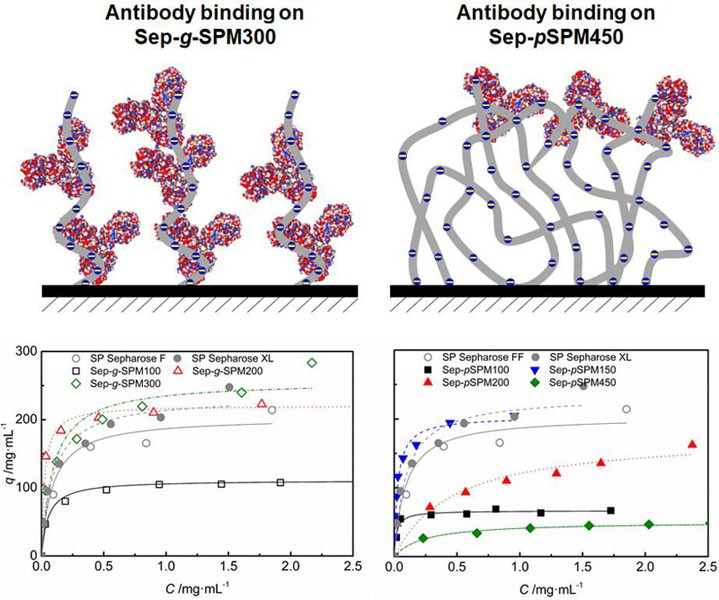 Keywords
polymer-grafted ionic exchanger 
grafting technique 
protein adsorption 
atom transfer radical polymerization 
γ-globulin 
Notes
Acknowledgements
This work was supported by grants from the National Natural Science Foundation of China (Grant Nos. 21476166 and 21236005), the Open Funding Project of the State Key Laboratory of Biochemical Engineering (No. 2014KF-03) and the Tianjin Natural Science Foundation (15JCYBJC48500).
Copyright information
© Higher Education Press and Springer-Verlag GmbH Germany, part of Springer Nature 2018