Dendritic BiVO4 decorated with MnO x co-catalyst as an efficient hierarchical catalyst for photocatalytic ozonation
Abstract
An appropriate co-catalyst can significantly promote the photocatalytic efficacy, but this has been seldom studied in the visible-light photocatalysis combined with ozone, namely photocatalytic ozonation. In this work, a dendritic bismuth vanadium tetraoxide (BiVO
4
) material composited with highly dispersed MnO
x
nanoparticles was synthesized, and its catalytic activity is 86.6% higher than bare BiVO
4
in a visible light and ozone combined process. Catalytic ozonation experiments, ultraviolet- visible (UV-Vis) diffuse reflectance spectra and photoluminescence spectra jointly indicate that MnO
x
plays a triple role in this process. MnO
x
strengthens the light adsorption and promotes the charge separation on the composite material, and it also shows good activity in catalytic ozonation. The key reactive species in this process is $OH, and various pathways for its generation in this process is proposed. This work provides a new direction of catalyst preparation and pushes forward the application of photocatalytic ozonation in water treatment.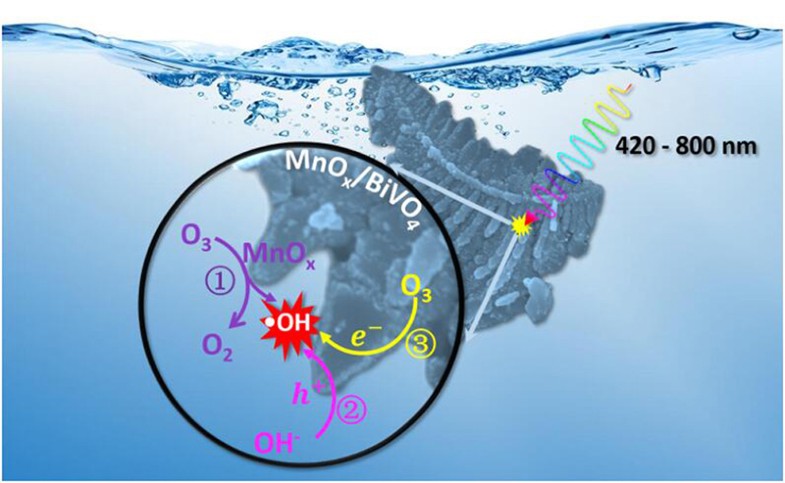 Keywords
manganese oxide 
bismuth vanadium tetraoxide 
photocatalytic ozonation 
hydroxyl radical 
cocatalyst 
Notes
Acknowledgements
This work was supported by Beijing Natural Science Foundation (8172043), the National Science Fund for Distinguished Young Scholars of China (51425405), and Chinese Academy of Sciences (ZDRWZS-2016-5).
Copyright information
© Higher Education Press and Springer-Verlag GmbH Germany, part of Springer Nature 2018