Abstract
The nasoseptal flap (NSF) has been described as reconstructive option for soft palate defects following transoral robotic surgery (TORS). As described, this technique is does not provide adequate coverage of the lateral oropharyngeal wall, parapharyngeal space, exposed vessels, or exposed mandibular bone. The NSF for TORS reconstruction has been limited to soft palate reconstruction, given the limitations on length when passed via the nasopharynx. In this article, we describe (1) a novel technique for TORS reconstruction using direct transposition of the ipsilateral NSF into the oropharynx via a transpalatal tunnel at the hard–soft palate junction, and (2) its use in select patients.
This is a preview of subscription content, log in to check access.
Access options
Buy single article
Instant unlimited access to the full article PDF.
US$ 39.95
Price includes VAT for USA
Subscribe to journal
Immediate online access to all issues from 2019. Subscription will auto renew annually.
US$ 99
This is the net price. Taxes to be calculated in checkout.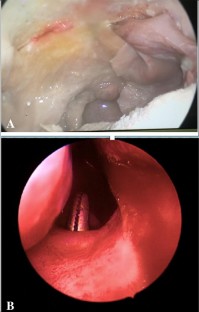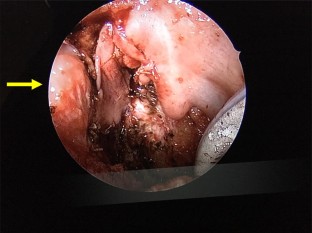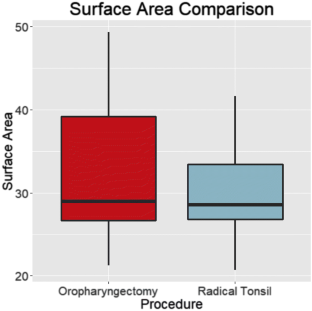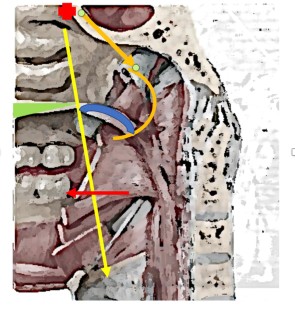 References
1.

Hadad G, Bassagasteguy L, Carrau RL, Mataza JC, Kassam A, Snyderman CH, Mintz A (2006) A novel reconstructive technique after endoscopic expanded endonasal approaches: vascular pedicle nasoseptal flap. Laryngoscope 116(10):1882–1886. https://doi.org/10.1097/01.mlg.0000234933.37779.e4

2.

Peris-Celda M, Pinheiro-Neto CD, Funaki T, Fernandez-Miranda JC, Gardner P, Snyderman C, Rhoton AL (2013) The extended nasoseptal flap for skull base reconstruction of the clival region: an anatomical and radiological study. J Neurol Surg B Skull Base 74(6):369–385. https://doi.org/10.1055/s-0033-1347368

3.

D'Anza B, Tien D, Stokken JK, Recinos PF, Woodard TR, Sindwani R (2016) Role of lumbar drains in contemporary endonasal skull base surgery: meta-analysis and systematic review. Am J Rhinol Allergy 30(6):430–435. https://doi.org/10.2500/ajra.2016.30.4377

4.

Zanation AM, Carrau RL, Snyderman CH, Germanwala AV, Gardner PA, Prevedello DM, Kassam AB (2009) Nasoseptal flap reconstruction of high flow intraoperative cerebral spinal fluid leaks during endoscopic skull base surgery. Am J Rhinol Allergy 23(5):518–521. https://doi.org/10.2500/ajra.2009.23.3378

5.

Rivera-Serrano CM, Lentz AK, Pinheiro-Neto C, Snyderman CH (2013) Cadaveric study of the posterior pedicle nasoseptal flap: a novel flap for reconstruction of pharyngeal defects and velopharyngeal insufficiency. Plast Reconstr Surg 132(5):1269–1275. https://doi.org/10.1097/PRS.0b013e3182a4c37b

6.

Pinheiro-Neto CD, Galati LT (2016) Nasoseptal flap for reconstruction after robotic radical tonsillectomy. Head Neck 38(9):E2495–E2498. https://doi.org/10.1002/hed.24483

7.

de Almeida JR, Park RC, Genden EM (2012) Reconstruction of transoral robotic surgery defects: principles and techniques. J Reconstr Microsurg 28(7):465–472. https://doi.org/10.1055/s-0032-1313762

8.

Genden EM, Park R, Smith C, Kotz T (2011) The role of reconstruction for transoral robotic pharyngectomy and concomitant neck dissection. Arch Otolaryngol Head Neck Surg 137(2):151–156. https://doi.org/10.1001/archoto.2010.250

9.

de Almeida JR, Park RC, Villanueva NL, Miles BA, Teng MS, Genden EM (2014) Reconstructive algorithm and classification system for transoral oropharyngeal defects. Head Neck 36(7):934–941. https://doi.org/10.1002/hed.23353

10.

Gillespie MB, Eisele DW (2000) The uvulopalatal flap for reconstruction of the soft palate. Laryngoscope 110(4):612–615. https://doi.org/10.1097/00005537-200004000-00014

11.

Bonawitz SC, Duvvuri U (2013) Robotic-assisted FAMM flap for soft palate reconstruction. Laryngoscope 123(4):870–874. https://doi.org/10.1002/lary.23578

12.

Genden EM, Lee BB, Urken ML (2001) The palatal island flap for reconstruction of palatal and retromolar trigone defects revisited. Arch Otolaryngol Head Neck Surg 127(7):837–841

13.

Duvvuri U, Bonawitz SC, Kim S (2013) Robotic-assisted oropharyngeal reconstruction. J Robot Surg 7(1):9–14. https://doi.org/10.1007/s11701-011-0326-z

14.

Day AT, Haughey BH, Rich JT (2017) Prevertebral muscle flap for internal carotid artery coverage during oropharyngeal transoral surgery. Laryngoscope 127(10):2256–2259. https://doi.org/10.1002/lary.26542

15.

Lee DH, Yoon TM, Lee JK, Lim SC (2017) Nasoseptal flap reconstruction after oropharyngeal cancer resection: a case report. Medicine (Baltimore) 96(44):e8527. https://doi.org/10.1097/MD.0000000000008527

16.

Weinstein GS, O'Malley BW Jr, Snyder W, Sherman E, Quon H (2007) Transoral robotic surgery: radical tonsillectomy. Arch Otolaryngol Head Neck Surg 133(12):1220–1226. https://doi.org/10.1001/archotol.133.12.1220

17.

Holsinger FC, McWhorter AJ, Menard M, Garcia D, Laccourreye O (2005) Transoral lateral oropharyngectomy for squamous cell carcinoma of the tonsillar region: I. Technique, complications, and functional results. Arch Otolaryngol Head Neck Surg 131(7):583–591. https://doi.org/10.1001/archotol.131.7.583

18.

Kimple AJ, Leight WD, Wheless SA, Zanation AM (2012) Reducing nasal morbidity after skull base reconstruction with the nasoseptal flap: free middle turbinate mucosal grafts. Laryngoscope 122(9):1920–1924. https://doi.org/10.1002/lary.23325

19.

Byrd JK, Leonardis RL, Bonawitz SC, Losee JE, Duvvuri U (2014) Transoral robotic surgery for pharyngeal stenosis. Int J Med Robot 10(4):418–422. https://doi.org/10.1002/rcs.1591

20.

Holsinger FC, Ferris RL (2015) Transoral endoscopic head and neck surgery and its role within the multidisciplinary treatment paradigm of oropharynx cancer: robotics, lasers, and clinical trials. J Clin Oncol 33(29):3285–3292. https://doi.org/10.1200/JCO.2015.62.3157

21.

Kubik M, Mandal R, Albergotti W, Duvvuri U, Ferris RL, Kim S (2017) Effect of transcervical arterial ligation on the severity of postoperative hemorrhage after transoral robotic surgery. Head Neck 39(8):1510–1515. https://doi.org/10.1002/hed.24677
Ethics declarations
Conflict of interest
Robert L. Ferris, MD, PhD has the following disclosures: Amgen (Advisory Board); Astra-Zeneca/MedImmune (Advisory Board, Clinical trial, Research Funding); Bristol-Myers Squibb (Advisory board, Clinical trial, Research funding); EMD Serono (Advisory Board); Benetic (Advisory Board); Lilly (Advisory Board); Merck (Advisory Board, Clinical trial); Pfizer (Advisory Board); VentiRx Pharmaceuticals (Research funding). Meghan T. Turner, Mathew Geltzeiler, MD, W. Greer Albergotti, MD, Umamaheswar Duvvuri, MD, PhD, Seungwon Kim, MD, Eric W. Wang, MD, declare that they have no conflicts of interest. The NSF provides excellent local flap reconstruction for lateral oropharyngectomy defects following TORS. This is the first description of a laterally-based, pedicled NSF design utilization for ICA coverage during transoral surgery. This required minimal additional surgical time and was effective in preventing acute or delayed ICA bleeding. Additionally, it postoperative healing. Although reported here only during TORS oropharyngectomy, it is intuitive that this technique also applies to transoral laser microsurgery.
Ethical approval
All procedures performed in studies involving human participants were in accordance with the ethical standards of the institutional and/or national research committee and with the 1964 Helsinki declaration and its later amendments or comparable ethical standards.
Informed consent
Informed consent was obtained from all individual participants included in the study per institutional protocols.
Additional information
Publisher's Note
Springer Nature remains neutral with regard to jurisdictional claims in published maps and institutional affiliations.
Electronic supplementary material
Below is the link to the electronic supplementary material.
Supplementary material 1 (MP4 127971 kb)
About this article
Cite this article
Turner, M.T., Geltzeiler, M., Albergotti, W.G. et al. Reconstruction of TORS oropharyngectomy defects with the nasoseptal flap via transpalatal tunnel. J Robotic Surg (2019) doi:10.1007/s11701-019-00984-5
Received:

Accepted:

Published:
Keywords
Nasoseptal flap (NSF)

Transoral robotic surgery (TORS)

Robotic oropharyngectomy

Robotic-assisted reconstruction

Oropharyngeal reconstruction