Abstract
Collapse of the resection plane presents a frustrating problem during transoral robotic resection, in a situation already typified by limited vision and access for instruments. We present a quick and cost-effective retraction technique to effectively mitigate this issue and increase the ease and reliability of robotic oropharyngeal resection. This technique utilises a simple transnasal apparatus to create greater exposure of the resection plane. A Y-suction catheter is inserted into the oropharynx via the nasal cavity. A silk suture is then used to attach it to the oropharyngeal resection specimen. When pulled from the nasal cavity, this apparatus adds a non-intrusive, tremor-free fixation point that pulls the resected specimen along a unique cephalo-posterior vector. This significantly improves access and vision of the desired dissection plane. The entire process takes approximately 1–2 min per side to properly execute. It can be adapted for various pathologies and subsites of the oropharynx. This transnasal technique is a simple, minimally invasive, and inexpensive method for improving wound tension during transoral oropharyngeal resection.
This is a preview of subscription content, log in to check access.
Access options
Buy single article
Instant unlimited access to the full article PDF.
US$ 39.95
Price includes VAT for USA
Subscribe to journal
Immediate online access to all issues from 2019. Subscription will auto renew annually.
US$ 99
This is the net price. Taxes to be calculated in checkout.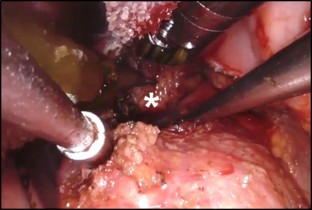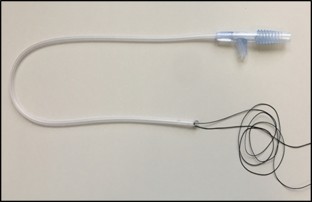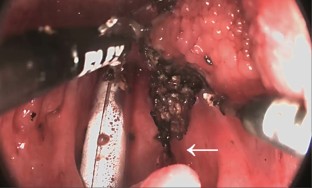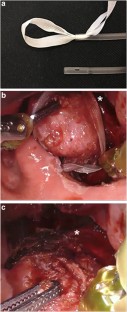 References
1.

McLeod I, Mair E, Melder P (2005) Potential applications of the da Vinci minimally invasive surgical robotic system in otolaryngology. Ear Nose Throat J 84(8):483–487

2.

Hockstein NG, Nolan J, O'Malley BW Jr, Woo YJ (2005) Robot-assisted pharyngeal and laryngeal microsurgery: results of robotic cadaver dissections. Laryngoscope 115(6):1003–1008

3.

Vicini C, Dallan I, Canzi P, Frassineti S, Nacci A, Seccia V, Panicucci E, Grazia La Pietra M, Montevecchi F, Tschabitscher M (2012) Transoral robotic surgery of the tongue base in obstructive sleep Apnea-Hypopnea syndrome: anatomic considerations and clinical experience. Head Neck 34(1):15–22

4.

Moore EJ, Janus J, Kasperbauer J (2012) Transoral robotic surgery of the oropharynx: Clinical and anatomic considerations. Clin Anat 25(1):135–141

5.

Friedman M, Kelley K, Maley A (2013) Robotic glossectomy for obstructive sleep apnea technique. Oper Tech Otolaryngol-Head Neck Surg 24(2):106–110

6.

Miller M (2016) Tongue base exposure during TORS without the use of a mouth prop. J Robot Surg 10(4):347–352

7.

Weinstein G, O'Malley BE Jr, Snyder W, Sherman E, Quon H (2007) Transoral Robotic Surgery Radical Tonsillectomy. Arch Otolaryngol Head Neck Surg 133(12):1220–1226

8.

Cracchiolo JR, Roman BR, Kutler DI, Kuhel WI, Cohen MA (2016) Adoption of transoral robotic surgery compared with other surgical modalities for treatment of oropharyngeal squamous cell carcinoma. J Surg Oncol 114:405–411

9.

Hodge JC, Krishnan S, Rees G (2010) Transoral robotic surgery in the treatment of head and neck cancer patients: initial experience at the Royal Adelaide Hospital. Otolaryngol Head Neck Surg 143(5):S43–S44
Ethics declarations
Conflict of interest
Michael Gouzos declares that he has no conflict of interest. Neeraj Sethi declares that he has no conflict of interest. Andrew Foreman declares that he has no conflict of interest. Suren Krishnan has received educational grants from Intuitive Surgical™ and Medrobotics™. JC Hodge received educational grants from Intuitive Surgical™ and Medrobotics™.
Ethical approval
This article does not contain any studies with human participants or animals performed by any of the authors.
Additional information
Publisher's Note
Springer Nature remains neutral with regard to jurisdictional claims in published maps and institutional affiliations.
Electronic supplementary material
Below is the link to the electronic supplementary material.
Supplementary material 1 (WMV 194901 KB)
Supplementary material 2 (MP4 8836 KB)
About this article
Cite this article
Gouzos, M., Sethi, N., Foreman, A. et al. How I do it: transnasal retraction during transoral robotic oropharyngeal resection. J Robotic Surg (2019). https://doi.org/10.1007/s11701-019-00937-y
Received:

Accepted:

Published:
Keywords
Transoral robotic surgery

Oropharynx

Transnasal

Retraction