Abstract
A 33-year-old female presented to the emergency department of our hospital with urosepsis and hematuria with clot retention secondary to a complicated pyelolithotomy for left-sided pelvic calculus. A percutaneous nephrostomy was placed for drainage as a DJ stent could not be traversed into the left renal pelvis with retrograde pyelography demonstrating complete cut-off at L4–L5 level. After stabilization, she was found to have uretero-pelvic junction obstruction (UPJO) in left solitary functioning kidney with long-segment upper ureteric stricture and nadir serum creatinine 1.5 mg/dL. Nephrostogram and CT scan revealed an intra-renal pelvis with no passage of contrast into the ureter. Primary hyperparathyroidism secondary to parathyroid adenoma was also detected and she underwent excision of the same. The long-segment ureteric stricture and need for a wide drainage ruled out pyeloplasty and ureterocalicostomy as treatment options. A wide-bore communication between the lower calyx and bladder was necessary and robot assisted ileocalicostomy was performed in this case. A 20-cm-long segment of ileum was used to replace the ureter with a suprapubic 16 Fr Foley's catheter as splint. Postoperative course was uneventful with all tubes removed by third postoperative week. Nephrostogram demonstrated gravity-dependent drainage into the bladder with no leak or anastomotic narrowing. The patient is doing well at 6 months of follow-up with a stable renal function. Robot assisted ileocalicostomy is a safe and effective technique which provides wide gravity-dependent drainage in complex UPJO with long-segment ureteric stricture and intra-renal pelvis.
This is a preview of subscription content, log in to check access.
Access options
Buy single article
Instant unlimited access to the full article PDF.
US$ 39.95
Price includes VAT for USA
Subscribe to journal
Immediate online access to all issues from 2019. Subscription will auto renew annually.
US$ 99
This is the net price. Taxes to be calculated in checkout.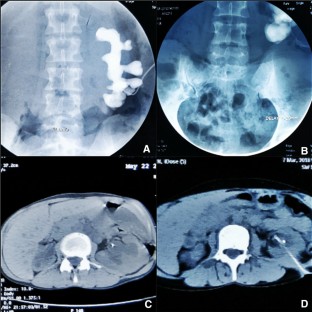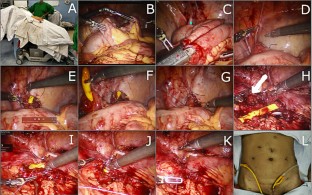 References
1.

Goodwin WE, Winter CC, Turner RD (1959) Replacement of the ureter by small intestine: clinical application and results of the "ileal ureter". J Urol 81:406–18

2.

Mattos RM, Smith JJ (1997) Ileal ureter. Urol Clin North Am 14:813–25

3.

Shokeir AA, Ghoneim MA (1995) Further experience with the modified ileal ureter. J Urol 154:45–48

4.

Gerharz EW, Turner WH, Kälble T, Woodhouse CRJ (2003) Metabolic and functional consequences of urinary reconstruction with bowel. BJU Int 91:143–149

5.

Ali-El-Dein B, El-Tabey N, Abdel-Latif M, Abdel-Rahim M, El-Bahnasawy MS (2002) Late uro-ileal cancer after incorporation of ileum into the urinary tract. J Urol 167:84–88

6.

Ali-El-Dein B, Ghoneim MA (2003) Bridging long ureteral defects using the Yang–Monti principle. J Urol 169:1074–1077

7.

Ruiz M, Hevia V, Fabuel J-J, Fernández A-A, Gómez V, Burgos F-J (2017) Kidney autotransplantation: long-term outcomes and complications. Experience in a tertiary hospital and literature review. Int Urol Nephrol 49:1929–1935

8.

Brandao LF, Autorino R, Zargar H, Laydner H, Krishnan J, Samarasekera D et al (2014) Robotic ileal ureter: a completely intracorporeal technique. Urology 83:951–954. https://doi.org/10.1016/j.urology.2013.11.035

9.

Ubrig B, Janusonis J, Paulics L, Boy A, Heiland M, Roosen A (2018) Functional outcome of completely intracorporeal robotic ileal ureteric replacement. Urology 114:193–197. https://doi.org/10.1016/j.urology.2017.11.019

10.

Konheim JA, Khaled DT, Canter DJ (2018) Ileocalicostomy ureteral substitution for complex ureteropelvic junction stricture: technique and initial experience. Urology. https://doi.org/10.1016/j.urology.2018.08.024
Ethics declarations
Conflict of interest
Santosh Kumar, Abhishek Chandna, Ashish Khanna, Kalpesh M. Parmar, Tushar Aditya Narain and Nripesh Sadasukhi declare that they have no conflicts of interest.
Informed consent
Written informed consent was obtained from the patient for publication of this case report/any accompanying images. A copy of the written consent is available for review by the Editor-in-chief of this journal.
Electronic supplementary material
Below is the link to the electronic supplementary material.
Supplementary material 1 (MP4 330722 KB)
About this article
Cite this article
Kumar, S., Chandna, A., Khanna, A. et al. Robot assisted intra-corporeal ileocalicostomy ureteral substitution for complex uretero-pelvic junction obstruction: a novel and feasible innovation. J Robotic Surg 13, 589–593 (2019). https://doi.org/10.1007/s11701-018-0885-3
Received:

Accepted:

Published:

Issue Date:
Keywords
Ileal ureter

Ileocalicostomy

Ileal ureteral substitution

Robotic ileal ureter

UPJO

Robotic surgery