Abstract
The case is of a 59-year-old male with history of severe ischemic colitis following emergent intervention for a ruptured infrarenal aortic aneurysm who subsequently underwent left hemicolectomy, partial proctectomy, and Hartmann colostomy. The patient later underwent reversal of the Hartmann colostomy with diverting ileostomy. The surgery was complicated by a right ureteral and posterior bladder injury that resulted in a large rectovesical fistula involving the right hemitrigone and right ureteral orifice. An attempt to repair the rectovesical fistula at an outside facility was unsuccessful. Then, he underwent a robotic-assisted laparoscopic repair of rectovesical fistula, including simple prostatectomy, excision of rectovesical fistulous tract, rectal closure, peritoneal and omental flap interposition, bladder neck reconstruction, vesicourethral anastomosis and right ureteral reimplantation. There were no intraoperative or postoperative complications, and the patient was discharged at postoperative day 4; cystoscopy at 6-week follow-up demonstrated a successful closure of the fistula, at which time the ureteral stents were removed.
This is a preview of subscription content, log in to check access.
Access options
Buy single article
Instant unlimited access to the full article PDF.
US$ 39.95
Price includes VAT for USA
Subscribe to journal
Immediate online access to all issues from 2019. Subscription will auto renew annually.
US$ 99
This is the net price. Taxes to be calculated in checkout.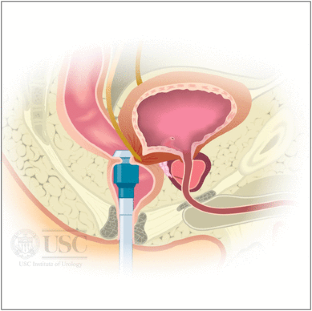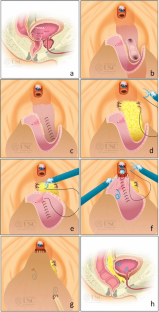 References
1.

Siddiqui MR, Sajid MS, Baig MK (2010) Open vs laparoscopic approach for reversal of Hartmann's procedure: a systematic review. Colorectal Dis 12(8):733–741

2.

Schmelzer TM, Mostafa G, Norton HJ, Newcomb WL, Hope WW, Lincourt AE et al (2007) Reversal of Hartmann's procedure: a high-risk operation? Surgery 142(4):598–606 (discussion–7)

3.

Richards CH, Roxburgh CS, Scottish Surgical Research G (2015) Surgical outcome in patients undergoing reversal of Hartmann's procedures: a multicentre study. Colorectal Dis 17(3):242–249

4.

Garber A, Hyman N, Osler T (2014) Complications of Hartmann takedown in a decade of preferred primary anastomosis. Am J Surg 207(1):60–64

5.

Petersen M, Kockerling F, Lippert H, Scheidbach H (2009) Laparoscopically assisted reversal of Hartmann procedure. Surg Laparosc Endosc Percutan Tech 19(1):48–51

6.

Driver CP, Anderson DN, Findlay K, Keenan RA, Davidson AI (1997) Vesico-colic fistulae in the Grampian region: presentation, assessment, management and outcome. J R Coll Surg Edinb 42(3):182–185

7.

Belmonte C, Klas JV, Perez JJ, Wong WD, Rothenberger DA, Goldberg SM et al (1996) The Hartmann procedure. First choice or last resort in diverticular disease? Arch Surg 131(6):612–615 (discussion 6–7)

8.

Tan WS, Lim JF, Tang CL, Eu KW (2012) Reversal of Hartmann's procedure: experience in an Asian population. Singap Med J 53(1):46–51

9.

Tsivian A, Kyzer S, Shtricker A, Benjamin S, Sidi AA (2006) Laparoscopic treatment of colovesical fistulas: technique and review of the literature. Int J Urol 13(5):664–667

10.

Pokala N, Delaney CP, Brady KM, Senagore AJ (2005) Elective laparoscopic surgery for benign internal enteric fistulas: a review of 43 cases. Surg Endosc 19(2):222–225

11.

Menenakos E, Hahnloser D, Nassiopoulos K, Chanson C, Sinclair V, Petropoulos P (2003) Laparoscopic surgery for fistulas that complicate diverticular disease. Langenbecks Arch Surg 388(3):189–193

12.

Oderda M, Bonet X, Campobasso D, Gaston R (2014) Robotic rectovesical fistula repair: a successful approach. J Laparoendosc Adv Surg Tech A 24(8):567–570

13.

Sotelo R, de Andrade R, Carmona O, Astigueta J, Velasquez A, Trujillo G et al (2008) Robotic repair of rectovesical fistula resulting from open radical prostatectomy. Urology 72(6):1344–1346

14.

Parma P, Samuelli A, Dall'Oglio B, Cappellaro L, Bondavalli C, De Luca F (2011) Laparoscopic repair of rectovesical fistula after radical retropubic prostatectomy. Urologia 78(Suppl 18):21–25

15.

Gozen AS, Malkoc E, Al-Sudani I, Rassweiler J (2012) Laparoscopic urorectal fistula repair: value of the salvage prostatectomy and review of current approaches. J Endourol 26(9):1171–1176

16.

Sotelo R, Mirandolino M, Trujillo G, Garcia A, de Andrade R, Carmona O et al (2007) Laparoscopic repair of rectourethral fistulas after prostate surgery. Urology 70(3):515–518

17.

Sotelo R, Garcia A, Yaime H, Rodriguez E, Dubois R, Andrade RD et al (2005) Laparoscopic rectovesical fistula repair. J Endourol 19(6):603–607
Ethics declarations
Conflict of interest
Authors declare no conflict of interest.
Ethical approval
All procedures performed in studies involving human participants were in accordance with the ethical standards of the institutional and/or national research committees and with the 1964 Helsinki declaration and its later amendments or comparable ethical standards. This article does not contain any studies with animals performed by any of the authors.
Informed consent
Informed consent was obtained from all participants in the study. This study was approved by the institutional IRB. Written informed consent was obtained from the patient for publication of this Case Report and any accompanying images. A copy of the written consent is available for review by the Editor-in-Chief of this journal.
Electronic supplementary material
Below is the link to the electronic supplementary material.
About this article
Cite this article
Sotelo, R., Medina, L.G., Husain, F.Z. et al. Robotic-assisted laparoscopic repair of rectovesical fistula after Hartmann's reversal procedure. J Robotic Surg 13, 339–343 (2019). https://doi.org/10.1007/s11701-018-0854-x
Received:

Accepted:

Published:

Issue Date:
Keywords
Fistula

Rectovesical

Robot

Hartmann

Surgery