Abstract
Transoral thyroid surgery allows the surgeon to conceal incisions within the oral cavity without significantly increasing the amount of required dissection. TORT provides an ideal scarless, midline access to the thyroid gland and bilateral central neck compartments. This approach, however, presents multiple technical challenges. Herein, we present our experience using the latest generation robotic surgical system to accomplish transoral robotic thyroidectomy (TORT). In two human cadavers, the da Vinci Xi surgical system (Intuitive Surgical, Sunnyvale, CA, USA) was used to complete TORT. Total thyroidectomy and bilateral central neck dissection was successfully completed in both cadavers. The da Vinci Xi platform offered several technologic advantages over previous robotic generations including overhead docking, narrower arms, and improved range of motion allowing for improved execution of previously described TORT techniques.
This is a preview of subscription content, log in to check access.
Access options
Buy single article
Instant unlimited access to the full article PDF.
US$ 39.95
Price includes VAT for USA
Subscribe to journal
Immediate online access to all issues from 2019. Subscription will auto renew annually.
US$ 99
This is the net price. Taxes to be calculated in checkout.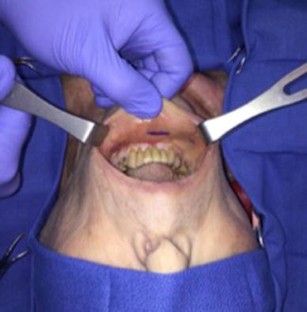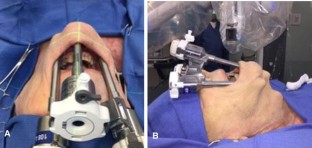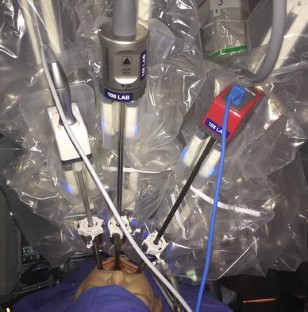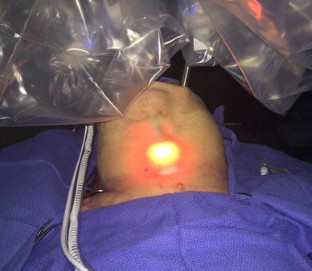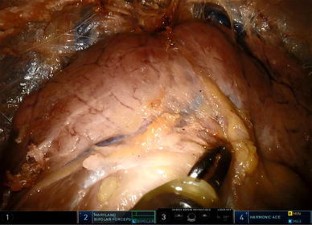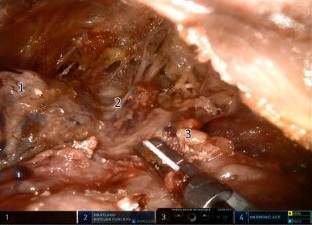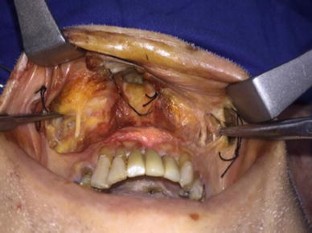 References
1.

Chow TL, Chu W, Lim BH, Kwok SP (2001) Outcomes and complications of thyroid surgery: retrospective study. Hong Kong Med J 7(3):261–265

2.

Choi Y, Lee JH, Kim YH, Lee YS, Chang HS, Park CS et al (2014) Impact of postthyroidectomy scar on the quality of life of thyroid cancer patients. Ann Dermatol 26(6):693–699

3.

Arora A, Swords C, Garas G, Chaidas K, Prichard A, Budge J et al (2016) The perception of scar cosmesis following thyroid and parathyroid surgery: a prospective cohort study. Int J Surg. 25:38–43

4.

Miccoli P (2002) Minimally invasive surgery for thyroid and parathyroid diseases. Surg Endosc 16(1):3–6

5.

Ikeda Y, Takami H, Niimi M, Kan S, Sasaki Y, Takayama J (2001) Endoscopic thyroidectomy by the axillary approach. Surg Endosc 15(11):1362–1364

6.

Shimazu K, Shiba E, Tamaki Y, Takiguchi S, Taniguchi E, Ohashi S et al (2003) Endoscopic thyroid surgery through the axillo-bilateral-breast approach. Surg Laparosc Endosc Percutaneous Tech 13(3):196–201

7.

Byeon HK, Holsinger FC, Tufano RP, Park JH, Sim NS, Kim WS et al (2016) Endoscopic retroauricular thyroidectomy: preliminary results. Surg Endosc 30(1):355–365

8.

Noureldine SI, Richmon JD, Tufano RP, Mohamed S, Kandil E (2013) Robotic surgery in otolaryngology: endocrine. Curr Otorhinolaryngol Rep 1(3):145–152

9.

Witzel K, von Rahden BH, Kaminski C, Stein HJ (2008) Transoral access for endoscopic thyroid resection. Surg Endosc 22(8):1871–1875

10.

Wilhelm T, Metzig A (2011) Endoscopic minimally invasive thyroidectomy (eMIT): a prospective proof-of-concept study in humans. World J Surg 35(3):543–551

11.

Nakajo A, Arima H, Hirata M, Mizoguchi T, Kijima Y, Mori S et al (2013) Trans-oral video-assisted neck surgery (TOVANS). A new transoral technique of endoscopic thyroidectomy with gasless premandible approach. Surg Endosc 27(4):1105–1110

12.

Anuwong A (2016) Transoral endoscopic thyroidectomy vestibular approach: a series of the first 60 human cases. World J Surg 40(3):491–497

13.

Clark JH, Kim HY, Richmon JD (2015) Transoral robotic thyroid surgery. Gland Surg 4(5):429–434

14.

Richmon JD, Pattani KM, Benhidjeb T, Tufano RP (2011) Transoral robotic-assisted thyroidectomy: a preclinical feasibility study in 2 cadavers. Head Neck 33(3):330–333

15.

Kandil EH, Noureldine SI, Yao L, Slakey DP (2012) Robotic transaxillary thyroidectomy: an examination of the first one hundred cases. J Am Coll Surg. 214(4):558–564. doi:10.1016/j.jamcollsurg.2012.01.002

16.

Terris DJ, Singer MC, Seybt MW (2011) Robotic facelift thyroidectomy: II. Clinical feasibility and safety. Laryngoscope 121(8):1636–1641

17.

Richmon JD, Holsinger FC, Kandil E, Moore MW, Garcia JA, Tufano RP (2011) Transoral robotic-assisted thyroidectomy with central neck dissection: preclinical cadaver feasibility study and proposed surgical technique. J Robot Surg. 5(4):279–282

18.

Tanna N, Joshi AS, Glade RS, Zalkind D, Sadeghi N (2006) Da Vinci robot-assisted endocrine surgery: novel applications in otolaryngology. Otolaryngol Head Neck Surg 135(4):633–635

19.

Miyano G, Lobe TE, Wright SK (2008) Bilateral transaxillary endoscopic total thyroidectomy. J Pediatr Surg 43(2):299–303. doi:10.1016/j.jpedsurg.2007.10.018

20.

Kang SW, Lee SC, Lee SH, Lee KY, Jeong JJ, Lee YS et al (2009) Robotic thyroid surgery using a gasless, transaxillary approach and the da Vinci S system: the operative outcomes of 338 consecutive patients. Surgery 146(6):1048–1055. doi:10.1016/j.surg.2009.09.007

21.

Lee KE, Rao J, Youn YK (2009) Endoscopic thyroidectomy with the da Vinci robot system using the bilateral axillary breast approach (BABA) technique: our initial experience. Surg Laparosc Endosc Percutaneous Tech 19:e71–e75. doi:10.1097/SLE.0b013e3181a4ccae

22.

Orloff LA, Kuppersmith RB (2010) American Thyroid Association's central neck dissection terminology and classification for thyroid cancer consensus statement. Otolaryngol Head Neck Surg 142(1):4–5

23.

Woo SH (2014) Endoscope-assisted transoral thyroidectomy using a frenotomy incision. J Laparoendosc Adv Surg Tech A 24(5):345–349

24.

Noureldine SI, Jackson NR, Tufano RP, Kandil E (2013) A comparative North American experience of robotic thyroidectomy in a thyroid cancer population. Langenbecks Arch Surg 398(8):1069–1074

25.

Lee HY, Hwang SB, Ahn KM, Lee JB, Bae JW, Kim HY (2014) The safety of transoral periosteal thyroidectomy: results of Swine models. J Laparoendosc Adv Surg Tech A. 24(5):312–317

26.

Lee HY, You JY, Woo SU, Son GS, Lee JB, Bae JW et al (2015) Transoral periosteal thyroidectomy: cadaver to human. Surg Endosc 29(4):898–904

27.

Sharma A, Albergotti WG, Duvvuri U (2016) Applications of evolving robotic technology for head and neck surgery. Ann Otol Rhinol Laryngol 125(3):207–212
Ethics declarations
Conflict of interest
Jonathon O. Russell, MD; Salem I. Noureldine, MD; Mai Al Khadem, MBBCh; Hamad A. Chaudhary, MD; Andrew T. Day, MD; Hoon Yub Kim, MD, PhD; Ralph P. Tufano, MD; and Jeremy D. Richmon, MD declare that they do not have any conflicts of interest.
Ethical approval
This article does not contain any studies with human participants performed by any of the authors.
Funding
Intuitive Surgical (Sunnyvale, CA, USA) provided material support for this study. Intuitive Surgical had no role in the design and conduct of the study; collection, management, analysis, or interpretation of the data; preparation, review, or approval of the manuscript; and decision to submit the manuscript for publication.
Electronic supplementary material
Below is the link to the electronic supplementary material.
Supplementary material (MP4 563031 kb)
About this article
Cite this article
Russell, J.O., Noureldine, S.I., Al Khadem, M.G. et al. Transoral robotic thyroidectomy: a preclinical feasibility study using the da Vinci Xi platform. J Robotic Surg 11, 341–346 (2017) doi:10.1007/s11701-016-0661-1
Received:

Accepted:

Published:

Issue Date:
Keywords
Transoral

Robotic

Thyroidectomy

Vestibular

da Vinci Xi

Remote access