Abstract
Robot-assisted percutaneous insertion of pedicle screws is a recent technique demonstrating high accuracy. The optimal treatment for spondylodiscitis is still a matter of debate. We performed a retrospective cohort study on surgical patients treated with pedicle screw/rod placement alone without the application of intervertebral cages. In this collective, we compare conventional open to a further minimalized percutaneous robot-assisted spinal instrumentation, avoiding a direct contact of implants and infectious focus. 90 records and CT scans of patients treated by dorsal transpedicular instrumentation of the infected segments with and without decompression and antibiotic therapy were analysed for clinical and radiological outcome parameters. 24 patients were treated by free-hand fluoroscopy-guided surgery (121 screws), and 66 patients were treated by percutaneous robot-assisted spinal instrumentation (341 screws). Accurate screw placement was confirmed in 90 % of robot-assisted and 73.5 % of free-hand placed screws. Implant revision due to misplacement was necessary in 4.95 % of the free-hand group compared to 0.58 % in the robot-assisted group. The average intraoperative X-ray exposure per case was 0.94 ± 1.04 min in the free-hand group vs. 0.4 ± 0.16 min in the percutaneous group (p = 0.000). Intraoperative adverse events were observed in 12.5 % of free-hand placed pedicle screws and 6.1 % of robot robot-assisted screws. The mean postoperative hospital stay in the free-hand group was 18.1 ± 12.9 days, and in percutaneous group, 13.8 ± 5.6 days (p = 0.012). This study demonstrates that the robot-guided insertion of pedicle screws is a safe and effective procedure in lumbar and thoracic spondylodiscitis with higher accuracy of implant placement, lower radiation dose, and decreased complication rates. Percutaneous spinal dorsal instrumentation seems to be sufficient to treat lumbar and thoracic spondylodiscitis.
This is a preview of subscription content, log in to check access.
Access options
Buy single article
Instant unlimited access to the full article PDF.
US$ 39.95
Price includes VAT for USA
Subscribe to journal
Immediate online access to all issues from 2019. Subscription will auto renew annually.
US$ 99
This is the net price. Taxes to be calculated in checkout.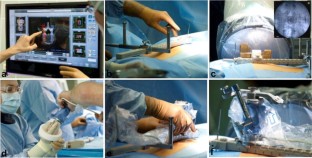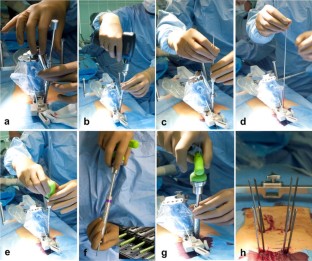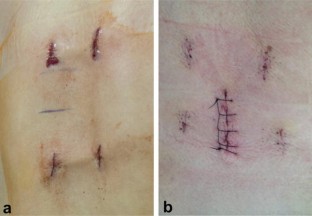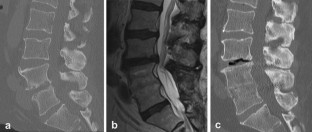 References
1.

Devito DP, Kaplan L, Dietl R, Pfeiffer M, Horne D, Silberstein B, Hardenbrook M, Kiriyanthan G, Barzilay Y, Bruskin A, Sackerer D, Alexandrovsky V, Stüer C, Bruger R, Maeurer J, Donald GD, Schoenmayr R, Friedlander A, Knoller N, Schmieder K, Pechlivanis I, Kim IS, Meyer B, Shoham M (2010) Clinical acceptance and accuracy of spinal implants guided with spine assist surgical robot. Spine 35:2109–2115

2.

Kantelhardt SR, Martinez R, Baerwinkel S, Burger R, Giese A, Rohde V (2011) Perioperative course and accuracy of screw positioning in conventional, open robotic-guided and percutaneous robot-guided, pedicle screw placement. Eur Spine J 20:860–868

3.

Pechlivanis I, Kiriyanthan G, Engelhardt M, Scholz M, Lücke S, Harders A, Schmieder K (2009) Percutaneous placement of pedicle screws in the lumbar spine using a bone mounted miniature robotic system. Spine 34(4):392–398

4.

Schoenmayr R, Kim I (2010) Why do I use and recommend the use of navigation. ArgoSpine News J 22(4):132–135

5.

Van Dijk JD, van den Ende RP, Stramigioli S, Köchling M, Höss N (2015) Clinical pedicle screw accuracy and deviation from planning in robot-guided spine surgery. Spine 40(17):E986–E991

6.

Sur A, Tsang K, Brown M, Tzerakis N (2015) Management of adult spontaneous spondylodiscitis and its rising incidence. Ann R Coll Surg Engl 97(6):451–455

7.

Márquez Sánchez P (2016) Spondylodiscitis. Radiologia. doi:10.1016/j.rx.2015.12.005. (Epub ahead of print)

8.

Hadjipavlou AG, Mader JT, Necessary JT, Muffoletto AJ (2000) Hematogenous pyogenic spinal infections and their surgical management. Spine 25:1668–1679

9.

Mylona E, Samarkos M, Kakalou E, Fanourgiakis P, Skoutelis A (2009) Pyogenic vertebral osteomyelitis: a systemic review of clinical characteristics. Semin Arthritis Rheum 39(1):10–17

10.

Krödel A, Krüger A, Lohscheidt K, Pfahler M, Refior HJ (1999) Anterior debridement, fusion, and extrafocal stabilization in the treatment of osteomyelitis of the spine. J Spinal Dis 12:17–26

11.

Gonzalvo A, Abdulla I, Riazi A, De La Harpe D (2011) Single-level/single-stage debridement and posterior instrumented fusion in the treatment of spontaneous pyogenic osteomyelitis/discitis. J Spinal Disor Tech 24:110–115

12.

Zarghooni K, Röllinghoff M, Sobottke R, Eysel P (2012) Treatment of Spondylodiscitis. Int Orthop 36:405–411

13.

Wiesner L, Kothe R, Schultz KP, Ruther W (2000) Clinical evaluation and computed tomography scan analysis of screw tracts after percutaneous insertion of pedicle screws in the lumbar spine. Spine 25:615–621

14.

Deininger MH, Unfried M, Vougioukas V, Hubbe U (2009) Minimally invasive dorsal percutaneous spondylodesis for the treatment of adult pyogenic spondlyodiscitis. Acta Neurochir 151:1451–1457

15.

Kuko TR, Potter BK, Bell RS, Moquin RR, Rosner MK (2006) Single-stage treatment of pyogenic spinal infection with titanium mesh cages. J Spinal Disord Tech 13:1668–1679

16.

Shiban E, Janssen I, Wostrack M, Krieg SM, Ringel F, Meyer B, Stoffel M (2014) A retrospective study of 113 consecutive cases of surgically treated spondylodiscitis patients. A single-center experience. Acta Neurochir 156:1189–1196

17.

Faciszewski T, Winter RB, Lonstein JE, Denis F, Johnson L (1995) The surgical and medical perioperative complications of anterior spinal fusion surgery in the thoracic and lumbar spine in adults: a review of 1223 procedures. Spine 20:1592–1599

18.

Ha KY, Shin JH, Kim KW, Na KH (2007) The fate of anterior autogenous bone graft after anterior radical surgery with or without posterior instrumentation in the treatment of pyogenic lumbar spondylodiscitis. Spine 32:1856–1864

19.

Stokes IA, Gardner-Morse M, Herny SM, Badger GJ (2000) Decrease in trunk muscular response to perturbation with preactivation of lumbar spinal musculature. Spine 25:1957–1964

20.

Kim D, Lee S, Chung S, Lee H (2005) Comparison of multifidus muscle atrophy and trunk extension muscle strength: percutaneous versus open pedicle screw fixation. Spine 30:123–129

21.

Lehmann W, Ushmaev A, Ruecker A, Nuechtern J, Grossterlinden L, Begemann PG, Baeumer T, Rueger JM, Briem D (2008) Comparison of open versus percutaneous pedicle screw insertion in a sheep model. Eur Spine J 17:857–863

22.

Lowery GL, Kularni SS (2000) Posterior percutaneous spine instrumentation. Eur Spine J 9(Suppl):126–130

23.

Rahmathulla G, Nottmeier EW, Pirris SM, Deen HG, Pichelmann MA (2014) Intraoperative image-guided spinal navigation: technical pitfalls and their avoidance. Neurosurg Focus 36:E3. doi:10.3171/2014.FOCUS13516
Acknowledgments
Results of this article are parts of the ongoing doctoral thesis of F. A.
Ethics declarations
Funding
No funding has been received in favor of this study.
Conflict of interest
Author NK declares that she has no conflict of interest. Author DJE declares that he has no conflict of interest. Author FA declares that he has no conflict of interest. Author IR-C declares that she has no conflict of interest. Author MR declares that she has no conflict of interest. Author JC declares that he has no conflict of interest. Author DMAW declares that he has no conflict of interest. Author SRK declares that he has no conflict of interest. Author AG declares that he has no conflict of interest.
Ethical approval
This article does not contain any studies with animals performed by any of the authors. According to the laws of the local ethics committee, for this type of retrospective study, an ethical approval and a formal patient consent are not required.
About this article
Cite this article
Keric, N., Eum, D.J., Afghanyar, F. et al. Evaluation of surgical strategy of conventional vs. percutaneous robot-assisted spinal trans-pedicular instrumentation in spondylodiscitis. J Robotic Surg 11, 17–25 (2017) doi:10.1007/s11701-016-0597-5
Received:

Accepted:

Published:

Issue Date:
Keywords
Spondylodiscitis

Percutaneous spinal instrumentation

Robot-assisted surgery

Pedicle screws