Abstract
Robot-assisted partial nephrectomy has become a safe and feasible procedure for small renal masses (SRM). Similarly, robot-assisted adrenalectomy has also been well established. Robotic surgery has provided the possibility to manage complex cases that are considered technically challenging for traditional laparoscopy. We describe in this video the details of performing simultaneous robotic adrenalectomy with partial nephrectomy highlighting the technical aspects of the same. A 62-year-old gentleman presented to us with incidentally detected left renal complex cyst (Bosniak IIF) and a concomitant left adrenal mass. Hormonal evaluation of adrenal tumor revealed raised levels of serum estrogen and DHEAS. A robotic-assisted simultaneous procedure was planned. Patient was positioned in right lateral position. After port placement, robot was brought from the shoulder of the patient and docked. We first excised the adrenal tumor followed by the renal cyst. Total operative time was 180 min with warm ischemia time of 20 min for renal cyst excision. Drain was removed on post-operative day 2. Patient was discharged on post-operative day 3. Histopathology revealed adrenocortical adenoma and benign hemorrhagic renal cyst. We found simultaneous ipsilateral adrenalectomy with partial nephrectomy using robotic assistance is feasible and safe with minimal morbidity. Port placement in such cases should be individualized according to the location of the SRM. The robot provides the ergonomic advantage and 3D vision for better anatomic definition as compared to laparoscopy.
This is a preview of subscription content, log in to check access.
Access options
Buy single article
Instant unlimited access to the full article PDF.
US$ 39.95
Price includes VAT for USA
Subscribe to journal
Immediate online access to all issues from 2019. Subscription will auto renew annually.
US$ 99
This is the net price. Taxes to be calculated in checkout.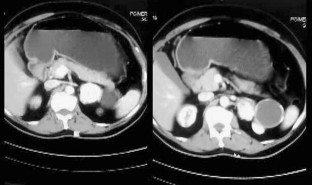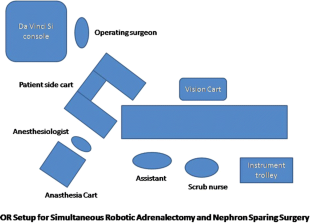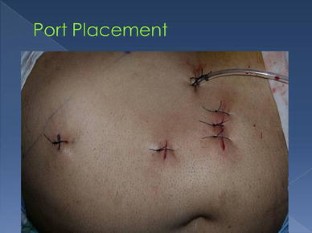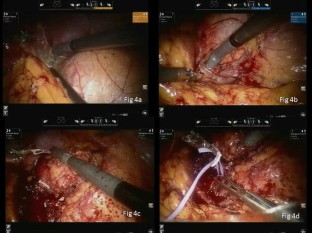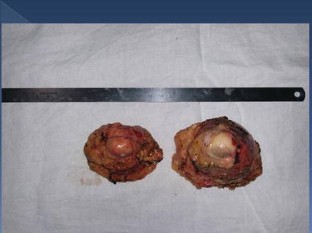 References
1.

Kaouk JH, Khalifeh A, Hillyer S, Haber GP, Stein RJ, Autorino R (2012) Robot-assisted laparoscopic partial nephrectomy: step-by-step contemporary technique and surgical outcomes at a single high-volume institution. Eur Urol 62:553–561

2.

D'Annibale A, Lucandri G, Monsellato I, De Angelis M, Pernazza G, Alfano G, Mazzocchi P, Pende V (2012) Robotic adrenalectomy: technical aspects, early results and learning curve. Int J Med Robot 8:483–490

3.

Ramani AP, Abreu SC, Desai MM, Steinberg AP, Ng C, Lin CH, Kaouk JH, Gill IS (2003) Laparoscopic upper pole partial nephrectomy with concomitant en bloc adrenalectomy. Urology 62:223–226

4.

Panek W, Szydelko T, Lewandowski J, Tuchendler T, Urbańczyk G, Litarski A, Apoznański W (2013) Simultaneous laparoscopic adrenalectomy and laparoscopic nephron-sparing surgery—new experience with port placement. Wideochir Inne Tech Maloinwazyjne 8(4):357–360

5.

Rey D, Helou E, Oderda M, Piéchaud T (2013) Simultaneous robotic right partial nephrectomy and right adrenalectomy, 13(2). http://www.websurg.com/doi-vd01en3884.htm

6.

Haber GP, Autorino R,White MA, Khanna R, Forest S, Stein RJ, Kaouk JH. Robotic upper pole partial nephrectomy with enbloc adrenalectomy. Retrieved from https://www.auanet.org/university/live-coursevideo.cfm?id=1523&video=769&agenda=6641

7.

Taskin HE, Aliyev S, Aksoy E, Hamrahian A, Siperstein A, Berber E (2014) Bilateral posterior retroperitoneal robotic adrenalectomy for ACTH-independent cushing syndrome. Surg Laparosc Endosc Percutan Tech 24:e113–e115

8.

Giberti C, Gallo F, Schenone M, Cortese P (2014) Simultaneous bilateral robotic partial nephrectomy: case report and critical evaluation of the technique. World J Clin Cases 2:224–227
Ethics declarations
Funding
None.
Conflict of interest
None.
Ethical approval
All procedures performed in studies involving human participants were in accordance with the ethical standards of the institutional and/or national research committee and with the 1964 Helsinki declaration and its later amendments or comparable ethical standards.
Informed consent
Informed consent was obtained from all individual participants included in the study.
Electronic supplementary material
Below is the link to the electronic supplementary material.
About this article
Cite this article
Sharma, A.P., Devana, S.K., Bora, G.S. et al. Simultaneous robotic-assisted adrenalectomy and partial nephrectomy: technical aspects. J Robotic Surg 10, 175–178 (2016) doi:10.1007/s11701-015-0553-9
Received:

Accepted:

Published:

Issue Date:
Keywords
Robotic surgery

Complex

Adrenalectomy

Nephron sparing surgery

Technical aspects