Abstract
Early return of continence forms an important component of quality of life for patients after robotic-assisted radical prostatectomy (RALP). Here we describe the steps of bladder neck imbrication and vesico-urethral anastomosis improving early continence after RALP. Between April 2008 and July 2009, 202 consecutive patients underwent RALP for clinically localised prostate cancer in a tertiary referral centre by a single surgeon. One hundred and thirty-two (65 %) of these patients agreed to participate in the study. Prior to November 2008, 51 patients underwent standard RALP as described by Patel et al. From November 2008, 81 patients underwent a novel method of bladder neck imbrication. The robotic urethro-vesical anastomosis commences on the posterior wall of the urethra and proceeds anteriorly. In our technique the anastomosis is halted with the suture arms fixed to the anterior abdominal wall. A new suture is used to perform a two-layer repair, anchoring proximally then continuing anteriorly to the level of the urethral stump, where it returns upon itself. The aim is to narrow the urethra to 16 Fr and tighten the second layer to create an imbrication effect. Posterior reconstruction was performed in all patients. Outcome measures were recorded prospectively using the Expanded Prostate Cancer Index Composite tool. Our technique shows significant improvement at all stages of follow-up in urinary summary and incontinence scores. Absolute continence rates increased from 8.2 to 20.5 %, 26.7 to 44.3 %, and 47.7 to 62.3 % at 1.5, 3 and 6 months, respectively. These results support the use of our technique in patients undergoing RALP.
This is a preview of subscription content, log in to check access.
Access options
Buy single article
Instant unlimited access to the full article PDF.
US$ 39.95
Price includes VAT for USA
Subscribe to journal
Immediate online access to all issues from 2019. Subscription will auto renew annually.
US$ 99
This is the net price. Taxes to be calculated in checkout.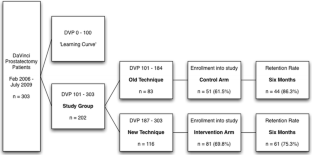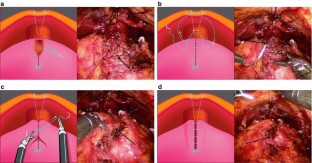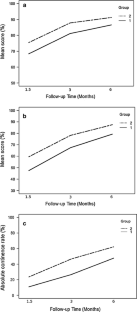 References
1.

Augustin H, Pummer K, Daghofer F, Habermann H, Primus G, Hubmer G (2002) Patient Self-Reporting Questionnaire on urological morbidity and bother after radical retropubic prostatectomy. Eur Urol 42(2):112–117. doi:10.1016/s0302-2838(02)00259-2

2.

Coelho RF, Chauhan S, Palmer KJ, Rocco B, Patel MB, Patel VR (2009) Robotic-assisted radical prostatectomy: a review of current outcomes. BJU Int 104(10):1428–1435

3.

Cambio AJ, Evans CP (2006) Minimising postoperative incontinence following radical prostatectomy: considerations and evidence. Eur Urol 50(5):903–913; discussion 913. doi:10.1016/j.eururo.2006.08.009

4.

Walsh PC, Marschke PL (2002) Intussusception of the reconstructed bladder neck leads to earlier continence after radical prostatectomy. Urology 59(6):934–938

5.

Wei JT, Dunn RL, Litwin MS, Sandler HM, Sanda MG (2000) Development and validation of the expanded prostate cancer index composite (EPIC) for comprehensive assessment of health-related quality of life in men with prostate cancer. Urology 56(6):899–905

6.

Doumerc N, Yuen C, Savdie R, Rahman MB, Rasiah KK, Pe Benito R, Delprado W, Matthews J, Haynes A-M, Stricker PD (2010) Should experienced open prostatic surgeons convert to robotic surgery? The real learning curve for one surgeon over 3 years. BJU Int. doi:10.1111/j.1464-410X.2009.09158.x

7.

Patel V, Shah K, Thaly R, Lavery H (2007) Robotic-assisted laparoscopic radical prostatectomy: the Ohio State University technique. J Robotic Surg 1(1):51–59

8.

Orvieto MA, Patel VR (2009) Evolution of robot-assisted radical prostatectomy. Scand J Surg 98(2):76–88

9.

Patel VR, Palmer KJ, Coughlin G, Samavedi S (2008) Robot-assisted laparoscopic radical prostatectomy: perioperative outcomes of 1500 cases. J Endourol 22(10):2299–2305. doi:10.1089/end.2008.9711

10.

Patel VR, Thaly R, Shah K (2007) Robotic radical prostatectomy: outcomes of 500 cases. BJU Int 99(5):1109–1112. doi:10.1111/j.1464-410X.2007.06762.x

11.

Rocco B, Matei D, Bonghi A, Cedeira F, Pinetel M, DeCobelli O (2008) Early continence recovery after robotic prostatectomy with restoration of posterior aspect of the rhabdosphincter. Eur Urol Suppl 7(3):337. doi:10.1016/S1569-9056(08)61046-5

12.

Rocco F, Carmignani L, Acquati P, Gadda F, Dell'Orto P, Rocco B, Bozzini G, Gazzano G, Morabito A (2006) Restoration of posterior aspect of rhabdosphincter shortens continence time after radical retropubic prostatectomy. J Urol 175(6):2201–2206. doi:10.1016/S0022-5347(06)00262-X

13.

Van Velthoven RF, Ahlering TE, Peltier A, Skarecky DW, Clayman RV (2003) Technique for laparoscopic running urethrovesical anastomosis: the single knot method. Urology 61(4):699–702

14.

Fisher RA (1922) On the interpretation of χ2 from contingency tables, and the calculation of P. J Roy Stat Soc 85(1):87–94. doi:10.2307/2340521

15.

Pinheiro J BD, DebRoy S, Sarkar D (2011) Package 'nlme'—linear and nonlinear mixed effects models. http://cran.r-project.org/web/packages/nlme/nlme.pdf

16.

Sandhu JS, Eastham JA (2010) Factors predicting early return of continence after radical prostatectomy. Curr Urol Rep 11(3):191–197. doi:10.1007/s11934-010-0108-6

17.

Deliveliotis C, Protogerou V, Alargof E, Varkarakis J (2002) Radical prostatectomy: bladder neck preservation and puboprostatic ligament sparing—effects on continence and positive margins. Urology 60(5):855–858

18.

Freire MP, Weinberg AC, Lei Y, Soukup JR, Lipsitz SR, Prasad SM, Korkes F, Lin T, Hu JC (2009) Anatomic bladder neck preservation during robotic-assisted laparoscopic radical prostatectomy: description of technique and outcomes. Eur Urol. doi:10.1016/j.eururo.2009.09.017

19.

Gaker DL, Steel BL (2004) Radical prostatectomy with preservation of urinary continence: pathology and long-term results. J Urol 172(6 Pt 2):2549–2552

20.

Hollabaugh RS, Dmochowski RR, Kneib TG, Steiner MS (1998) Preservation of putative continence nerves during radical retropubic prostatectomy leads to more rapid return of urinary continence. Urology 51(6):960–967

21.

Patel VR, Coelho RF, Palmer KJ, Rocco B (2009) Periurethral suspension stitch during robot-assisted laparoscopic radical prostatectomy: description of the technique and continence outcomes. Eur Urol 56(3):472–478. doi:10.1016/j.eururo.2009.06.007

22.

Liss MA, Osann K, Canvasser N, Chu W, Chang A, Gan J, Li R, Santos R, Skarecky D, Finley DS, Ahlering TE (2010) Continence definition after radical prostatectomy using urinary quality of life: evaluation of patient reported validated questionnaires. J Urol 183(4):1464–1468. doi:10.1016/j.juro.2009.12.009

23.

Wei JT, Dunn RL, Marcovich R, Montie JE, Sanda MG (2000) Prospective assessment of patient reported urinary continence after radical prostatectomy. J Urol 164(3, Part 1):744–748. doi:10.1016/s0022-5347(05)67294-1

24.

Krupski TL, Saigal CS, Litwin MS (2003) Variation in continence and potency by definition. J Urol 170(4 Pt 1):1291–1294. doi:10.1097/01.ju.0000085341.63407.46

25.

Brien JC, Barone B, Fabrizio M, Given R (2011) Posterior reconstruction before vesicourethral anastomosis in patients undergoing robot-assisted laparoscopic prostatectomy leads to earlier return to baseline continence. J Endourol 25(3):441–445. doi:10.1089/end.2010.0251

26.

Sakai I, Harada K-I, Hara I, Eto H, Miyake H (2005) Intussusception of the bladder neck does not promote early restoration to urinary continence after non-nerve-sparing radical retropubic prostatectomy. Int J Urol 12(3):275–279. doi:10.1111/j.1442-2042.2005.01070.x

27.

Wille S, Varga Z, von Knobloch R, Hofmann R (2005) Intussusception of bladder neck improves early continence after radical prostatectomy: results of a prospective trial. Urology 65(3):524–527. doi:10.1016/j.urology.2004.09.066

28.

Marcovich R, Wojno KJ, Wei JT, Rubin MA, Montie JE, Sanda MG (2000) Bladder neck-sparing modification of radical prostatectomy adversely affects surgical margins in pathologic T3a prostate cancer. Urology 55(6):904–908

29.

Litwin MS, McGuigan KA (1999) Accuracy of recall in health-related quality-of-life assessment among men treated for prostate cancer. J Clin Oncol 17(9):2882–2888

30.

Litwin MS, Lubeck DP, Henning JM, Carroll PR (1998) Differences in urologist and patient assessments of health related quality of life in men with prostate cancer: results of the CaPSURE database. J Urol 159(6):1988–1992
Acknowledgments
Prostate Cancer Research at the St. Vincent's Prostate Cancer Centre and the Garvan Institute is supported in part by grants from the St. Vincent's Prostate Cancer Centre, National Health and Medical Research Council of Australia, Cancer Institute New South Wales, Prostate Cancer Foundation of Australia, Australian Cancer Research Foundation, the R.T. Hall Trust and the Petre Foundation. We would like to thank M. Bayzid Rahman of UNSW for initial statistical modelling and Nicola Armstrong of the Garvan Institute for her formal statistical analyses.
Electronic supplementary material
Below is the link to the electronic supplementary material.
Supplementary material 1 (MOV 429830 kb)
About this article
Cite this article
Beattie, K., Symons, J., Chopra, S. et al. A novel method of bladder neck imbrication to improve early urinary continence following robotic-assisted radical prostatectomy. J Robotic Surg 7, 193–199 (2013). https://doi.org/10.1007/s11701-012-0371-2
Received:

Accepted:

Published:

Issue Date:
Keywords
Robotic surgery

Minimally invasive surgery

Radical prostatectomy

Localised prostate cancer

Continence

Bladder neck anastomosis