Abstract
The seminal vesicles, particularly the lateral aspect and tips, are among the closest structures to the cavernous nerves and pelvic plexus. Given this proximity it is essential that the seminal vesicle dissection be performed in an athermal and atraumatic fashion during robot-assisted laparoscopic prostatectomy (RALP). Traditionally the seminal vesicle dissection during RALP is performed by dividing the vas deferens and following it proximally to locate the tip of the seminal vesicle. Here we describe a modification to the traditional anterior approach to seminal vesicle dissection. Our modification allows the dissection to be performed athermally and efficiently with use of minimal traction. The dissection proceeds medially between the two terminal vas deferens to identify the medial surface of one of the seminal vesicles. This medial surface is avascular and can be developed easily along the length of the vesicle using blunt dissection. Once its tip is identified it is elevated with the fourth arm medially between the two vas deferens. The ipsilateral vas can then be clipped and divided below the level of the elevated seminal vesicle. The vascular supply to the seminal vesicle is then simply identified entering the lateral aspect of its tip. A hemolock clip is placed directly beneath the tip of the seminal vesicle to control its vasculature. The remainder of the dissection can be performed with sharp dissection. Using this technique the seminal vesicle can be excised entirely with minimal traction and no thermal energy. By elevating the tip medially away from the location of the pelvic plexus and cavernous nerves, inadvertent damage to these neural structures is avoided when placing the hemolock clips.
This is a preview of subscription content, log in to check access.
Access options
Buy single article
Instant unlimited access to the full article PDF.
US$ 39.95
Price includes VAT for USA
Subscribe to journal
Immediate online access to all issues from 2019. Subscription will auto renew annually.
US$ 99
This is the net price. Taxes to be calculated in checkout.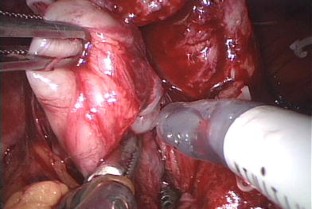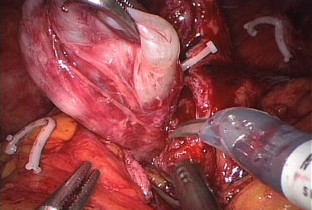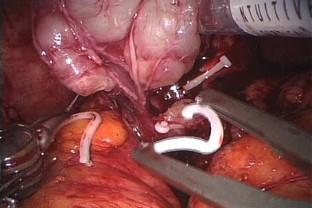 References
1.

Wein A, Louis K, Andrew N et al (2007) Cambell-Walsh urology, 9th edn. Saunders Elsevier, Philadelphia

2.

Gray H (1918) Anatomy of the human body. Lea & Febiger, Philadelphia. Bartleby.com 2000. www.bartleby.com/107/. July 2008

3.

Tewari A, Peabody JO, Fischer M et al. (2003) An operative and anatomic study to help in nerve sparing during laparoscopic and robotic radical prostatectomy. Eur Urol 43(5):444–454. doi:10.1016/S0302-2838(03)00093-9

4.

Hoogeveen JF, Troost D, Wondergem J, van der Kracht AH, Haveman J (1992) Hyperthermic injury versus crush injury in the rat sciatic nerve: a comparative functional, histopathological and morphological study. J Neurol Sci 108:55–64. doi:10.1016/0022-510X(92)90188-Q

5.

Pietrow P, Weizer A, L'esperance J et al (2005) Plasmakinetic bipolar vessel sealing: burst pressures and thermal spread in an animal model. J Endourol 19(1):107. doi:10.1089/end.2005.19.107

6.

Ong AM, Su LM et al (2004) Nerve sparing radical prostatectomy: effects of hemostatic energy sources on the recovery of cavernous nerve function in a canine model. J Urol 172:1318–1322. doi:10.1097/01.ju.0000139883.08934.86

7.

Patel V, Shah K, Thaly R et al (2007) Robotic-assisted laparoscopic radical prostatectomy: The Ohio State University technique. J Robot Surg 1:1. doi:10.1007/s11701-007-0020-3

8.

Gilbert S (2000) Developmental biology, 6th edn. Sinauer Associates, Sunderland

9.

Sanda MG, Dunn R, Wei J et al (2002) Seminal vesicle sparing technique is associated with improved sexual HRQOL outcome after radical prostatectomy. J Urol 167:151. doi:10.1016/S0022-5347(05)65402-X

10.

Villers AA, McNeal JE, Redwine EA et al (1990) Pathogenesis and biological significance of seminal vesicle invasion in prostatic adenocarcinoma. J Urol 143:1183–1187

11.

Korman H, Watson R et al (1996) Radical prostatectomy: is complete resection of the seminal vesicles really necessary? J Urol 156:1081–1083. doi:10.1016/S0022-5347(01)65709-4

12.

John H, Hauri D (2000) Seminal vesicle-sparing radical prostatectomy: a novel concept to restore early urinary continence. Urology 55:820–824. doi:10.1016/S0090-4295(00)00547-1

13.

Partin AW, Mangold LA, Lamm DM, Walsh PC, Epstein JI, Pearson JD (2001) Contemporary update of prostate cancer staging nomograms (Partin tables) for the new millennium. Urology 58:843–848. doi:10.1016/S0090-4295(01)01441-8

14.

Baccala A, Reuther A, Bianco F et al (2007) Complete resection of seminal vesicles at radical prostatectomy results in substantial long-term disease-free survival: Multi- institutional study of 6740 patients. J Urol 69:3

15.

Theodorescu D, Lippert MC, Broder SR et al (1998) Early prostate-specific antigen failure following radical perineal versus retropubic prostatectomy: the importance of seminal vesicle excision. Urology 51:277–282. doi:10.1016/S0090-4295(97)00495-0
Conflict of Interest Statement
Electronic supplementary material
Below is the link to the electronic supplementary material.
Supplementary material (MOV 162756 kb)
About this article
Cite this article
Kalan, S., Coughlin, G., Palmer, K.J. et al. Robot-assisted laparoscopic radical prostatectomy: an athermal anterior approach to the seminal vesicle dissection. J Robotic Surg 2, 223–226 (2008) doi:10.1007/s11701-008-0117-3
Received:

Accepted:

Published:

Issue Date:
Keywords
Robot-assisted laparoscopic radical prostatectomy

Seminal vesicles

Prostate cancer

Neurovascular bundle

Nerve sparing