Abstract
Myocardial infarction (MI) remains the leading cause of cardiovascular disease (CVD) in adults worldwide. The most effective treatment is reperfusion; nevertheless, the process causes apoptosis which has recently become a target in CVD therapy. Medicinal plants are used in the treatment of MI in Nigeria ethnomedicine; however, there is unknown information on the effect of the methanol stem bark extracts of Strophanthus hispidus (SH) on the apoptotic process. The study was designed to investigate the effects of SH on certain biomarkers and apoptotic markers. Hearts and homogenate obtained from male Wistar rats daily pretreated with SH for 14 days before Isoprenaline hydrochloride intraperitoneal injection (100 mg/kg) were obtained. Anti-oxidant activities were assessed by spectrophotometry, levels of cytochrome C (cyt c), and caspase 3 were determined by immunohistochemistry and MI-induced heart damage assessed by histology. Pretreatment not only protected against excessive release of cyt c but also resulted in decreased caspase 3 activation, which prompted the decrease in excessive apoptosis. The reduction in lipid peroxidation levels in ISO-induced MI in rats treatment with 200 and 400 mg/kg SH positively correlated with decrease in creatine kinase and Aspartate aminotransferase levels. SH showed anti-apoptotic effects, at least in part, in ISO-induced MI through down-regulation of cyt c release and activation of caspase 3.
This is a preview of subscription content, log in to check access.
Access options
Buy single article
Instant unlimited access to the full article PDF.
US$ 39.95
Price includes VAT for USA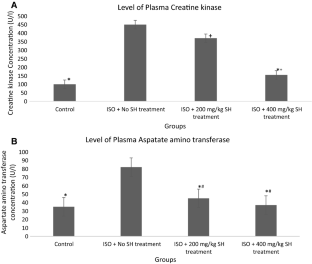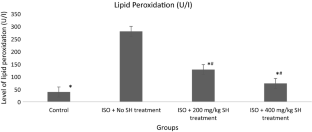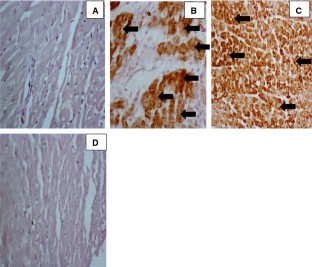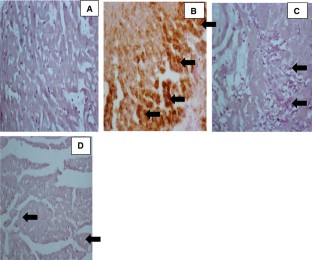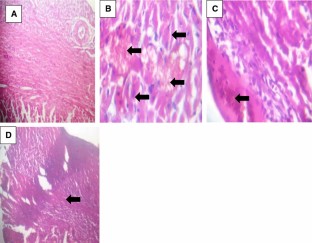 References
Ádám-Vizi V, Seregi A (1982) Receptor independent stimulatory effect of noradrenaline on Na, K-ATPase in rat brain homogenate. Biochem Pharmacol 31(13):2231–2236

Braunwald E (2012) The treatment of acute myocardial infarction: the past, the present and the future. Eur Heart J Acute Cardiovasc Care 1(1):9–12. https://doi.org/10.1177/2048872612438026

Churchill LO (2013) Epidemiology of Ischemic heart disease in Sub-sahara Africa. Cardiovasc J Afr 24(2):34–42. https://doi.org/10.5830/cvja-2012-071

Evans WC, Trease GE (1999) Trease and evans pharmacognosy, 14th edn. W. B. Saunders Company Limited, New York, pp 1–340. https://doi.org/10.1111/j.2024-7166.1999.tb0

Galarraga B, Sinclair D, Fahie-Wilson MN, McCrae FC, Hull RG et al (2003) A rare but important cause for a raised serum creatine kinase concentration: two case reports and a literature review. Rheumatol (Oxf) 42:186–188 PMID: 12509637

Gomez L, Li B, Mewton N, Sanchez I, Piot C et al (2009) Inhibition of mitochondrial permeability transition pore opening: translation to patients. Cardiovasc Res 83:226–233. https://doi.org/10.1093/cvr/cvp063

Hausenloy DJ, Yellon DM (2008) Remote ischaemic preconditioning: underlying mechanisms and clinical applications. Cardiovasc Res 79(3):377–386. https://doi.org/10.1093/cvr/cvn114

Javadov S, Karmazyn M, Escobales N (2009) Mitochondrial permeability transition pore opening as a promising therapeutic target in cardiac diseases. J Pharmacol Exp Ther 330(3):670–678. https://doi.org/10.1124/jpet.109153213

Kloner RA, Ganote CE, Jennings RB (1974) The 'no-flow' phenomenon after temporary coronary occlusion in the dog. J Clin Invest 54:1496–14508

Kwon YW, Yang HJ, Cho HJ (2010) Cell therapy for myocardial infarction. Int J Stem Cells 3(1):8–15

Leigh JA, Alvarez M, Rodriguez CJ (2016) Ethnic minorities and coronary heart disease: an update and future directions. Curr Atheroscler Rep 18(2)

Lowry OH, Rosenbrough NJ, Farr A, Randall RJ (1951) Protein measurement with Folin phenol reagent. J Biochem 193:265–275 PMID:14907713

Maghamiour N, Safaie N (2014) High creatine kinase (CK)-MB and lactate dehydrogenase in the absence of myocardial injury or infarction: a case report. J Cardiovasc Thorac Res 6(1):69. https://doi.org/10.5681/jcvtr.2014.014

Mendis S, Thygesin K, Kuulasmaa K, Giampaoli S, Mahonen M et al (2010) World health organisation definition of myocardial infarction: 2008–2009 revision. Int J Epidemiol 40(1):139–149

Mulula A, Ntumba K, Mifundu M, Taba KM (2017) Phytochemical screening, antimicrobial and antioxidant activities of aqueous and organic stem extracts of Strophanthus hispidus DC. Int J Pharm Sci Res 8(1):95–100. https://doi.org/10.13040/IJPSR.0975-8232.8(1),95-100

Onguéné PA, Ntie-Kang F, Lifongo LL, Ndom JC, Sippl W, Mbaze LM (2013) The potential of anti-malarial compounds derived from African medicinal plants. Part I: A pharmacological evaluation of alkaloids and terpenoids. Malar J 12(1):449

Ott M, Robertson JD, Gogvadze V, Zhivotovsky B, Orrenius S (2002) Cytochrome c release from mitochondria proceeds by a two-step process. PNAS 99(3):1259–1263. https://doi.org/10.1073/pnas.241655498

Ott M, Gogvadze V, Orrenius S, Zhivotousky B (2007) Mitochondria, oxidative stress and cell death. Apoptosis 12:913–922. https://doi.org/10.1007/s10495-007-0756-2

Ruberto G, Baratta MT, Deans SG, Dorman HD (2000) Antioxidant and antimicrobial activity of Foeniculum vulgare and Crithmum maritimum essential oils. Planta Medica 66(08):687–693. www.ncbi.nlm.nih.gov/pubmed/11199122. Accessed 6 Sept 2017

Sahu BD, Kumar JM, Kuncha M, Borkar RM, Srinivas R, Sistla R (2016) Baicalein alleviates doxorubicin-induced cardiotoxicity via suppression of myocardial oxidative stress and apoptosis in mice. Life Sci 144:8–18

Siddiqui MA, Akhtar J, Siddiqui HH, Ahmad BU, Khan AA (2016) Isoprenaline: a tool for inducing myocardial infarction in experimental animal. IJRRPAS 6(1):1318–1326. www.ijrrpas.com. Accessed 4 Aug 2017

Whelan RS, Kaplinskiy V, Kitsis RN (2010) Cell death in the pathogenesis of heart disease: mechanisms and significance. Annu Rev Physiol 72:19–44

Zaafan MA, Zaki HF, El-Brairy AI (2013) Kenawy SA (2013) Protective effects of atorvastatin and quercetin on isoprenaline-induced myocardial infarction in rats. Bull Fac Pharm Cairo Univ 51(1):35–41. https://doi.org/10.1016/j.bfopcu.2013.03.001

Zeng C, Jiang W, Zheng R, He C, Li J, Xing J (2018) Cardioprotection of tilianin ameliorates myocardial ischemia-reperfusion injury. Role of the apoptotic signaling pathway. PLoS One 13(3):e0193845
Acknowledgements
We acknowledge the technical assistance of the Technologist (Mr. R. O. Malomo), Crawford University, Igbesa, Ogun State, Nigeria.
Funding
The study did not receive any specific grant from funding agencies in the public, commercial, or not-for-profit sectors.
Ethics declarations
Conflict of interest
The authors declared they have no conflict of interest.
Ethical approval
All applicable Institutional guidelines for the care and use of animals were followed.
Additional information
Publisher's Note
Springer Nature remains neutral with regard to jurisdictional claims in published maps and institutional affiliations.
About this article
Cite this article
Ojo, O.O., Emoghwa, A.R. Methanol extracts of Strophanthus hispidus exhibit anti-apoptotic effects via alteration of cytochrome c and caspase 3 levels in rats with myocardial infarction. Chem. Pap. 74, 521–528 (2020). https://doi.org/10.1007/s11696-019-00894-8
Received:

Accepted:

Published:

Issue Date:
Keywords
Strophanthus hispidus
Cytochrome c

Caspase 3

Cardio-protection

Lipid peroxidation