Abstract
Background
Sleeve gastrectomy is the most commonly performed bariatric surgery these days but is associated with de novo reflux.
Objective
We aimed to study the influence of hypotonic lower esophageal sphincter (LES) on postoperative gastroesophageal reflux disease (GERD).
Methods
Patients with pre- and postoperative esophageal high-resolution manometry (HRM) and 24-h pH monitoring (pHM) were included retrospectively in our study. Preoperative hypotonic LES was defined by a mean residual pressure of the lower esophageal sphincter < 4 mmHg. Postoperative GERD was defined by a DeMeester's score > 14.72. We also evaluated postoperative manometric changes at the esophageal-gastric junction.
Results
Sixty-nine patients (54 females and 15 males) had pre- and postoperative HRM and pHM. The mean age was 45.9 ± 9.8 years. The mean body mass index (BMI) was 47.5 ± 7.5 kg/m2. Hypotonic LES concerned 21 patients (30.4%) before sleeve gastrectomy. The mean time between the two esophageal monitorings was 32.1 ± 24.1 months. The sensitivity, specificity, positive predictive value, and negative predictive value of hypotonic LES to predict GERD were 31, 70, 52, and 48% respectively. The LES minimal residual pressure was not statistically decreased after sleeve gastrectomy (p = 0.24). Only the wave speed, esophageal length, and LES length were significantly reduced after SG (p = 0.029, 3.8 × 10−7 and 0.00032).
Conclusion
Hypotonic LES has a poor predictive value on postoperative GERD. The LES's length is significantly reduced after SG and this could be a factor explaining de novo reflux.
This is a preview of subscription content, log in to check access.
Access options
Buy single article
Instant access to the full article PDF.
US$ 39.95
Price includes VAT for USA
Subscribe to journal
Immediate online access to all issues from 2019. Subscription will auto renew annually.
US$ 99
This is the net price. Taxes to be calculated in checkout.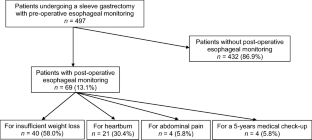 References
1.

Liu L, Li S, Zhu K, et al. Relationship between esophageal motility and severity of gastroesophageal reflux disease according to the Los Angeles classification. Medicine. 2019;98(19):e15543.

2.

Eusebi LH, Fuccio L, Bazzoli F. The role of obesity in gastroesophageal reflux disease and Barrett's esophagus. Dig Dis. 2012;30(2):154–7.

3.

Angrisani L, Santonicola A, Iovino P, et al. IFSO Worldwide Survey 2016: primary, endoluminal, and revisional procedures. Obes Surg. 2018;

4.

Genco A, Soricelli E, Casella G, et al. Gastroesophageal reflux disease and Barrett's esophagus after laparoscopic sleeve gastrectomy: a possible, underestimated long-term complication. Surg Obes Relat Dis. 2017;13(4):568–74.

5.

Sebastianelli L, Benois M, Vanbiervliet G, et al. Systematic endoscopy 5 years after sleeve gastrectomy results in a high rate of Barrett's esophagus: results of a multicenter study. Obes Surg. 2019;29(5):1462–9.

6.

Felsenreich DM, Langer FB, Prager G. Weight loss and resolution of comorbidities after sleeve gastrectomy: a review of long-term results. Scand J Surg. 2019;108(1):3–9.

7.

Soricelli E, Casella G, Baglio G, et al. Lack of correlation between gastroesophageal reflux disease symptoms and esophageal lesions after sleeve gastrectomy. Surg Obes Relat Dis. 2018;14(6):751–6.

8.

Thereaux J, Barsamian C, Bretault M, et al. pH monitoring of gastro-oesophageal reflux before and after laparoscopic sleeve gastrectomy. Br J Surg. 2016;103(4):399–406.

9.

Haute Autorité de Santé - Obésité: prise en charge chirurgicale chez l'adulte. [cité 18 juill 2017]. Disponible sur: https://www.has-sante.fr/portail/jcms/c_765529/fr/obesite-prise-en-charge-chirurgicale-chez-l-adulte

10.

Johnson LF, Demeester TR. Twenty-four-hour pH monitoring of the distal esophagus. A quantitative measure of gastroesophageal reflux. Am J Gastroenterol. 1974;62(4):325–32.

11.

Kasyap AK, Sah SK, Chaudhary S. Clinical spectrum and risk factors associated with asymptomatic erosive esophagitis as determined by Los Angeles classification: a cross-sectional study. PLoS One. 2018;13(2):e0192739.

12.

Alvarez Herrero L, Curvers WL, van Vilsteren FG, et al. Wong Kee Song LM, et al. Validation of the Prague C&M classification of Barrett's esophagus in clinical practice. Endoscopy. 2013;45(11):876–82.

13.

Gagner M, Hutchinson C, Rosenthal R. Fifth International Consensus Conference: current status of sleeve gastrectomy. Surg Obes Relat Dis. 2016;12(4):750–6.

14.

Braghetto I, Lanzarini E, Korn O, et al. Manometric changes of the lower esophageal sphincter after sleeve gastrectomy in obese patients. Obes Surg. 2010;20(3):357–62.

15.

Del Genio G, Tolone S, Limongelli P, et al. Sleeve gastrectomy and development of "de novo" gastroesophageal reflux. Obes Surg. 2014;24(1):71–7.

16.

McGlone ER, Gupta AK, Reddy M, et al. Antral resection versus antral preservation during laparoscopic sleeve gastrectomy for severe obesity: systematic review and meta-analysis. Surg Obes Relat Dis. 2018;14(6):857–64.

17.

Wang Y, Yi XY, Gong LL, et al. The effectiveness and safety of laparoscopic sleeve gastrectomy with different sizes of bougie calibration: a systematic review and meta-analysis. Int J Surg. 2018;49:32–8.

18.

Mion F, Tolone S, Garros A, et al. High-resolution impedance manometry after sleeve gastrectomy: increased intragastric pressure and reflux are frequent events. Obes Surg. 2016;26(10):2449–56.

19.

Pallati PK, Shaligram A, Shostrom VK, et al. Improvement in gastroesophageal reflux disease symptoms after various bariatric procedures: review of the Bariatric Outcomes Longitudinal Database. Surg Obes Relat Dis. 2014;10(3):502–7.

20.

DuPree CE, Blair K, Steele SR, et al. Laparoscopic sleeve gastrectomy in patients with preexisting gastroesophageal reflux disease: a national analysis. JAMA Surg. 2014;149(4):328–34.

21.

Peterli R, Wolnerhanssen BK, Peters T, et al. Effect of laparoscopic sleeve gastrectomy vs laparoscopic Roux-en-Y gastric bypass on weight loss in patients with morbid obesity: the SM-BOSS randomized clinical trial. Jama. 2018;319(3):255–65.
Ethics declarations
Conflict of Interest
The authors declare that they have no conflict of interest.
Ethics Statement
The study was reviewed by the local institutional review board according to the Helsinki Declaration.
Statement of Informed Consent
Informed consent was obtained from all individual participants included in the study.
Additional information
Publisher's Note
Springer Nature remains neutral with regard to jurisdictional claims in published maps and institutional affiliations.
About this article
Cite this article
Greilsamer, T., de Montrichard, M., Bruley des Varannes, S. et al. Hypotonic Low Esophageal Sphincter Is Not Predictive of Gastroesophageal Reflux Disease After Sleeve Gastrectomy. OBES SURG (2020). https://doi.org/10.1007/s11695-019-04335-z
Keywords
Sleeve gastrectomy

Lower esophageal sphincter

Gastroesophageal reflux disease

High-resolution manometry