Abstract
Background
Esophagogastroduodenoscopy is a preoperative examination commonly required for candidates to bariatric surgery (BS). Overweight individuals have a greater risk of cardiorespiratory complications during endoscopy under sedation. This study aimed to investigate the feasibility, tolerance, and cardiovascular stress of transnasal endoscopy (TNE) without sedation in obese patients eligible for BS.
Methods
This prospective study enrolled obese adult patients with indication for BS that consented to undergo unsedated preoperative TNE. All examinations were carried out in an outpatient center. The outcomes assessed were endoscopic findings, procedural success, patients' tolerance according to a visual analogic scale, cardiovascular stress estimated by double product (i.e., systolic blood pressure × heart rate) and adverse events. Statistical analyses were used to compare each patient's double product among different examination periods.
Results
Ninety-four patients (77.6% female) completed the study, with an average body mass index (BMI) of 53 kg/m2 (range, 35–73.4 kg/m2). There were 63 super-obese individuals (67%), with BMI > 50 kg/m2. In 93 patients (98.9%), unsedated TNE was successfully completed up to the second part of the duodenum. TNE failed in one patient. Tolerance was rated as excellent or good in 95.7%. Minimal cardiovascular stress was noted in obese individuals, whereas the double product remained stable throughout the procedure in super-obese patients. Three patients (3.2%) had self-limited epistaxis.
Conclusions
Unsedated TNE for preoperative endoscopic evaluation of obese patients is feasible, safe, and well tolerated and should be preferentially considered when examining super-obese patients.
This is a preview of subscription content, log in to check access.
Access options
Buy single article
Instant unlimited access to the full article PDF.
US$ 39.95
Price includes VAT for USA
Subscribe to journal
Immediate online access to all issues from 2019. Subscription will auto renew annually.
US$ 99
This is the net price. Taxes to be calculated in checkout.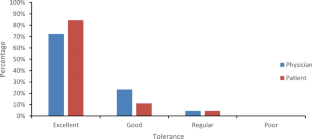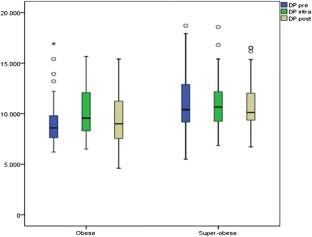 References
1.

World Health Organization. Obesity and overweight. Geneva: WHO; 2016. Available from: http://www.who.int/mediacentre/factsheets/fs311/en/. Accessed 2018 Jul 9

2.

Carvagal-Balaguera J, Garcia-Almenta MM, Oliart Delgado de Torres S. Gastric bypass in the surgical treatment of the morbid obesity and super obesity: comparative study. Nutr Hosp. 2007;22(5):607–11.

3.

Ng M, Fleming T, Robinson M, et al. Global, regional, and national prevalence of overweight and obesity in children and adults during 1980-2013: a systematic analysis for the Global Burden of Disease Study 2013. Lancet. 2014;384:766–81.

4.

Malli CP, Sioulas AD, Emmanouil T, et al. Endoscopy after bariatric surgery. Ann Gastroenterol. 2016;29(3):249–57.

5.

Di Palma GD, Forestieri P. Role of endoscopy in the bariatric surgery of patients. World J Gastroenterol. 2014;20(24):7777–84.

6.

Buchwald H, Estok R, Fahrbach K, et al. Trends in mortality in bariatric surgery: a systematic review and meta-analysis. Surgery. 2007;142(4):621–32.

7.

American Society for Gastrointestinal Endoscopy. ASGE guideline: the role of endoscopy in the bariatric surgery patient. Gastrointest Endosc. 2015;81:1063–72.

8.

Early DS, Lightdale JR, Vargo JJ, et al. Guidelines for sedation and anesthesia in GI endoscopy. Gastrointest Endosc. 2018;87(2):327–37.

9.

Alami RS, Schuster R, Friedland S, et al. Transnasal small-caliber esophagogastroduodenoscopy for preoperative evaluation of the high-risk morbidly obese patient. Surg Endosc. 2007;21:758–60.

10.

American Society for Gastrointestinal Endoscopy. ASGE guideline: adverse events of upper GI endoscopy. Gastrointest Endosc. 2012;76:707–18.

11.

Shaker R. Unsedated trans-nasal pharyngoduodenoscopy (T-EGD): technique. Gatrointest Endosc. 1994;40:346–8.

12.

Arantes V, Albuquerque W, Salles JM, et al. Effectiveness of unsedated transnasal endoscopy with white-light, flexible spectral imaging color enhancement, and lugol staining for esophageal cancer screening in high-risk patients. J Clin Gastroenterol. 2013;47(4):314–21.

13.

Alexandridis E, Inglis S, McAvoy NC, et al. Randomized clinical study: comparison of acceptability, patient tolerance, cardiac stress and endoscopic views in transnasal and transoral endoscopy under local anaesthetic. Aliment Pharmacol Ther. 2014;40:467–76.

14.

Sauerland S, Angrisani L, Belachew M, et al. Obesity surgery: evidence-based guidelines of the European Association for Endoscopic Surgery (EAES). Surg Endosc. 2005;19(2):200–21.

15.

Aitken RC. Measurement of feelings using visual analogue scales. Proc R Soc Med. 1969;62(10):989–93.

16.

Fletcher GF, Balady GJ, Amsterdam EA, et al. Exercise standards for testing and training: a statement for healthcare professionals from the American Heart Association. Circulation. 2001;104:1694–740.

17.

Sadrzadeh Rafie AH, Sungar GW, Dewey F, et al. Prognostic value of double product reserve. Eur J Cardiovascular Prev Rehabil. 2008;15:541–7.

18.

Altman DG. Practical statistics for medical research. London: Chapman and Hall; 1991. p. 285–8.

19.

Bennett S, Gostimir M, Shorr R, et al. The role of routine preoperative upper endoscopy in bariatric surgery: a systematic review and meta-analysis. Surg Obes Relat Dis. 2016;12:1116–25.

20.

Lee SP, Sung J-K, Kim JH, et al. Factors impacting patient cooperation during selective gastroscopy. Korean J Intern Med. 2017;32:819–26.

21.

McVay T, Fang JC, Taylor L, et al. Safety analysis of bariatric patients undergoing outpatient upper endoscopy with non-anesthesia administered propofol sedation. Obes Surg. 2017;27:1501–7.

22.

Jirapinyo P, Thompson CC. Sedation challenges: obesity and sleep apnea. Gastrointest Endosc Clin N Am. 2016;26(3):527–37.

23.

Lee J, Wong SK, Liu SY, et al. Is preoperative upper gastrointestinal endoscopy in obese patients undergoing bariatric surgery mandatory? An Asian perspective. Obes Surg. 2017;27:44–50.

24.

Munoz R, Ibanez L, Salinas J, et al. Importance of routine preoperative upper GI endoscopy: why all patients should be evaluated? Obes Surg. 2009;19(4):427–31.

25.

D'Hondt M, Steverlynck M, Pottel H, et al. Value of preoperative esophagogastroduodenoscopy in morbidly obese patients undergoing laparoscopic Roux-en-Y gastric bypass. Acta Chir Belg. 2013;113(4):249–53.

26.

Dumortier J, Napoleon B, Hedelius, et al. Unsedated transnasal EGD in daily practice: results with 1100 consecutive patients. Gastrointest Endosc. 2003;57(2):198–204.

27.

Sami SS, Subramanian V, Ortiz-Fernández-Sordo J, et al. Performance characteristics of unsedated ultrathin video endoscopy in the assessment of the upper GI tract: systematic review and meta-analysis. Gatrointest Endosc. 2015;82:782–92.

28.

Parker C, Alexandridis E, Plevris J, et al. Transnasal endoscopy: no gagging no panic! Frontline Gastroenterol. 2016;7:246–56.

29.

De Faria AA, Dias CAF, Nunes Arantes V, et al. Feasibility of transnasal endoscopy in screening for esophageal and gastric varices in patients with chronic liver disease. Endosc Int Open. 2017;5:E646–E51.

30.

Atar M, Kadayifci A. Transnasal endoscopy: technical considerations, advantages and limitations. World J Gastrointest Endosc. 2014;6(2):41–8.

31.

Mori A, Ohashi N, Tatebe H, et al. Autonomic nervous function in upper gastrointestinal endoscopy: a prospective randomized comparison between transnasal and oral procedures. J Gastroenterol. 2008;43(1):38–44.

32.

Ai Z-L, Lan C-H, Fan L-L, et al. Unsedated transnasal upper gastrointestinal endoscopy has favorable diagnostic effectiveness, cardiopulmonary safety, and patient satisfaction compared with conventional or sedated endoscopy. Surg Endosc. 2012;26:3565–72.

33.

Moriarty JP, Shah ND, Rubenstein JH, et al. Costs associated with Barrett's esophagus screening in the community: an economic analysis of a prospective randomized controlled trial of sedated versus hospital unsedated versus mobile community unsedated endoscopy. Gastrointest Endosc. 2018;87:88–94.

34.

Garcia RT, Cello JP, Nguyen MH, et al. Unsedated ultrathin EGD is well accepted when compared with conventional sedated EGD: a multicenter randomized trial. Gastroenterology. 2003;125(6):1606–12.

35.

Choe WH, Kim JH, Ko SY, et al. Comparison of transnasal small-caliber vs. peroral conventional esophagogastroduodenoscopy for evaluating varices in unsedated cirrhotic patients. Endoscopy. 2011;43(8):649–56.
Acknowledgments
The authors would like to thank Enago (www.enago.com) for the English language review.
The authors would like to thank the Federal University of Minas Gerais and Clinical Hospital for recruiting patients.
Ethics declarations
Conflict of Interest
The authors declare that they have no conflict of interest.
Ethical Approval
All procedures performed in studies involving human participants were in accordance with the ethical standards of the institutional and/or national research committee and with the 1964 Helsinki declaration and its later amendments or comparable ethical standards.
Informed Consent
Informed consent was obtained from all individual participants included in the study.
Additional information
Publisher's Note
Springer Nature remains neutral with regard to jurisdictional claims in published maps and institutional affiliations.
About this article
Cite this article
Xavier, A.T., Alvares, A.V., Iyer, P.G. et al. Unsedated Transnasal Endoscopy for Preoperative Examination of Bariatric Patients: a Prospective Study. OBES SURG 30, 238–243 (2020). https://doi.org/10.1007/s11695-019-04120-y
Keywords
Transnasal endoscopy

Obesity

Endoscopy without sedation