Abstract
Background
Stenosis after sleeve gastrectomy (SG) is common though diagnostic criteria and predictors of treatment response is unknown. Endoluminal functional impedance planimetry (EndoFLIP) is a diagnostic tool for measuring lumen geometry. We aimed to use EndoFLIP to characterize SG stenosis.
Methods
We enrolled SG stenosis patients undergoing serial pneumatic dilations between May 2018 and November 2018. Outcomes of interest included pre- and post-dilation EndoFLIP measurements and post-dilation symptom response.
Results
We included 10 patients who underwent a mean of 1.8 ± 0.7 dilations. Pre-dilation EndoFLIP characteristics were similar for responders and non-responders. Responders had larger mean post-dilation diameter (19.9 ± 2.9 mm vs 13.1 ± 1.3 mm, p = 0.007) and DI (21.3 ± 1.0 mm2/Hg vs 4.0 ± 5.4 mm2/Hg, p = 0.04) than non-responders.
Conclusion
Our pilot study supports the use of EndoFLIP in the management of SG stenosis.
This is a preview of subscription content, log in to check access.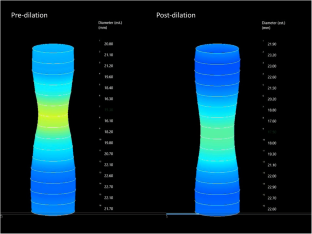 Abbreviations
DI:

Distensibility index

EndoFLIP:

Endoluminal functional impedance planimetry systems

PBD:

Pneumatic balloon dilation

RYGB:

Roux-en-Y gastric bypass

SG:

Sleeve gastrectomy
References
1.

Buchwald H, Oien DM. Metabolic/bariatric surgery worldwide 2011. Obes Surg. 2013;23:427–36.

2.

Ponce J, DeMaria EJ, Nguyen NT, et al. American Society for Metabolic and Bariatric Surgery estimation of bariatric surgery procedures in 2015 and surgeon workforce in the United States. Surg Obes Relat Dis. 2016;12:1637–9.

3.

Parikh A, Alley JB, Peterson RM, et al. Management options for symptomatic stenosis after laparoscopic vertical sleeve gastrectomy in the morbidly obese. Surg Endosc. 2012;26:738–46.

4.

Rebibo L, Hakim S, Dhahri A, et al. Gastric stenosis after laparoscopic sleeve gastrectomy: diagnosis and management. Obes Surg. 2016;26:995–1001.

5.

Agnihotri A, Barola S, Hill C, et al. An algorithmic approach to the management of gastric stenosis following laparoscopic sleeve gastrectomy. Obes Surg. 2017;27:2628–36.

6.

Kumbhari V, Cai JX, Schweitzer MA. Endoscopic management of bariatric surgical complications. Curr Opin Gastroenterol. 2015;31:359–67.

7.

Pandolfino J, Clarke J, Vela M, et al. EndoFLIP impedance planimetry system protocol and interpretation. Medtronic; 2018.

8.

Snape WJ, Lin MS, Agarwal N, et al. Evaluation of the pylorus with concurrent intraluminal pressure and EndoFLIP in patients with nausea and vomiting. Neurogastroenterol Motil. 2016;28:758–64.

9.

Ata-Lawenko RM, Lee YY. Emerging roles of the endolumenal functional lumen imaging probe in gastrointestinal motility disorders. J Neurogastroenterol Motil. 2017;23:164–70.
Ethics declarations
Conflict of Interest
JXY, LW, JWC, and JHR declare that they have no conflict of interest. JRB is an education consultant in Medtronic GI Solutions. OAV received salary support for leadership and participation in quality improvement initiatives from the Blue Cross Blue Shield of Michigan. ARS is a consultant in Apollo Endosurgery, Boston Scientific, and MicroTech.
Additional information
Publisher's Note
Springer Nature remains neutral with regard to jurisdictional claims in published maps and institutional affiliations.
About this article
Cite this article
Yu, J.X., Baker, J.R., Watts, L. et al. Functional Lumen Imaging Probe Is Useful for the Quantification of Gastric Sleeve Stenosis and Prediction of Response to Endoscopic Dilation: a Pilot Study. OBES SURG 30, 786–789 (2020). https://doi.org/10.1007/s11695-019-04105-x
Keywords
Bariatrics

Sleeve gastrectomy

Stenosis

Adverse events

EndoFLIP