Abstract
Background and Aims
The mechanism of weight loss with the intra-gastric balloon (IGB) is thought to be a decrease in gastric emptying (GE); however the evidence is conflicting. Nausea, abdominal pain, and gastroesophageal reflux disease (GERD) can cause intolerance resulting in early removal. This is demoralizing for the patient and costly for the healthcare system. The ability to predict which patients will have superior weight loss and tolerance is invaluable. We sought to investigate if the IGB induced weight loss by reducing GE and the effect of the IGB on the DeMeester score.
Methods
We retrospectively reviewed prospectively collected data for patients undergoing IGB placement at a single hospital. Manometry and pH studies were performed before and with the IGB in place. Weight was measured at baseline, at removal, and 6 months later. Adverse events leading to early removal were recorded.
Results
Twenty-four patients were evaluated. There was a statistically significant decrease in GE for solids with the IGB (117.92 ± 150.23 vs 281.48 ± 206.49 min; p = 0.0048), but not for liquids (54.44 ± 17.97 vs 56.08 ± 43.96 min; p = 0.7228). The lower esophageal sphincter (LES) pressure did not change significantly with placement of the IGB (17.76 ± 7.39 vs 14.74 ± 7.24 mmHg; p = 0.09). On multivariate analysis, increase in DeMeester score was associated with total body weight loss (p = 0.0125) and change in GE (p = 0.038) independently.
Conclusion
The IGB delays GE for solids, but not for liquids, and increases the DeMeester score by a mechanism other than a loss of LES pressure.
This is a preview of subscription content, log in to check access.
Access options
Buy single article
Instant unlimited access to the full article PDF.
US$ 39.95
Price includes VAT for USA
Subscribe to journal
Immediate online access to all issues from 2019. Subscription will auto renew annually.
US$ 99
This is the net price. Taxes to be calculated in checkout.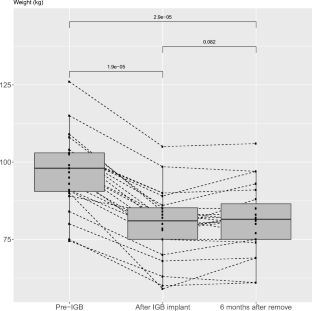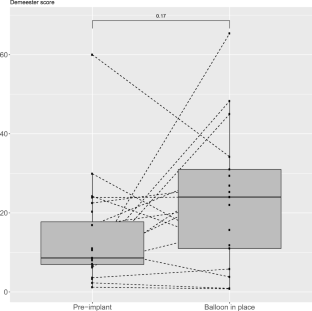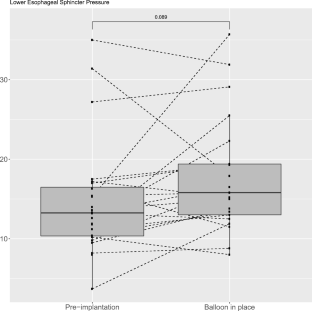 Abbreviations
IGB:

Intra-gastric balloon

GE:

Gastric emptying

GERD:

Gastroesophageal reflux disease
References
1.

GBD 2015 Obesity Collaborators, Afshin A, Forouzanfar MH, et al. Health effects of overweight and obesity in 195 countries over 25 years. N Engl J Med. 2017;377(1):13–27.

2.

Flegal KM, Carroll MD, Kit BK, et al. Prevalence of obesity and trends in the distribution of body mass index among US adults, 1999-2010. JAMA. 2012;307(5):491–7.

3.

Gómez V, Woodman G, Abu Dayyeh BK. Delayed gastric emptying as a proposed mechanism of action during intragastric balloon therapy: results of a prospective study. Obesity (Silver Spring). 2016;24(9):1849–53.

4.

Mion F, Napoléon B, Roman S, et al. Effects of intragastric balloon on gastric emptying and plasma ghrelin levels in non-morbid obese patients. Obes Surg. 2005;15(4):510–6.

5.

Mathus-Vliegen LM, Tytgat GN. Twenty-four-hour pH measurements in morbid obesity: effects of massive overweight, weight loss and gastric distension. Eur J Gastroenterol Hepatol. 1996;8(7):635–40.

6.

Trang J, Lee SS, Miller A, et al. Incidence of nausea and vomiting after intragastric balloon placement in bariatric patients - a systematic review and meta-analysis. Int J Surg. 2018;57:22–9.

7.

Mathus-Vliegen EMH, Tytgat GNJ. Intragastric balloon for treatment-resistant obesity: safety, tolerance, and efficacy of 1-year balloon treatment followed by a 1-year balloon-free follow-up. Gastrointest Endosc. 2005;61(1):19–27.

8.

Roman S, Napoléon B, Mion F, et al. Intragastric balloon for "non-morbid" obesity: a retrospective evaluation of tolerance and efficacy. Obes Surg. 2004;14(4):539–44.

9.

Chang P, Friedenberg F. Obesity and GERD. Gastroenterol Clin N Am. 2014;43(1):161–73.

10.

Friedenberg FK, Xanthopoulos M, Foster GD, et al. The association between gastroesophageal reflux disease and obesity. Am J Gastroenterol. 2008;103(8):2111–22.

11.

Mathus-Vliegen EMH, Tygat GNJ. Gastro-oesophageal reflux in obese subjects: influence of overweight, weight loss and chronic gastric balloon distension. Scand J Gastroenterol. 2002;37(11):1246–52.

12.

Rossi A, Bersani G, Ricci G, et al. Intragastric balloon insertion increases the frequency of erosive esophagitis in obese patients. Obes Surg. 2007;17(10):1346–9.

13.

Hirsch DP, Mathus-Vliegen EMH, Dagli U, et al. Effect of prolonged gastric distention on lower esophageal sphincter function and gastroesophageal reflux. Am J Gastroenterol. 2003;98(8):1696–704.

14.

Świdnicka-Siergiejko AK, Wróblewski E, Hady HR, et al. Esophageal pH and impedance reflux parameters in relation to body mass index, obesity-related hormones, and bariatric procedures. Polish Archives of Internal Medicine. 2018;128(10):594–603.

15.

Mathus-Vliegen EMH, Eichenberger RI. Fasting and meal-suppressed ghrelin levels before and after intragastric balloons and balloon-induced weight loss. Obes Surg. 2014;24(1):85–94.

16.

Papavramidis TS, Grosomanidis V, Papakostas P, et al. Intragastric balloon fundal or antral position affects weight loss and tolerability. Obes Surg. 2012;22(6):904–9.

17.

Quiroga E, Cuenca-Abente F, Flum D, et al. Impaired esophageal function in morbidly obese patients with gastroesophageal reflux disease: evaluation with multichannel intraluminal impedance. Surg Endosc. 2006;20(5):739–43.

18.

Crookes PF. Physiology of reflux disease: role of the lower esophageal sphincter. Surg Endosc. 2006;20(Suppl 2):S462–6.

19.

Wu JC-Y, Mui L-M, Cheung CM-Y, et al. Obesity is associated with increased transient lower esophageal sphincter relaxation. Gastroenterology. 2007;132(3):883–9.

20.

Wilson LJ, Ma W, Hirschowitz BI. Association of obesity with hiatal hernia and esophagitis. Am J Gastroenterol. 1999;94(10):2840–4.

21.

Iovino P, Angrisani L, Galloro G, et al. Proximal stomach function in obesity with normal or abnormal oesophageal acid exposure. Neurogastroenterol Motil. 2006;18(6):425–32.

22.

El-Serag HB, Tran T, Richardson P, et al. Anthropometric correlates of intragastric pressure. Scand J Gastroenterol. 2006;41(8):887–91.
Ethics declarations
Ethical Approval
The ethics committee at the Hospital Estadual Mario Covas approved the IRB for the study.
Informed Consent
Informed consent does not apply.
Conflict of Interest
Anthony Kalloo is a founding Member, equity Holder and consultant for Apollo Endosurgery. Mouen A. Khashab is on the medical advisory board for Boston Scientific and Olympus America and is a consultant for Boston Scientific, Olympus America, and Medtronic. Vivek Kumbhari is a consultant for Medtronic, Reshape Lifesciences, Boston Scientific, Pentax Medical, and Apollo Endosurgery. He also receives research support from ERBE USA and Apollo Endosurgery. Manoel Galvão Neto is a consultant for Apollo Endosurgery and Ethicon endosurgery. Eduardo Grecco is a consultant for Apollo Endosurgery and Fractyl labs. Thiago Ferreira de Souza is a consultant for Apollo Endosurgery. All other authors declare that they have no conflict of interest.
Additional information
Publisher's Note
Springer Nature remains neutral with regard to jurisdictional claims in published maps and institutional affiliations.
Sergio Barrichello and Dilhana Badurdeen are co first authors for this paper.
About this article
Cite this article
Barrichello, S., Badurdeen, D., Hedjoudje, A. et al. The Effect of the Intra-gastric Balloon on Gastric Emptying and the DeMeester Score. OBES SURG 30, 38–45 (2020) doi:10.1007/s11695-019-04039-4
Keywords
Intra-gastric balloon

Endoscopic bariatric therapy

DeMeester score

Gastric emptying