Abstract
Single anastomosis duodeno-ileal bypass with sleeve gastrectomy (SADI-S) can be considered as either a primary procedure or second stage procedure. Malnutrition is rare but could lead to a reversal of the SADI-S. The aim of this manuscript is to present the management and technique of weight regain after proximalization of a SADI-S by converting it to a gastric bypass.
This is a preview of subscription content, log in to check access.
Access options
Buy single article
Instant unlimited access to the full article PDF.
US$ 39.95
Price includes VAT for USA
Subscribe to journal
Immediate online access to all issues from 2019. Subscription will auto renew annually.
US$ 99
This is the net price. Taxes to be calculated in checkout.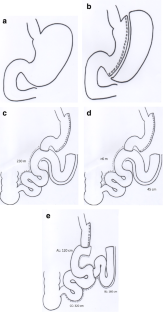 References
1.

Nasta AM, Goel R, Dharia S, et al. Weight loss and comorbidity resolution 3 years after bariatric surgery — an Indian perspective. Obes Surg 2018;1–8

2.

Sánchez-Pernaute A, Herrera MA, Pérez-Aguirre ME, et al. Single anastomosis duodeno-ileal bypass with sleeve gastrectomy (SADI-S). One to three-year follow-up. Obes Surg. 2010;20:1720–6.

3.

Balibrea JM, Vilallonga R, Hidalgo M, et al. Mid-term results and responsiveness predictors after two-step single-anastomosis duodeno-ileal bypass with sleeve gastrectomy. Obes Surg. 2017;27:1302–8.

4.

Vilallonga R, Balibrea JM, Curell A, et al. Technical options for malabsorption issues after single anastomosis duodenoileal bypass with sleeve gastrectomy. 2017;3344–8.

5.

Chiappetta S, Stier C, Scheffel O, et al. The first case report of failed single-anastomosis-duodeno-ileal bypass converted to one anastomosis gastric bypass/mini-gastric bypass. Int J Surg Case Rep. 2017;35:68–72.

6.

Brown WA, Ooi G, Higa K, et al. IFSO-appointed task force reviewing the literature on SADI-S/OADS. Single anastomosis duodenal-ileal bypass with sleeve gastrectomy/one anastomosis duodenal switch (SADI-S/OADS) IFSO position statement. Obes Surg. 2018;28:1207–16.

7.

Abdemur A, Fendrich I, Rosenthal R. Laparoscopic conversion of laparoscopic sleeve gastrectomy to gastric bypass for intractable gastroesophageal reflux disease. Surg Obes Relat Dis. 2012;8(5):654.

8.

Vallois A, Menahem B, Le RY, et al. Revisional roux-en-Y gastric bypass: a safe surgical opportunity? Results of a case-matched study. Obes Surg. 2018:1–8.
Ethics declarations
Conflict of Interest
The authors declare that there is no conflict of interest.
Additional information
Publisher's Note
Springer Nature remains neutral with regard to jurisdictional claims in published maps and institutional affiliations.
Electronic supplementary material
About this article
Cite this article
Vilallonga, R., Curbelo, Y., Sanchez-Cordero, S. et al. Laparoscopic Conversion from Single Anastomosis Duodeno-Jejunal Bypass with Sleeve Gastrectomy (SADJ-S) to Roux-en-Y Gastric Bypass (GBP): Improving Unsatisfactory Outcomes. OBES SURG 30, 365–368 (2020) doi:10.1007/s11695-019-03994-2
Keywords
Laparoscopic revisional gastric bypass

Conversion

Weight regain

SADI-S

Redo surgery

Sleeve gastrectomy

Failed SADI-S