Abstract
Background
There is a growing interest in comparing the effectiveness and costs of alternative forms of bariatric surgery. We aimed to examine the per-patient, procedural costs of Roux-en-Y gastric bypass (RYGB), sleeve gastrectomy (SG) and adjustable gastric banding (AGB) in the United Kingdom.
Methods
Multi-centre (two National Health Service; NHS and one private hospital) micro-costing, using a time-and-motion study. Prospective collection of surgery times, staff quantities, equipment, instruments and consumables for 12 patients (four RYGB, five SG, three AGB) from patients' first surgeon interaction on the day of surgery to departure from the theatre recovery area. Costs were attached to quantities and mean costs compared. Sensitivity and scenario analyses assessed the impact of varying surgery inputs and consideration of additional plausible factors respectively on total costs.
Results
Mean procedural costs were £5002 for RYGB, £4306 for SG and £2527 for AGB. Varying staff seniority or altering procedure times had small impacts on costs (± 4–6%). Reducing prices of consumables by 20% reduced costs by 10–13%. Accounting for differences in surgical technique by altering the number of staple reloads used impacted costs by ± 7–10%. Adjusted total costs from scenario analyses were similar to NHS tariffs for RYGB and SG (difference of £51 and -£119 respectively) but were much lower for AGB (difference of £1982).
Conclusions
These detailed costs will allow for more precise reimbursement of bariatric surgery and support comprehensive assessments of cost-effectiveness. Additional work to investigate costs of post-surgical care, re-operations and life-long support received by patients following surgery is required.
This is a preview of subscription content, log in to check access.
Access options
Buy single article
Instant access to the full article PDF.
US$ 39.95
Price includes VAT for USA
Subscribe to journal
Immediate online access to all issues from 2019. Subscription will auto renew annually.
US$ 99
This is the net price. Taxes to be calculated in checkout.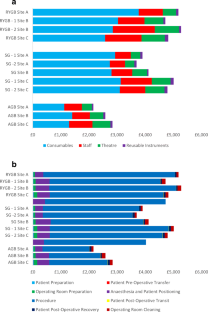 References
1.

National Institute for Health and Care Excellence (NICE). Obesity: identification, assessment and management. London, UK: NICE; 27 November 2014.

2.

U.S. Centers for Medicare & Medicaid Services (CMS). National Coverage Determination (NCD) for bariatric surgery for treatment of co-morbid conditions related to morbid obesity (100.1). Balitmore, MD: CMS; 2013.

3.

National Health and Medical Research Council. Clinical practice guidelines for the management of overweight and obesity in adults, adolescents and children in Australia. Melbourne: National Health and Medical Research Council; 2013.

4.

Angrisani L, Santonicola A, Iovino P, et al. Bariatric surgery worldwide 2013. Obes Surg. 2015;25(10):1822–32.

5.

Kizy S, Jahansouz C, Downey MC, et al. National trends in bariatric surgery 2012-2015: demographics, procedure selection, readmissions, and cost. Obes Surg. 2017;27(11):2933–9.

6.

Farrell TM, Haggerty SP, Overby DW, et al. Clinical application of laparoscopic bariatric surgery: an evidence-based review. Surg Endosc. 2009;23(5):930–49.

7.

Rogers CA, Welbourn R, Byrne J, et al. The by-band study: gastric bypass or adjustable gastric band surgery to treat morbid obesity: study protocol for a multi-centre randomised controlled trial with an internal pilot phase. Trials. 2014;15:53.

8.

Picot J, Jones J, Colquitt JL, et al. The clinical effectiveness and cost-effectiveness of bariatric (weight loss) surgery for obesity: a systematic review and economic evaluation. Health Technol Assess. 2009;13(41):1–190. 215-357, iii-iv

9.

Padwal R, Klarenbach S, Wiebe N, et al. Bariatric surgery: a systematic review of the clinical and economic evidence. J Gen Intern Med. 2011;26(10):1183–94.

10.

Campbell JA, Venn A, Neil A, et al. Diverse approaches to the health economic evaluation of bariatric surgery: a comprehensive systematic review. Obes Rev. 2016;17(9):850–94.

11.

Rogers CA, Reeves BC, Byrne J, et al. Adaptation of the by-band randomized clinical trial to by-band-sleeve to include a new intervention and maintain relevance of the study to practice. Br J Surg. 2017;104(9):1207–14.

12.

Doble B, Wordsworth S, Rogers CA, et al. What are the real procedural costs of bariatric surgery? A systematic literature review of published cost analyses. Obes Surg. 2017;27(8):2179–92.

13.

Gold MR, Siegel JE, Russell LB, et al. Cost-effectiveness in health and medicine. New York: Oxford University Press; 1996.

14.

Tan SS, Rutten FF, van Ineveld BM, et al. Comparing methodologies for the cost estimation of hospital services. Eur J Health Econ. 2009;10(1):39–45.

15.

Wordsworth S, Ludbrook A, Caskey F, et al. Collecting unit cost data in multicentre studies. Creating comparable methods. Eur J Health Econ. 2005;6(1):38–44.

16.

Charles JM, Edwards RT, Bywater T, et al. Micro-costing in public health economics: steps towards a standardized framework, using the incredible years toddler parenting program as a worked example. Prev Sci. 2013;14(4):377–89.

17.

Frick KD. Microcosting quantity data collection methods. Med Care. 2009;47(7 Suppl 1):S76–81.

18.

Mogyorosy Z, Smith P. The main methodological issues in costing health care services—a literature review: CHE research paper 7. Centre for Health Economics: York; 2005.

19.

National Health Service (NHS). NHS Supply Chain. Newcastle upon Tyne: NHS Buisness Service Authority; 2017.

20.

Medicines Complete. British National Formulary (BNF). London: BMj Group and the Royal Pharmacuetical Society of Great Britian; 2017.

21.

Curtis LA, Burns A. PSSRU—unit costs of health and social care 2017. Canterbury: Personal Social Services Research Unit, University of Kent; 2017.

22.

Employers NHS. Pay and conditions circular (M&D) 1/2016. NHS Employers: Leeds; 2016.

23.

Scottish Health Service Costs - Theatre Services (R140X): Number of theatres, expenditures and usage, by board [database on the Internet]. ISD Scotland. 2017 [cited 15 February 2018]. Available from: http://www.isdscotland.org/Health-topics/Finance/Costs/Detailed-Tables/Theatres.asp.

24.

Ismail I, Wolff S, Gronfier A, et al. A cost evaluation methodology for surgical technologies. Surg Endosc. 2015;29(8):2423–32.

25.

Reference Cost Collection: National Schedule of Reference Costs, 2016–17—NHS trusts and NHS foundation trusts [database on the Internet]. NHS Improvement. November 2017. Available from: https://improvement.nhs.uk/resources/reference-costs/.

26.

2017/18 and 2018/19 National Tariff: currencies and prices [database on the Internet]. NHS. 2017 [cited February 15, 2018]. Available from: https://improvement.nhs.uk/resources/national-tariff-1719/.

27.

Gounder ST, Wijayanayaka DR, Murphy R, et al. Costs of bariatric surgery in a randomised control trial (RCT) comparing Roux en Y gastric bypass vs sleeve gastrectomy in morbidly obese diabetic patients. N Z Med J. 2016;129(1443):43–52.

28.

Doumouras AG, Saleh F, Tarride JE, et al. A population-based analysis of the drivers of short-term costs after bariatric surgery within a publicly funded regionalized center of excellence system. Surg Obes Relat Dis. 2016;12(5):1023–31.

29.

Doble B. Comment on: systematic assessment of decision analytic models for the cost-effectiveness of bariatric surgery for morbid obesity. Surg Obes Relat Dis. 2018;14(7):1059–61.
Acknowledgements
By-Band-Sleeve Trial Management Group: Jane Blazeby (Chief Investigator), University of Bristol; Richard Welbourn (Surgical Lead), Musgrove Park Hospital; James Byrne (Surgical Expertise), Southampton University Hospitals NHS Trust; Jenny Donovan (Qualitative Research Lead), University of Bristol; Barnaby C. Reeves (Methodologist Lead), University of Bristol; Sarah Wordsworth (Health Economics Lead), University of Oxford; Robert C. Andrews (Endocrinology Lead), University of Exeter; Janice L. Thompson (Nutritional Lead), University of Birmingham; Graziella Mazza (Trial Manager), University of Bristol; Chris A. Rogers (Trials Unit and Statistical Lead), University of Bristol.
Funding
This study is funded by The National Institute for Health Research Health Technology Assessment (NIHR HTA) programme (project number 09/127/53) for which Richard Welbourn, Nicholas Carter, James Byrne, Chris A. Rogers, Jane M. Blazeby and Sarah Wordsworth are investigators. The views and opinions expressed are those of the authors and do not necessarily reflect those of the HTA programme, NIHR, the UK National Health Service, or the Department of Health. Jane M. Blazeby is an NIHR Senior Investigator.
Ethics declarations
Conflict of Interest
Author 2 declares receiving support from Ethicon Endo-Surgery for attending conferences and funding a Bariatric Clinical Fellow as well as receiving honoraria from Novo Nordisk. Author 5 received salary funding from the British Heart Foundation. All the other authors have no conflict of interests to declare, except support from a government grant detailed in the acknowledgements.
Ethical Approval
The National Research Ethics Committee South West – Frenchay approved the micro-costing on 6th December 2011 as part of the BBS study protocol. All procedures performed in studies involving human participants were in accordance with the 1964 Helsinki declaration and its later amendments or comparable ethical standards.
Informed Consent
Informed consent was obtained from all individual participants included in the BBS study.
Electronic Supplementary Material
About this article
Cite this article
Doble, B., Welbourn, R., Carter, N. et al. Multi-Centre Micro-Costing of Roux-En-Y Gastric Bypass, Sleeve Gastrectomy and Adjustable Gastric Banding Procedures for the Treatment of Severe, Complex Obesity. OBES SURG 29, 474–484 (2019). https://doi.org/10.1007/s11695-018-3553-9
Keywords
Bariatric surgery

Bottom-up costing

Costs

Cost analysis

Economics

Micro-costing

Reimbursement

Tariffs

Time-in-motion study