Abstract
Background/introduction
Several reports have discussed the potential for reducing port access in laparoscopic sleeve gastrectomy (LSG); however, each approach had its innate setbacks. Aiming at improving the aesthetic outcome, we report a novel approach to the LSG where we place the trocars at the bikini line in what we described as bikini line sleeve gastrectomy (BLSG).
Methods
The present work is a prospective, pilot study on the use of BLSG in patients, during the period between April and October 2016. Exclusion criteria included the following: large hiatal hernia, upper abdominal surgery, and xiphi-umbilical, xiphi-symphysis pubis, and xiphi-anterior superior iliac spine distances of > 25,36 and 33 cm, respectively. Four trocars were used: one at the umbilicus and three at the bikini line. All laparoscopic graspers were bariatric length instruments (43 cm). However, camera telescope, endoscopic stapler, and bipolar dissectors were standard length.
Results
Twenty eight patients underwent BLSG. The mean age was 34.6 ± 3.7 years with a mean BMI of 42.46 kg/m2 ± 3. There were no major intra- or postoperative complications and no conversion to conventional port site placement. Patient's scar satisfaction was favorable. The mean postoperative BMI and weight at 6 m were 28.5 ± 1 kg/m2 and 79.8 kg ± 2, respectively. The mean percentage excess weight loss at 3, 6, and 12 months were 39.5 ± 4.6, 64.5 ± 5, and 69.8 ± 6%, respectively.
Conclusion
BLSG was found to be potentially safe, feasible, and effective with a favorable aesthetic outcome; it could possibly be offered to a select group of patients that are conscious about their scar appearance.
This is a preview of subscription content, log in to check access.
We're sorry, something doesn't seem to be working properly.
Please try refreshing the page. If that doesn't work, please contact support so we can address the problem.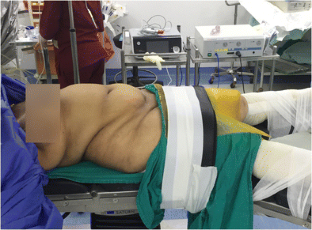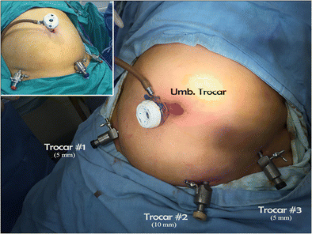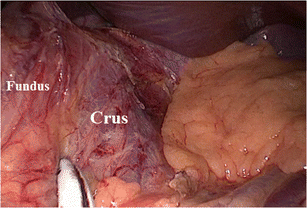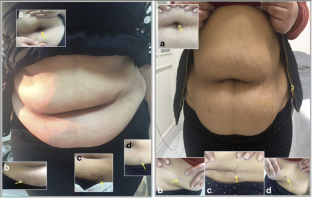 References
1.

Buchwald H, Avidor Y, Braunwald E, et al. Bariatric surgery: a systematic review and meta-analysis. JAMA. 2004;292(14):1724–37.

2.

Carter PL. The evolution of bariatric surgery. Am J Surg. 2015;209(5):779–82.

3.

Stefanopoulos A, Economopoulos KP, Kalles V. Single incision laparoscopic sleeve gastrectomy: a review. Obes Surg. 2015;25(8):1502–10.

4.

Dunford G, Philip S, Kole K. Three-port laparoscopic sleeve gastrectomy: a novel technical modification. Surg Laparosc Endosc Percutan Tech. 2016;26(6):174–7.

5.

Chekan E, Moore M, Hunter TD, et al. Costs and clinical outcomes of conventional single port and micro-laparoscopic cholecystectomy. JSLS. 2013;17(1):30–45.

6.

Henriksen NA, Al-Tayar H, Rosenberg J, et al. Cost assessment of instruments for single-incision laparoscopic cholecystectomy. JSLS. 2012;16(3):353–9.

7.

Alptekin H, Yilmaz H, Acar F, et al. Incisional hernia rate may increase after single-port cholecystectomy. J Laparoendosc Adv Surg Tech A. 2012;22(8):731–7.

8.

Durani P, McGrouther DA, Ferguson MW. The patient scar assessment questionnaire: a reliable and valid patient-reported outcomes measure for linear scars. Plast Reconstr Surg. 2009;123:1481–9.

9.

Roa PE, Kaidar-Person O, Pinto D, et al. Laparoscopic sleeve gastrectomy as treatment for morbid obesity: technique and short-term outcome. Obes Surg. 2006;16(10):1323–6.

10.

Deitel M, Crosby RD, Gagner M. The First International Consensus Summit for Sleeve Gastrectomy (SG), New York City, October 25-27, 2007. Obes Surg. 2008;18(5):487–96.

11.

Hanna GB, Cuschieri A. Influence of the optical axis-to-target view angle on endoscopic task performance. Surg Endosc. 1999;13(4):371–5.

12.

Cottam D, Qureshi FD, Mattar SG, et al. Laparoscopic sleeve gastrectomy as an initial weight-loss procedure for high-risk patients with morbid obesity. Surg Endosc. 2006;20:859–63.

13.

Regan JP, Inabnet WB, Gagner M, et al. Early experience with two-stage laparoscopic roux-en-Y gastric bypass as an alternative in the super-super obese patient. Obes Surg. 2003;13:861–4.

14.

Sammour T, Hill AG, Singh P, et al. Laparoscopic sleeve gastrectomy as a single-stage bariatric procedure. Obes Surg. 2010;20:271–5.

15.

Boza C, Salinas J, Salgado N, et al. Laparoscopic sleeve gastrectomy as a stand-alone procedure for morbid obesity: report of 1,000 cases and 3-year follow-up. Obes Surg. 2012;22:866–71.

16.

Inaki N, Tsuji T, Doden K, et al. Reduced port laparoscopic gastrectomy for gastric cancer. Transl Gastroenterol Hepatol. 2016;1:38.

17.

Lee SC, Choi BJ, Kim SJ. Two-port cholecystectomy maintains safety and feasibility in benign gallbladder diseases: a comparative study. Int J Surg. 2014;12(9):1014–9.

18.

Gaillard M, Tranchart H, Lainas P, et al. Single-port laparoscopic sleeve gastrectomy as a routine procedure in1000 patients. Surg Obes Relat Dis. 2016;12:1270–7.

19.

Saber AA, El-Ghazaly TH, Dewoolkar AV, et al. Single-incision laparoscopic sleeve gastrectomy versus conventional multiport laparoscopic sleeve gastrectomy: technical considerations and strategic modifications. Surg Obes Relat Dis. 2010;6(6):658–64.

20.

Saber AA, El-Ghazaly TH, Elian A, et al. Single-incision laparoscopic placement of adjustable gastric band versus conventional multiport laparoscopic gastric banding: a comparative study. Am Surg. 2010;76(12):1328–32.

21.

Ruiz-Tovar J, Muñoz JL, Gonzalez J, et al. Postoperative pain after laparoscopic sleeve gastrectomy: comparison of three analgesic schemes (isolated intravenous analgesia, epidural analgesia associated with intravenous analgesia and port-sites infiltration with bupivacaine associated with intravenous analgesia). Surg Endosc. 2017;31(1):231–6.

22.

Siddiqui NA, Azami R, Murtaza G, et al. Postoperative port-site pain after gall bladder retrieval from epigastric vs. umbilical port in laparoscopic cholecystectomy: a randomized controlled trial. Int J Surg. 2012;10(4):213–6.

23.

Keir A, Rhodes L, Kayal A, et al. Does a transversus abdominis plane (TAP) local anaesthetic block improve pain control in patients undergoing laparoscopic cholecystectomy? A best evidence topic. Int J Surg. 2013;11(9):792–4.

24.

Manning S, Pucci A. Early postoperative weight loss predicts maximal weight loss after sleeve gastrectomy and Roux-en-Y gastric bypass. Surg Endosc. 2015;29(6):1484–91.

25.

Clinical Issues Committee ASMBS. Updated position statement on sleeve gastrectomy as a bariatric procedure. Surg Obes Relat Dis. 2012;8:e21–6.

26.

Deitel M, Gagner M, Erickson AL, et al. Third International Summit: current status of sleeve gastrectomy. Surg Obes Relat Dis. 2011;7:749–59.

27.

van Rutte PW, Smulders JF, de Zoete JP, et al. Outcome of sleeve gastrectomy as a primary bariatric procedure. Br J Surg. 2014;101(6):661–8.

28.

Chang SH, Stoll CR, Song J, et al. The effectiveness and risks of bariatric surgery: an updated systematic review and meta-analysis, 2003-2012. JAMA Surg. 2014;149(3):275–87.
Ethics declarations
Conflict of Interest
The author declares that he has no conflict of interest.
Statement of Informed Consent
Informed consent was obtained from all individual participants included in the study.
All procedures performed in studies involving human participants were in accordance with the ethical standards of the institutional and/or national research committee and with the 1964 Helsinki declaration and its later amendments or comparable ethical standards.
Electronic supplementary material
About this article
Cite this article
Abdelbaki, T.N. Bikini Line Sleeve Gastrectomy: Initial Report. OBES SURG 27, 3320–3326 (2017). https://doi.org/10.1007/s11695-017-2941-x
Keywords
Sleeve gastrectomy

Minimal scar

Bikini line

Less invasive

No scar