Abstract
Background
Banded-gastric bypass is a highly effective bariatric procedure, yet the possibility of band erosion remains a significant drawback. Surgical removal of eroded bands may be associated with significant morbidity. In this study, we assess the efficacy and safety of a solely peroral endoscopic approach for the management of eroded bands in patients with a banded-gastric bypass.
Materials and Methods
Starting January 2012, all patients with banded-gastric bypass and an eroded band were subjected to an attempt at peroral endoscopic removal using endoscopic scissors and/or argon plasma coagulation (APC), regardless of the circumference of band eroding inside the lumen.
Results
Sixteen patients presented with eroded bands, 2 were deemed not amenable to endoscopic removal as only part of the thickness was eroded. Of the 14 patients where endoscopic attempts were performed, 12 (86%) were completely removed successfully, while 2 (14%) were cut but could not be extracted and only the intraluminal portion was trimmed. Complete resolution of symptoms occurred in 13 (93%) while in 1 patient (7%) there was partial improvement. Only one endoscopic session was performed per patient with a median time of 37.5 min per session (22–55 min). No complications were encountered.
Conclusion
Endoscopic removal of eroded gastric bands in patients with banded-gastric bypass is effective and safe in the majority of patients. When bands are adherent to the gastric wall, removal of the intraluminal portion of the band may lead to full or partial improvement of symptoms. Endoscopic band removal can be attempted even when a small part of band circumference has eroded.
This is a preview of subscription content, log in to check access.
Access options
Buy single article
Instant unlimited access to the full article PDF.
US$ 39.95
Price includes VAT for USA
Subscribe to journal
Immediate online access to all issues from 2019. Subscription will auto renew annually.
US$ 99
This is the net price. Taxes to be calculated in checkout.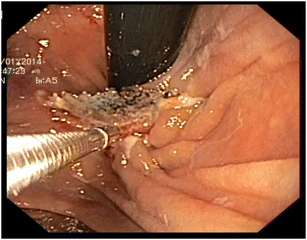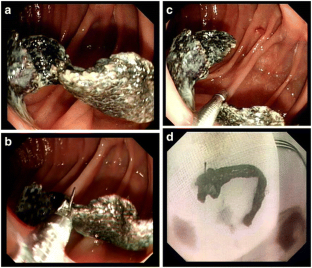 References
1.

http://www.who.int/mediacentre/factsheets/fs311/en/. Accessed: 15/10/2016

2.

Ogden CL, Carroll MD, Lawman HG, et al. Trends in obesity prevalence among children and adolescents in the United States, 1988-1994 through 2013-2014. JAMA. 2016;315:2292–9.

3.

Gloy V, Briel M, Bhatt D, et al. Bariatric surgery versus non-surgical treatment for obesity: a systematic review and meta-analysis of randomised controlled trials. BMJ. 2013;22:347–f5934.

4.

SAGES Guidelines Committee. SAGES guideline for clinical application of laparoscopic bariatric surgery. Surg Obes Relat Dis. 2009;5:387–405.

5.

Laws HL, Piantadosi S. Superior gastric reduction procedure for morbid obesity: a prospective, randomized trial. Ann Surg. 1981;193:334–40.

6.

Fobi MA, Lee H. The surgical technique of Fobi-Pouch operation for obesity (the transected silastic vertical gastric bypass). Obes Surg. 1998;8:283–8.

7.

Rasera Jr I, Coelho TH, Ravelli MN, et al. A comparative, prospective and randomized evaluation of Roux-en-Y gastric bypass with and without the silastic ring: a 2-year follow up preliminary report on weight loss and quality of life. Obes Surg. 2016;26:762–8.

8.

Bhandari M, Bhandari S, Mishra A, et al. Comparison between banded and nonbanded Roux-en-Y gastric bypass with 2-year follow-up: a preliminary retrospective analysis. Obes Surg. 2016;26:213–8.

9.

Awad W, Garay A, Martínez C. Ten years experience of banded gastric bypass: does it make a difference? Obes Surg. 2012;22:271–8.

10.

Buchwald H, Buchwald JN, McGlennon TW. Systematic review and meta-analysis of medium-term outcomes after banded Roux-en-Y gastric bypass. Obes Surg. 2014;24:1536–51.

11.

Yoon CI, Pak KH, Kim SM. Early experience with diagnosis and management of eroded gastric bands. J Korean Surg Soc. 2012;82:18–27.

12.

Evans JA, Williams NN, Chan EP, et al. Endoscopic removal of eroded bands in vertical banded gastroplasty: a novel use of endoscopic scissors (with video). Gastrointest Endosc. 2006;64:801–4.

13.

Karmali S, Snyder B, Wilson EB, et al. Endoscopic management of eroded prosthesis in vertical banded gastroplasty patients. Surg Endosc. 2010;24:98–102.

14.

Chisholm J, Kitan N, Toouli J, et al. Gastric band erosion in 63 cases: endoscopic removal and rebanding evaluated. Obes Surg. 2011;21:1676–81.

15.

Taddeucci RJ, Madan AK, Ternovits CA, et al. Laparoscopic re-operations for band removal after open banded gastric bypass. Obes Surg. 2007;17:35–8.

16.

Blero D, Eisendrath P, Vandermeeren A, et al. Endoscopic removal of dysfunctioning bands or rings after restrictive bariatric procedures. Gastrointest Endosc. 2010;71:468–74.
Ethics declarations
All procedures performed were in accordance with the ethical standards of the institutional and/or national research committee and with the 1964 Helsinki declaration and its later amendments or comparable ethical standards.
Conflict of Interest
The authors declare that they have no conflicts of interest.
Electronic supplementary material
Below is the link to the electronic supplementary material.
About this article
Cite this article
Shehab, H., Gawdat, K. Endoscopic Management of Eroded Bands Following Banded-Gastric Bypass (with Video). OBES SURG 27, 1804–1808 (2017) doi:10.1007/s11695-017-2548-2
Keywords
Obesity

Band erosion

Eroded band

Ring erosion

Gastric bypass

Surgery complications

Banded–gastric bypass

Endoscopic

Bariatric