Abstract
Gastric bypass (GBP) has been the most common surgical way to treat obesity and its comorbidities. Late abdominal pain may occur by gastro-jejunal ulcers, gallstones, internal herniation or, rarely, intussusception. In an area with more than 1000 GBPs performed yearly, three patients with primary small bowel volvulus causing abdominal pain and requiring emergency or semi-urgent surgery were identified. Patients' histories, radiology, and surgery performed are presented. Weight loss followed by mesenteric narrowing of the root and thus relative elongation may make rotation of the small bowel mesentery possible. Such a torsion might be an overlooked differential diagnosis in obscure abdominal pain after GBP.
This is a preview of subscription content, log in to check access.
Access options
Buy single article
Instant unlimited access to the full article PDF.
US$ 39.95
Price includes VAT for USA
Subscribe to journal
Immediate online access to all issues from 2019. Subscription will auto renew annually.
US$ 99
This is the net price. Taxes to be calculated in checkout.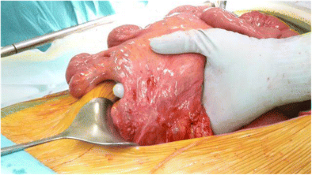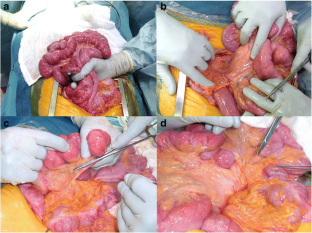 References
1.

Campanile FC, Boru CE, Rizzello M, et al. Acute complications after laparoscopic bariatric procedures: update for the general surgeon. Langenbecks Arch Surg. 2013;398(5):669–86.

2.

Aghajani E, Jacobsen HJ, Nergaard BJ, et al. Internal hernia after gastric bypass: a new and simplified technique for laparoscopic primary closure of the mesenteric defects. J Gastrointest Surg. 2012;16(3):641–5.

3.

Stephenson D, Moon RC, Teixeira AF, et al. Intussusception after Roux-en-Y gastric bypass. Surg Obes Relat Dis. 2014;10(4):666–70.

4.

Vaez-Zadeh K, Dutz W, Nowrooz-Zadeh M. Volvulus of the small intestine in adults: a study of predisposing factors. Ann Surg. 1969;169(2):265–71.

5.

Brauner E, Mahajna A, Assalia A. Intestinal malrotation presenting as midgut volvulus after massive weight loss following laparoscopic sleeve gastrectomy: case report and review of the literature. Surg Obes Relat Dis. 2012;8(4):e52–5.

6.

Loar 3rd PV, Sanchez-Ramos L, Kaunitz AM, et al. Maternal death caused by midgut volvulus after bariatric surgery. Am J Obstet Gynecol. 2005;193(5):1748–9.

7.

Ng M, Toribio R, Sugiyama G. Rare case of concurrent intussusception and volvulus after Roux-en-Y gastric bypass for morbid obesity. J Surg Case Rep. 2013;2013(1).
Ethics declarations
Conflict of Interest
The authors declare that they have no competing interests.
Informed Consent
Informed consent was obtained from all three participants. Consents are saved in the patients' medical records.
Electronic Supplementary Material
Below is the link to the electronic supplementary material.
Case 1: CT scan showing a largely distended remnant stomach, dilated small intestine and suspected torsion of small intestine and vessels. At laparotomy the condition was interpreted as internal herniation due to a small and narrow intestinal adhesion. (MP4 4060 kb)
Case 1: CT scan showing a tornado phenomenon. At laparotomy there was a torsion of the slender root of the small intestinal mesentery. The mesentery was de-torqued and pexy of the small intestinal mesentery to the posterior peritoneum was performed. (MP4 2442 kb)
Case 2: Closure of Petersen's space, trans-gastric ERC and stone-clearance. (MP4 164302 kb)
Case 2: CT scan showing a tornado phenomenon. At surgery the whole of the small intestine was found to be vascularily compromised, due to a twist of the mesenteric root, but recovered rapidly after a 360° de-torsion. (MP4 1407 kb)
Case 3: CT scan showing a tornado phenomenon. At laparotomy small bowel incarcerated in Petersen's space was reduced and the gap was closed, as was the defect by the enteroanastomosis. (MP4 1255 kb)
Case 3: CT scan showing a tornado phenomenon. At the following surgery the small intestines had an appearance of having been strained and unwittingly de-torqued. (MP4 1102 kb)
Case 3: CT scan showing a tornado phenomenon. A laparotomy was performed with findings of slightly affected venous outflow that instantly recovered with correct positioning (de-torsion) of the small intestines. A conspicuously long and narrow mesenteric root was found. Pexy was performed between the small intestinal mesentery and the posterior peritoneum. (MP4 711 kb)
Case 1: CT scan showing a largely distended remnant stomach, dilated small intestine and suspected torsion of small intestine and vessels. At laparotomy the condition was interpreted as internal herniation due to a small and narrow intestinal adhesion. (MP4 4060 kb)
Case 1: CT scan showing a tornado phenomenon. At laparotomy there was a torsion of the slender root of the small intestinal mesentery. The mesentery was de-torqued and pexy of the small intestinal mesentery to the posterior peritoneum was performed. (MP4 2442 kb)
Case 2: Closure of Petersen's space, trans-gastric ERC and stone-clearance. (MP4 164302 kb)
Case 2: CT scan showing a tornado phenomenon. At surgery the whole of the small intestine was found to be vascularily compromised, due to a twist of the mesenteric root, but recovered rapidly after a 360° de-torsion. (MP4 1407 kb)
Case 3: CT scan showing a tornado phenomenon. At laparotomy small bowel incarcerated in Petersen's space was reduced and the gap was closed, as was the defect by the enteroanastomosis. (MP4 1255 kb)
Case 3: CT scan showing a tornado phenomenon. At the following surgery the small intestines had an appearance of having been strained and unwittingly de-torqued. (MP4 1102 kb)
Case 3: CT scan showing a tornado phenomenon. A laparotomy was performed with findings of slightly affected venous outflow that instantly recovered with correct positioning (de-torsion) of the small intestines. A conspicuously long and narrow mesenteric root was found. Pexy was performed between the small intestinal mesentery and the posterior peritoneum. (MP4 711 kb)
About this article
Cite this article
Frederiksen, S.G., Ekelund, M. Mesenteric Torsion as a Cause of Late Abdominal Pain after Gastric Bypass Surgery. OBES SURG 26, 896–899 (2016) doi:10.1007/s11695-015-2042-7
Keywords
Bariatric surgery

Gastric bypass

Mesenteric

Obesity surgery

Small intestine

Torsion

Volvulus