Abstract
Little is known about the impact of weight loss interventions on pregnancy rate. A systematic review with meta-analysis of literature has been performed to evaluate the incidence of successful pregnancy after bariatric interventions in infertile women. By pooling together data from 589 infertile obese women, we have been able to provide an aggregate estimation of successful pregnancy after weight loss interventions. Our results showed an impressive high incidence (58 %) of infertile women who become spontaneously pregnant after surgery. Based on our results, bariatric interventions could be included in the treatment of obesity-related infertility. However, the results must be interpreted with caution owning to the quality of the data provided by included studies. Further ad hoc studies are needed to validate the effectiveness of bariatric interventions on reproductive function.
Access options
Buy single article
Instant access to the full article PDF.
US$ 39.95
Tax calculation will be finalised during checkout.
Subscribe to journal
Immediate online access to all issues from 2019. Subscription will auto renew annually.
US$ 79
Tax calculation will be finalised during checkout.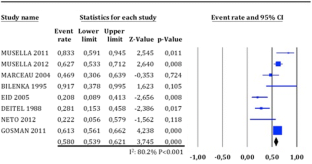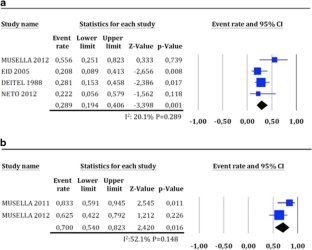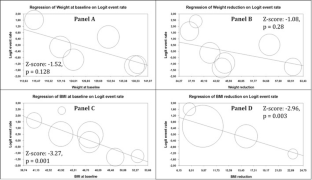 References
1.

Buchwald H. Consensus Conference Statement Bariatric surgery fo morbid obesity: health implications for patients, health professionals, and third-party payers. J Am Coll Surg. 2005;200:593–604.

2.

Santry HP, Gillen DL, Lauderdale DS. Trends in bariatric surgical procedures. JAMA. 2005;294(15):1909–17.

3.

World Health Organization. Obesity and overweight. http://www.who.int/mediacentre/factsheets/fs311/en/ Accessed 06 May 2015.

4.

Obesity Update. OECD. http://www.oecd.org/els/health-systems/Obesity-Update-2014.pdf Accessed 06 May 2015.

5.

Clark AM, Ledger W, Galletly C, et al. Weight loss results in significant improvement in pregnancy and ovulation rates in anovulatory obese women. Hum Reprod. 1995;10:2705–12.

6.

Clark AM, Thornley B, Tomlinson L, et al. Weight loss in obese infertile women results in improvement in reproductive outcome for all forms of fertility treatment. Hum Reprod. 1998;13:1502–5.

7.

Hollmann M, Runnebaum B, Gerhard I. Effects of weight loss on the hormonal profile in obese, infertile women. Hum Reprod. 1996;11:1884–91.

8.

Crosignani PG, Colombo M, Vegetti W, et al. Overweight and obese anovulatory patients with polycystic ovaries: parallel improvements in anthropometric indices, ovarian physiology and fertility rate induced by diet. Hum Reprod. 2003;18:1928–32.

9.

Tang T, Glanville J, Hayden CJ, et al. Combined lifestyle modification and metformin in obese patients with polycystic ovary syndrome. A randomized, placebo-controlled, double- blind multicentre study. Hum Reprod. 2006;21:80–9.

10.

Practice Committee of American Society for Reproductive Medicine. Obesity and reproduction: an educational bulletin. Fertil Steril. 2008;90:S21–29.

11.

American College of Obstetricians and Gynecolo- gists. ACOG Committee Opinion number 315, September 2005. Obesity in pregnancy. Obstet Gynecol. 2005;106:671–5.

12.

Patel JA, Colella JJ, Esaka E, et al. Improvement in infertility and pregnancy outcomes after weight loss surgery. Med Clin North Am. 2007;91:515–28. xiii.

13.

Maggard MA, Yermilov I, Li Z, et al. Pregnancy and fertility following bariatric surgery: a systematic review. JAMA. 2008;300(19):2286–96.

14.

Bilenka B, Ben-Shlomo I, Cozacov C, et al. Fertility, miscarriage and pregnancy after vertical banded gastroplasty operation for morbid obesity. Acta Obstet Gynecol Scand. 1995;74(1):42–4.

15.

Martin LF, Finigan KM, Nolan TE. Pregnancy after adjustable gastric banding. Obstet Gynecol. 2000;95(6 Pt 1):927–30.

16.

Marceau P, Kaufman D, Biron S, et al. Outcome of pregnancies after biliopancreatic diversion. Obes Surg. 2004;14(3):318–24.

17.

Jungheim ES, Travieso JL, Carson KR, et al. Obesity and reproductive function. Obstet Gynecol Clin North Am. 2012;39(4):479–93.

18.

Crujeiras AB, Casanueva FF. Obesity and the reproductive system disorders: epigenetics as a potential bridge. Hum Reprod Update Advance Access. 2014;0:1–13. doi:10.1093/humupd/dmu060.

19.

Jungheim ES, Schoeller EL, Marquard KL, et al. Diet-induced obesity model: abnormal oocytes and persistent growth abnormalities in the offspring. Endocrinology. 2010;151(8):4039–46.

20.

Pasquali R, Casimirri F, Platè L, et al. Characterization of obese women with reduced sex hormone-binding globulin concentrations. Horm Metab Res. 1990;22(5):303–6.

21.

Legro RS, Schlaff WD, Diamond MP, et al. Reproductive Medicine Network. Total testosterone assays in women with polycystic ovary syndrome: precision and correlation with hirsutism. J Clin Endocrinol Metab. 2010;95(12):5305–13.

22.

Rehman KS, Carr BR. Sex differences in adrenal androgens. Semin Reprod Med. 2004;22(4):349–60.

23.

Hillman JB, Miller RJ, Inge TH. Menstrual concerns and intrauterine contraception among adolescent bariatric surgery patients. J Womens Health (Larchmt). 2011;20(4):533–8.

24.

Jain A, Polotsky AJ, Rochester D, et al. Pulsatile luteinizing hormone amplitude and progesterone metabolite excretion are reduced in obese women. J Clin Endocrinol Metab. 2007;92(7):2468–73.

25.

Eng GS, Sheridan RA, Wyman A, et al. AMP kinase activation increases glucose uptake, decreases apoptosis, and improves pregnancy outcome in embryos exposed to high IGF-I concentrations. Diabetes. 2007;56(9):2228–34.

26.

Bellver J, Martinez-Conejero JA, Labarta E, et al. Endometrial gene expression in the window of implantation is altered in obese women especially in association with polycystic ovary syndrome. Fertil Steril. 2011;95(7):2335–41. 2341, e2331–e2338.

27.

Brewer CJ, Balen AH. The adverse effects of obesity on conception and implantation. Reproduction. 2010;140:347–64.

28.

Moher D, Liberati A, Tetzlaff J, et al. Preferred reporting items for systematic reviews and meta-analyses: the PRISMA statement. PLoS Med. 2009;6(7):e1000097.

29.

Juni P, Witschi A, Bloch R, et al. The hazards of scoring the quality of clinical trials for meta-analysis. JAMA. 1999;282:1054–60.

30.

Higgins JP, Thompson SG, Deeks JJ, et al. Measuring inconsistency in meta-analyses. BMJ. 2003;327:557–60.

31.

Sterne JA, Egger M, Smith GD. Systematic reviews in health care: investigating and dealing with publication and other biases in meta-analysis. BMJ. 2001;323:101–5.

32.

Duval S, Tweedie R. Trim and fill: a simple funnel-plot-based method of testing and adjusting for publication bias in meta-analysis. Biometrics. 2000;56:455–63.

33.

Eid GM, Cottam DR, Velcu LM, et al. Effective treatment of polycystic ovarian syndrome with Roux-en-Y gastric bypass. Surg Obes Relat Dis. 2005;1:77–80.

34.

Gosman GG, King WC, Schrope B, et al. Reproductive health of women electing bariatric surgery. Fertil Steril. 2010;94(4):1426–31.

35.

Musella M, Milone M, Bellini M, et al. The potential role of intragastric balloon in the treatment of obese-related infertility: personal experience. Obes Surg. 2011;21(4):426–30.

36.

Musella M, Milone M, Bellini M, et al. Effect of bariatric surgery on obesity-related infertility. Surg Obes Relat Dis. 2012;8(4):445–9.

37.

Neto RML, Herbella FAM, Tauil RM, et al. Comorbidities Remission After Roux-en-Y Gastric Bypass for Morbid Obesity is Sustained in a Long-Term Follow-up and Correlates with Weight Regain. Obes Surg. 2012;22:1580–5.

38.

World Obesity Federation. Obesity Data Portal. http://www.worldobesity.org/site_media/library/resource_images/Trends_Adult_Euope_1980_to_date.pdf Accessed 06 May 2015.

39.

Deitel M, Stone E, Kassam HA, et al. Gynecologic-obstetric changes after loss of massive excess weight following bariatric surgery. J Am Coll Nutr. 1988;7(2):147–53.

40.

World Obesity Federation. Obesity Data Portal. http://www.worldobesity.org/site_media/library/resource_images/Adults_and_children_earliest_and_most_recent_available_timepoints_combined_gender_November_14.pdf Accessed 06 May 2015.

41.

Lloyd GER, editor. Hippocratic writings. London: Penguin; 1978.

42.

NIH Conference. Gastrointestinal surgery for severe obesity. Consensus Development Conference Panel. Ann Int Med. 1991;115(12):956–61.

43.

Merhi ZO. Weight loss by bariatric surgery and subsequent fertility. Fertil Steril. 2007;87(2):430–2.

44.

Guelinckx I, Devlieger R, Vansant G. Reproductive outcome after bariatric surgery: a critical review. Hum Reprod Update. 2009;15(2):189–201.

45.

Magdaleno Jr R, Pereira BG, Chaim EA, et al. Pregnancy after bariatric surgery: a current view of maternal, obstetrical and perinatal challenges. Arch Gynecol Obstet. 2012;285(3):559–66.

46.

Sheiner E, Levy A, Silverberg D, et al. Pregnancy after bariatric surgery is not associated with adverse perinatal outcome. Am J Obstet Gynecol. 2004;190(5):1335–40.

47.

Gerrits EG, Ceulemans R, van Hee R, et al. Contraceptive treatment after biliopancreatic diversion needs consensus. Obes Surg. 2003;13(3):378–82.

48.

Teitelman M, Grotegut CA, Williams NN, et al. The impact of bariatric surgery on menstrual patterns. Obes Surg. 2006;16(11):1457–63.

49.

Escobar-Morreale HF, Botella-Carretero JI, Alvarez-Blasco F, et al. The polycystic ovary syndrome associated with morbid obesity may resolve after weight loss induced by bariatric surgery. J Clin Endocrinol Metab. 2005;90(12):6364–9.

50.

Bastounis EA, Karayiannakis AJ, Syrigos K, et al. Sex hormone changes in morbidly obese patients after vertical banded gastroplasty. Eur Surg Res. 1998;30(1):43–7.

51.

Doblado MA, Lewkowsksi BM, Odem RR, et al. In vitro fertilization after bariatric surgery. Fertil Steril. 2010;94(7):2812–4.

52.

Mascarenhas MN, Flaxman SR, Boerma T, et al. National, Regional, and Global Trends in Infertility Prevalence Since 1990: A Systematic Analysis of 277 Health Surveys. PLoS Med. 2012;9(12):e1001356.
Ethics declarations
Conflict of Interest
All the authors have nothing to declare.
Financial Support
None.
About this article
Cite this article
Milone, M., De Placido, G., Musella, M. et al. Incidence of Successful Pregnancy After Weight Loss Interventions in Infertile Women: a Systematic Review and Meta-Analysis of the Literature. OBES SURG 26, 443–451 (2016). https://doi.org/10.1007/s11695-015-1998-7
Keywords
Obesity

BMI

Bariatric

Infertility

Fertility