Abstract
A 51-year-old female (height 160 cm, weight 89 kg, BMI 34.8) presented at the emergency department complaining of sudden onset of sharp abdominal pain in the epigastrium, colicky in nature, dysphagia, nausea, and repeated retching with non-productive vomiting. She has had an adjustable gastric banding implanted laparoscopically 11 years earlier. Since then, she reported to have had only a moderate weight loss (initial BMI 44), although she was closely followed up and the reservoir properly filled by her obesity surgeon. A gastrografin was performed and showed no clear signs of slippage of the gastric band nor of gastric strangulation/ischemia. Nonetheless, the passage of the contrast through esophagogastric junction was slightly slow and restricted suggesting a moderate stenosis from the band. Two cubic centimeters of saline were aspirated from the reservoir to loosen the gastric band. However, on the following minutes, no significant relief of the sharp pain was observed. NSAIDS and morphine were repeatedly given without significant pain relief, and after a few hours, the pain was more intense and diffused to the upper abdomen. I.V. contract CT scan showed a large amount of free fluid, with severe small bowel distension and suspected volvulus and a transition point at the port site of the reservoir, suggesting a strangulated incisional hernia on this site and/or strangulating band adhesion. Urgent surgery was planned, and a laparoscopic approach was chosen. A large amount of free bloody fluid was found, and a long segment of small bowel was twisted around a strangulating band adhesion on the port site of the reservoir, incarcerated within an incisional hernia on the same port site. The strangulating band was cut, and the strangulated bowel was released. Gradual reversion of bowel ischemia was observed, and the gastric banding was removed according to the patient's preoperative request.
This is a preview of subscription content, log in to check access.
Access options
Buy single article
Instant unlimited access to the full article PDF.
US$ 39.95
Price includes VAT for USA
Subscribe to journal
Immediate online access to all issues from 2019. Subscription will auto renew annually.
US$ 99
This is the net price. Taxes to be calculated in checkout.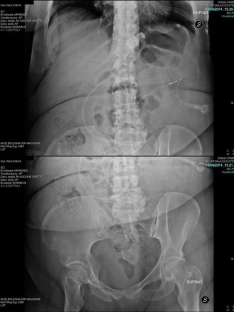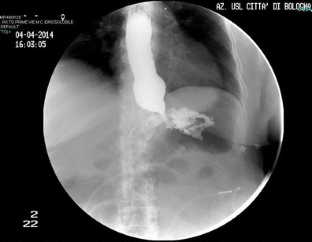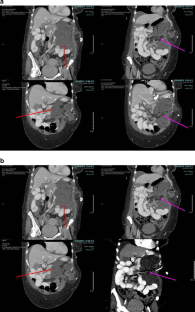 References
1.

Mehanna MJ, Birjawi G, Moukaddam HA, et al. Complications of adjustable gastric banding, a radiological pictorial review. AJR Am J Roentgenol. 2006;186(2):522–34.

2.

Carucci LR, Turner MA, Szucs RA. Adjustable laparoscopic gastric banding for morbid obesity: imaging assessment and complications. Radiol Clin North Am. 2007;45(2):261–74.

3.

Eid I, Birch DW, Sharma AM, et al. Complications associated with adjustable gastric banding for morbid obesity: a surgeon's guides. Can J Surg. 2011;54(1):61–6.

4.

Sonavane SK, Menias CO, Kantawala KP, et al. Laparoscopic adjustable gastric banding: what radiologists need to know. Radiographics. 2012;32(4):1161–78. doi:10.1148/rg.324115177.

5.

Di Saverio S. Emergency laparoscopy: a new emerging discipline for treating abdominal emergencies attempting to minimize costs and invasiveness and maximize outcomes and patients' comfort. J Trauma Acute Care Surg. 2014;77(2):338–50. doi:10.1097/TA.0000000000000288.

6.

Kibbe MR, Hassoun HT. Acute Mesenteric Ischemia. Sci Am Surg. 2010;1–10. doi:10.2310/7800.S06C04.
Conflict of Interest
The authors declare that they have no competing interests.
Compliance with Ethical Standards
This article being a case report does not need ethical approval.
Informed Consent
Informed consent was obtained from all individual participants included in the study.
Author's Contribution
GMG and SDS wrote the manuscript. SDS operated on the patient as the operating attending surgeon. GMG and SB were assisting surgeons in O.R. GMG and SDS edited the video and the images. SDS, GMG, SB, AB, RL, MZ, and EJ revised critically the manuscript and the video for technical and intellectual content. All authors reviewed and approved the final draft of the manuscript.
Additional information
Brief Resume
Emergency laparoscopy for small bowel ischemia and an incarcerated port-site incisional hernia with small bowel volvulus on a single adhesion, in an obese patient presenting with epigastric pain 11 years after gastric banding insertion
Electronic supplementary material
Below is the link to the electronic supplementary material.
About this article
Cite this article
Di Saverio, S., Guiducci, G.M., Boschi, S. et al. A Challenging Misleading Diagnosis in a Patient with Suspicion of Gastric Banding Slippage and Strangulation: Diagnosis and Laparoscopic Treatment. OBES SURG 25, 1758–1762 (2015). https://doi.org/10.1007/s11695-015-1759-7
Keywords
Obesity surgery

Gastric banding

Complications

Dysphagia and abdominal pain

Differential diagnosis

CT scan

Small bowel obstruction

Adhesional band

Incarcerated incisional hernia

Bowel ischaemia

Laparoscopic emergency surgery