Abstract
Background
Post-operative nutritional deficiencies are a common complication following bariatric surgery. The incidence and time of occurrence are not clear, and the efficacy of supplementation remains questionable. Clear guidelines for nutritional follow-up and counselling are needed.
Methods
Preoperative and post-operative deficiencies were determined in a group of 427 gastric bypass patients. The predictive value of preoperative laboratory findings for the development of post-operative deficiencies, the time of occurrence and the effect of supplementation of common deficiencies was studied.
Results
Most common preoperative deficiencies were of folic acid (21.3 %), vitamin D3 (17.5 %) and iron (21.8 %). Post-operative, a significant increase in the number of patients with anaemia and deficiencies of ferritin and vitamin B12 was found. Most deficiencies occur between 12 and 15 months post-operatively, but vitamin D3 deficiency occurs significantly earlier at 9.7 months. A preoperative iron, folic acid or ferritin deficiency results in a significant higher risk for developing a post-operative deficiency despite supplementation, and ferritin deficiency occurs significantly earlier in these patients. Oral treatment of post-operative vitamin B12 and vitamin D3 deficiencies was successful in more than 80 % of the patients in contrast to oral treatment of anaemia which was only successful in 62.5 % of the patients.
Conclusion
Our study emphasizes the importance of preoperative assessment and treatment of nutritional deficiencies in morbidly obese patients undergoing gastric bypass surgery. Despite limited efficacy, post-operative oral supplementation should be encouraged as it decreases the incidence of deficiencies.
This is a preview of subscription content, log in to check access.
Access options
Buy single article
Instant access to the full article PDF.
US$ 39.95
Price includes VAT for USA
Subscribe to journal
Immediate online access to all issues from 2019. Subscription will auto renew annually.
US$ 99
This is the net price. Taxes to be calculated in checkout.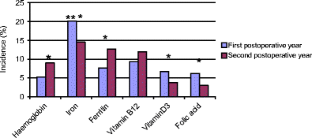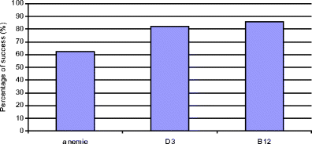 References
1.

Agha-Mohammadi S, Hurwitz DJ. Nutritional deficiency of post-bariatric surgery body contouring patients: what every plastic surgeon should know. Plast Reconstr Surg. 2008;122:604–13.

2.

Blume CA, Boni CC, Casagrande DS, et al. Nutritional profile of patients before and after Roux-en-Y gastric bypass: 3-years follow-up. Obes Surg. 2012;22:1676–85.

3.

Clements RH, Katasani VG, Palepu R, et al. Incidence of vitamin deficiency after laparoscopic Roux-en-Y gastric bypass in a university hospital setting. Am Surg. 2006;72:1196–202.

4.

Dalcanale L, Oliveira CP, Faintuch J, et al. Long-term nutritional outcome after gastric bypass. Obes Surg. 2010;20:181–7.

5.

Donadelli SP, Junqueira-Franco MV, de Mattos Donadelli CA, et al. Daily vitamin supplementation and hypovitaminosis after obesity surgery. Nutrition. 2012;28:391–6.

6.

Higa K, Ho T, Tercero F, et al. Laparoscopic Roux-en-Y gastric bypass: 10-year follow-up. Surg Obes Relat Dis. 2011;7:516–25.

7.

Gasteyer C, Suter M, Gaillard RC, et al. Nutritional deficiencies after Roux-en-Y gastric bypass for morbid obesity often cannot be prevented by standard multivitamin supplementation. Am J Clin Nutr. 2008;87:1128–33.

8.

Kaidar-Person O, Person B, Szomstein S, et al. Nutritional deficiencies in morbidly obese patients: a new form of malnutrition? Part A: vitamins. Obes Surg. 2008;18:870–6.

9.

Flancbaum L, Belsley S, Drake V, et al. Preoperative nutritional status of patients undergoing Roux-en-Y gastric bypass for morbid obesity. J Gastrointest Surg. 2006;10:1033–7.

10.

Gastrointestinal surgery for severe obesity; National Institutes of Health consensus development conferende statement. Am J Clin Nutr. 1992;55:615S–619S.

11.

Shah M, Simha V, Garg A. Review: long-term impact of bariatric surgery on body weight, comorbidities, and nutritional status. J Clin Endocr Metab. 2006;91:4223–31.

12.

Xanthakos SA. Nutritional deficiencies in obesity and after bariatric surgery. Pediatr Clin N Am. 2009;56:1105–21.

13.

Aasheim ET, Johnson LK, Hofsø D, et al. Vitamin status after gastric bypass and lifestyle intervention: a comparative prospective study. Surg Obes Relat Dis. 2012;8:169–75.

14.

Coupaye M, Puchaux K, Bogard C, et al. Nutritional consequences of adjustable gastric banding and gastric bypass: a 1-year prospective study. Obes Surg. 2009;19:56–65.

15.

Moize V, Geliebter A, Gluck ME, et al. Obese patients have inadequate protein intake related to protein intolerance up to 1 year following Roux-en-Y gastric bypass. Obes Surg. 2003;13:23–8.

16.

Ponsky TA, Brody F, Pucci E. Alterations in gastrointestinal physiology after Roux-en-y gastric bypass. J Am Coll Surg. 2005;201:125–31.

17.

Vargas-Ruiz AG, Hernandez-Rivera G, Herrera MF. Prevalence of iron, folate and vitamin B12 deficient anemia after laparoscopic Roux-en-Y gastric bypass. Obes Surg. 2008;18:288–93.

18.

Colossi FG, Casagrande DS, Chatkin R, et al. Need for multivitamin use in the postoperative period of gastric bypass. Obes Surg. 2008;18:187–91.

19.

Novais PF, Resera Jr I, Leite CV, et al. Food intake in women two years or more after bariatric surgery meets adequate intake requirements. Nutr Res. 2012;32:335–41.

20.

Aarts EO, Dogan K, Betzel et al. A double-blind prospective randomized controlled trial comparing multivitamin supplements after roux-en-Y gastric bypass in morbidly obese patients: vital study. On IFSO, 18th cong. 2nd session (Aug. 30, 2013).
Ethical Approval
For this type of study, formal consent is not required.
Conflict of Interest
The authors declare that they have no conflict of interest
About this article
Cite this article
van der Beek, E.S.J., Monpellier, V.M., Eland, I. et al. Nutritional Deficiencies in Gastric Bypass Patients; Incidence, Time of Occurrence and Implications for Post-operative Surveillance. OBES SURG 25, 818–823 (2015). https://doi.org/10.1007/s11695-014-1456-y
Keywords
Bariatric surgery

Gastric bypass

Nutrition deficiency

Follow-up

Timing