Abstract
Laparoscopic sleeve gastrectomy (LSG) has grown in popularity in recent years for the treatment of morbid obesity. Controversy exists regarding the usefulness of upper gastrointestinal (UGI) swallow studies on the first postoperative day in detecting possible complications. The aim of our study was to determine the efficacy and cost benefit of routine UGI studies on the first postoperative day following LSG. We retrospectively reviewed the hospital's records to identify patients who underwent LSG between January 2012 and June 2013. All patients had iodine-based contrast swallow study on the first postoperative day. Reports from all imaging studies and medical files were retrospectively reviewed, and complications were recorded. The Institutional Review Board waived the requirement for informed consent. During the study period, 722 patients underwent LSG. Mean BMI was 43 kg/m2 (range 25–70). Of the 722 UGI studies, 721 were normal. The 1 abnormal study showed complete obstruction due to an incarcerated hiatal hernia. Five patients presented with a leak (0.7 %). UGI swallow studies failed to detect any of the leaks resulting in a sensitivity of 0 %. All leaks were apparent on computed tomography (CT) scans on postoperative days 2, 5, 7, 23, and 90. The total cost of the UGI swallow studies was $180,500. Performing routine UGI studies on the first postoperative day following LSG is clearly not cost beneficial. UGI contrast studies are not efficient to screen for suture line leaks. We recommend obtaining a CT scan when there is clinical suspicion for a complication.
This is a preview of subscription content, log in to check access.
Access options
Buy single article
Instant access to the full article PDF.
US$ 39.95
Price includes VAT for USA
Subscribe to journal
Immediate online access to all issues from 2019. Subscription will auto renew annually.
US$ 99
This is the net price. Taxes to be calculated in checkout.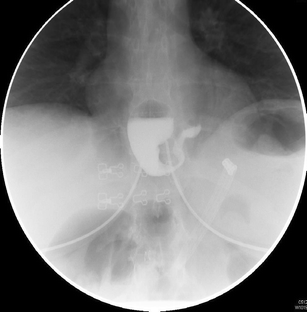 References
1.

WHO obesity and overweight fact sheet number 311 (updated March 2013). http://www.who.int/mediacenter/factsheets/fs311/en/.

2.

Buchwald H, Avidor Y, Braunwald E, et al. Bariatric surgery: a systematic review and meta-analysis. JAMA. 2004;292(14):1724–37.

3.

Maggard MA, Shugarman LR, Suttorp M, et al. Meta-analysis: surgical treatment of obesity. Ann Intern Med. 2005;142(7):547–59.

4.

Sjostrom L, Lindroos AK, Peltonen M, et al. Lifestyle, diabetes, and cardiovascular risk factors 10 years after bariatric surgery. N Engl J Med. 2004;351(26):2683–93.

5.

Brolin RE. Update: NIH consensus conference. Gastrointestinal surgery for severe obesity. Nutrition. 1996;12:403–4.

6.

Buchwald H. Overview of bariatric surgery. J Am Coll Surg. 2002;194:367–75.

7.

Deitel M, Gagner M, Erickson AL, et al. Third International Summit: current status of sleeve gastrectomy. Surg Obes Relat Dis. 2012;7:749–59.

8.

Rosenthal RJ, Diaz AA, Arvidsson D, et al. International Sleeve Gastrectomy Expert Panel Consensus Statement: best practice guidelines based on experience of > 12,000 cases. Surg Obes Relat Dis. 2012;8:8–19.

9.

Schauer PR, Kashyap SR, Wolski K, et al. Bariatric surgery versus intensive medical therapy in obese patients with diabetes. N Engl J Med. 2012;366(17):1567–76.

10.

Jimenez A, Casamitjana R, Flores L, et al. Long-term effects of sleeve gastrectomy and Roux-en-Y gastric bypass surgery on type 2 diabetes mellitus in morbidly obese subjects. Ann Surg. 2012;256(6):1023–9.

11.

Fridman A, Moon R, Cozacov Y, et al. Procedure-related morbidity in bariatric surgery: a retrospective short- and mid-term follow-up of a single institution of the american college of surgeons bariatric surgery centers of excellence. J Am Coll Surg. 2013;217:614–20.

12.

Doraiswamy A, Rasmussen JJ, Pierce J, et al. The utility of routine postoperative upper GI series following laparoscopic gastric bypass. Surg Endosc. 2007;21:2159–62.

13.

Madan AK, Stoecklein HH, Ternovits CA, et al. Predictive value of upper gastrointestinal studies versus clinical signs for gastrointestinal leaks after laparoscopic gastric bypass. Surg Endosc. 2007;21(2):194–6.

14.

Brockmeyer JR, Simon TE, Jacob RK, et al. Upper gastrointestinal swallow study following bariatric surgery: institutional review and review of the literature. Obes Surg. 2012;22:1039–43.

15.

White S, Han SH, Lewis C, et al. Selective approach to use of upper gastroesophageal imaging study after laparoscopic Roux-en-Y gastric bypass. Surg Obes Relat Dis. 2008;4(2):122–5.

16.

Schiesser M, Guber J, Wildi S, et al. Utility of routine versus selective upper gastrointestinal series to detect anastomotic leaks after laparoscopic gastric bypass. Obes Surg. 2011;21(8):1238–42.

17.

Bertelson NL, Myers JA. Routine postoperative upper gastrointestinal fluoroscopy is unnecessary after laparoscopic adjustable gastric band placement. Surg Endosc. 2010;24:2188–91.

18.

Gnecchi M, Bella G, Pino AR, et al. Usefulness of x-ray in the detection of complications and side effects after laparoscopic sleeve gastrectomy. Obes Surg. 2013;23(4):456–9.

19.

Triantafyllidis G, Lazoura O, Sioka E, et al. Anatomy and complications following laparoscopic sleeve gastrectomy: radiological evaluation and imaging pitfalls. Obes Surg. 2011;21:473–8.

20.

Sakran N, Goitein D, Raziel A, et al. Gastric leaks after sleeve gastrectomy: a multicenter experience with 2,834 patients. Surg Endosc. 2013;27:240–5.

21.

Dallal RM, Bailey L, Nahmias N. Back to basics—clinical diagnosis in bariatric surgery. Routine drains and upper GI series are unnecessary. Surg Endosc. 2007;21:2268–71.

22.

Hamilton EC, Sims TL. Clinical predictors of leak after laparoscopic Roux-en-Y gastric bypass for morbid obesity. Surg Endosc. 2003;17:679–84.

23.

Lyass S, Khalili TM, Cunneen S, et al. Radiological studies after laparoscopic Roux-en-Y gastric bypass: routine or selective? Am Surg. 2004;70:918–21.
Conflict of Interest
Dr. Mizrahi, Dr. Tabak, Dr. Grinbaum, Dr. Beglaibter, Dr. Eid, Dr. Simanovsky, and Dr. Hiller have no conflicts of interest or financial ties to disclose.
About this article
Cite this article
Mizrahi, I., Tabak, A., Grinbaum, R. et al. The Utility of Routine Postoperative Upper Gastrointestinal Swallow Studies Following Laparoscopic Sleeve Gastrectomy. OBES SURG 24, 1415–1419 (2014). https://doi.org/10.1007/s11695-014-1243-9
Keywords
Laparoscopic sleeve gastrectomy

Postoperative

UGI swallow study