Abstract
Background
Anastomotic ulcers (AUs) after Roux-en-Y gastric bypass (RYGB) occur in up to 16 % of patients. In an international survey among members of the International Federation for the Surgery of Obesity and Metabolic Disorders (IFSO), current preventative and therapeutic strategies in AU were analyzed.
Methods
An Internet-based survey was performed.
Results
One hundred eighty-nine surgeons completed the survey. Preoperative screening for Helicobacter pylori is performed by 65 %. Eighty-eight percent of them prophylactically prescribe antacids for 3 months after surgery (interquartile range (IQR) 1–6). In case of AU, 99 % of participants opt for proton pump inhibitors (PPIs) either alone (60 %) or in combination with sucralfate (39 %). After ulcer resolution, 52 % continue PPI for 6 (3–6) months. In case of AU recurrence, 56 % continue with conservative treatment. In contrast, 41 % of them favor a renewal of the gastrojejunal anastomosis either combined with truncal vagotomy (18 %) or with gastric remnant resection (13 %), and only 2 % choose to resect both gastric pouch and gastric remnant with subsequent reconstruction by esophagojejunostomy. In case of recurrence after surgical revision, 46 % of participants opt again for a conservative approach, while 36 % chose to redo the gastrojejunostomy once again.
Conclusions
The majority of bariatric surgeons recommend preoperative screening and eradication of H. pylori as well as prophylactic use of PPI. If an AU is diagnosed, the role of PPI as a first-line treatment seems to be undisputed. However, dosage and duration of therapy remain unclear. In refractory AU, there is no consensus among bariatric surgeons whether conservative treatment or surgical revision should be performed.
This is a preview of subscription content, log in to check access.
Access options
Buy single article
Instant access to the full article PDF.
US$ 39.95
Price includes VAT for USA
Subscribe to journal
Immediate online access to all issues from 2019. Subscription will auto renew annually.
US$ 99
This is the net price. Taxes to be calculated in checkout.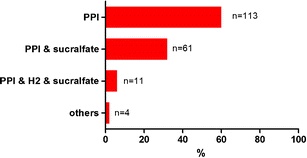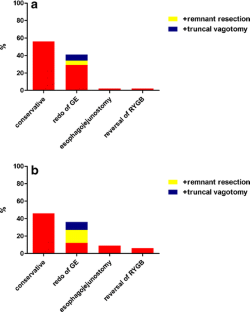 References
1.

DeMaria EJ, Pate V, Warthen M, et al. Baseline data from American Society for Metabolic and Bariatric Surgery-designated Bariatric Surgery Centers of Excellence using the Bariatric Outcomes Longitudinal Database. Surg Obes Relat Dis. 2010;6(4):347–55.

2.

Hutter MM, Schirmer BD, Jones DB, et al. First report from the American College of Surgeons Bariatric Surgery Center Network: laparoscopic sleeve gastrectomy has morbidity and effectiveness positioned between the band and the bypass. Ann Surg. 2011;254(3):410–20. discussion 20–2.

3.

O'Rourke RW. Management strategies for internal hernia after gastric bypass. J Gastrointest Surg. 2011;15(6):1049–54.

4.

Bal BS, Finelli FC, Shope TR, et al. Nutritional deficiencies after bariatric surgery. Nat Rev Endocrinol. 2012;8(9):544–56.

5.

Nguyen NT, Hinojosa M, Fayad C, et al. Use and outcomes of laparoscopic versus open gastric bypass at academic medical centers. J Am Coll Surg. 2007;205(2):248–55.

6.

Rasmussen JJ, Fuller W, Ali MR. Marginal ulceration after laparoscopic gastric bypass: an analysis of predisposing factors in 260 patients. Surg Endosc. 2007;21(7):1090–4.

7.

Patel RA, Brolin RE, Gandhi A. Revisional operations for marginal ulcer after Roux-en-Y gastric bypass. Surg Obes Relat Dis. 2009;5(3):317–22.

8.

Siilin H, Wanders A, Gustavsson S, et al. The proximal gastric pouch invariably contains acid-producing parietal cells in Roux-en-Y gastric bypass. Obes Surg. 2005;15(6):771–7.

9.

Garrido Jr AB, Rossi M, Lima Jr SE, et al. Early marginal ulcer following Roux-en-Y gastric bypass under proton pump inhibitor treatment: prospective multicentric study. Arq Gastroenterol. 2010;47(2):130–4.

10.

Csendes A, Burgos AM, Altuve J, et al. Incidence of marginal ulcer 1 month and 1 to 2 years after gastric bypass: a prospective consecutive endoscopic evaluation of 442 patients with morbid obesity. Obes Surg. 2009;19(2):135–8.

11.

D'Hondt MA, Pottel H, Devriendt D, et al. Can a short course of prophylactic low-dose proton pump inhibitor therapy prevent stomal ulceration after laparoscopic Roux-en-Y gastric bypass? Obes Surg. 2010;20(5):595–9.

12.

Avgerinos DV, Llaguna OH, Seigerman M, et al. Incidence and risk factors for the development of anemia following gastric bypass surgery. World J Gastroenterol. 2010;16(15):1867–70.

13.

Carrodeguas L, Szomstein S, Soto F, et al. Management of gastrogastric fistulas after divided Roux-en-Y gastric bypass surgery for morbid obesity: analysis of 1,292 consecutive patients and review of literature. Surg Obes Relat Dis. 2005;1(5):467–74.

14.

Sanyal AJ, Sugerman HJ, Kellum JM, et al. Stomal complications of gastric bypass: incidence and outcome of therapy. Am J Gastroenterol. 1992;87(9):1165–9.

15.

MacLean LD, Rhode BM, Nohr C, et al. Stomal ulcer after gastric bypass. J Am Coll Surg. 1997;185(1):1–7.

16.

Sapala MA, Sapala JA, Resto Soto AD, et al. Gastric bypass in patients weighing more than 500 lb: technical innovations for the 'ultraobese'. Obes Surg. 1992;2(3):253–61.

17.

Capella JF, Capella RF. Gastro-gastric fistulas and marginal ulcers in gastric bypass procedures for weight reduction. Obes Surg. 1999;9(1):22–7. discussion 8.

18.

Finks JF, Kole KL, Yenumula PR, et al. Predicting risk for serious complications with bariatric surgery. Ann Surg. 2011;254(4):633–40.

19.

Longitudinal Assessment of Bariatric Surgery (LABS) Consortium, Flum DR, Belle SH, et al. Perioperative safety in the longitudinal assessment of bariatric surgery. N Engl J Med. 2009;361(5):445–54.

20.

Azagury DE, Abu Dayyeh BK, Greenwalt IT, et al. Marginal ulceration after Roux-en-Y gastric bypass surgery: characteristics, risk factors, treatment, and outcomes. Endoscopy. 2011;43(11):950–4.

21.

Mason EE, Munns JR, Kealey GP, et al. Effect of gastric bypass on gastric secretion. Am J Surg. 1976;131(2):162–8.

22.

Vasquez JC, Wayne Overby D, Farrell TM. Fewer gastrojejunostomy strictures and marginal ulcers with absorbable suture. Surg Endosc. 2009;23(9):2011–5.

23.

Sacks BC, Mattar SG, Qureshi FG, et al. Incidence of marginal ulcers and the use of absorbable anastomotic sutures in laparoscopic Roux-en-Y gastric bypass. Surg Obes Relat Dis. 2006;2(1):11–6.

24.

Bendewald FP, Choi JN, Blythe LS, et al. Comparison of hand-sewn, linear-stapled, and circular-stapled gastrojejunostomy in laparoscopic Roux-en-Y gastric bypass. Obes Surg. 2011;21(11):1671–5.

25.

Wilson JA, Romagnuolo J, Byrne TK, et al. Predictors of endoscopic findings after Roux-en-Y gastric bypass. Am J Gastroenterol. 2006;101(10):2194–9.

26.

Scheffel O, Daskalakis M, Weiner RA. Two important criteria for reducing the risk of postoperative ulcers at the gastrojejunostomy site after gastric bypass: patient compliance and type of gastric bypass. Obes Facts. 2011;4 Suppl 1:39–41.

27.

Papasavas PK, Gagne DJ, Donnelly PE, et al. Prevalence of Helicobacter pylori infection and value of preoperative testing and treatment in patients undergoing laparoscopic Roux-en-Y gastric bypass. Surg Obes Relat Dis. 2008;4(3):383–8.

28.

Take S, Mizuno M, Ishiki K, et al. Reinfection rate of Helicobacter pylori after eradication treatment: a long-term prospective study in Japan. J Gastroenterol. 2012;47(6):641–6.

29.

Steinemann DC, Schiesser M, Clavien PA, et al. Laparoscopic gastric pouch and remnant resection: a novel approach to refractory anastomotic ulcers after Roux-en-Y gastric bypass: case report. BMC Surg. 2011;11:33.

30.

Simper SC, Erzinger JM, McKinlay RD, et al. Laparoscopic reversal of gastric bypass with sleeve gastrectomy for treatment of recurrent retrograde intussusception and Roux stasis syndrome. Surg Obes Relat Dis. 2010;6(6):684–8.

31.

Himpens J, Dapri G, Cadiere GB. Laparoscopic conversion of the gastric bypass into a normal anatomy. Obes Surg. 2006;16(7):908–12.
Acknowledgments
No financial support was received for this study.
Conflict of Interest
D. C. Steinemann, M. Bueter, M. Schiesser, I. Amygalos, P.-A. Clavien, and A. Nocito declare that they have no competing interests.
About this article
Cite this article
Steinemann, D.C., Bueter, M., Schiesser, M. et al. Management of Anastomotic Ulcers After Roux-en-Y Gastric Bypass: Results of an International Survey. OBES SURG 24, 741–746 (2014). https://doi.org/10.1007/s11695-013-1152-3
Keywords
Roux-en-Y gastric bypass

Metabolic surgery

Bariatric surgery

Anastomotic ulcer

Marginal ulcer

Obesity