Abstract
Background
The Beck Depression Inventory (BDI) is frequently employed as measure of depression in studies of obesity. The aim of the study was to assess the factorial structure of the BDI in obese patients prior to bariatric surgery.
Methods
Confirmatory factor analysis was conducted on the current published factor analyses of the BDI. Three published models were initially analysed with two additional modified models subsequently included. A sample of 285 patients presenting for Lap-Band® surgery was used.
Results
The published bariatric model by Munoz et al. was not an adequate fit to the data. The general model by Shafer et al. was a good fit to the data but had substantial limitations. The weight loss item did not significantly load on any factor in either model. A modified Shafer model and a proposed model were tested, and both were found to be a good fit to the data with minimal differences between the two. A proposed model, in which two items, weight loss and appetite, were omitted, was suggested to be the better model with good reliability.
Conclusions
The previously published factor analysis in bariatric candidates by Munoz et al. was a poor fit to the data, and use of this factor structure should be seriously reconsidered within the obese population. The hypothesised model was the best fit to the data. The findings of the study suggest that the existing published models are not adequate for investigating depression in obese patients seeking surgery.
This is a preview of subscription content, log in to check access.
Access options
Buy single article
Instant access to the full article PDF.
US$ 39.95
Price includes VAT for USA
Subscribe to journal
Immediate online access to all issues from 2019. Subscription will auto renew annually.
US$ 99
This is the net price. Taxes to be calculated in checkout.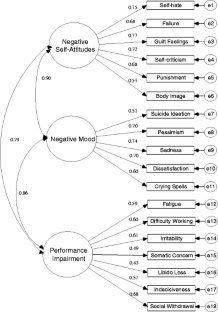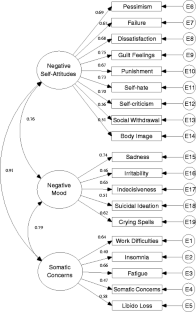 References
1.

Redlinger RN. The prevalence and etiology of nongenetic obesity and associated disorders. South Med J. 2008;101(4):395–9.

2.

Access Economics. The growing cost of obesity in 2008: three years on. Canberra: report for diabetes Australia. PTY Limited for Diabetes Australia, August 2008.

3.

Britt H, Miller GC, Charles J, et al. General practice activity in Australia 2006–07. Canberra: Australian Institute of Health and Welfare; 2008. General Practice series no. 21.

4.

WHO. Obesity: preventing and managing the global epidemic. Report of a WHO consultation. World Health Organ Tech Rep Ser. 2000;894:1–253.

5.

Halmi KA, Long M, Stunkard AJ, et al. Psychiatric diagnosis of morbidly obese gastric bypass patients. Am J Psychiatry. 1980;137(4):470–2.

6.

Werrij MQ, Mulkens S, Hospers HJ, et al. Overweight and obesity: the significance of a depressed mood. Patient Educ Couns. 2005;62:126–31.

7.

Gertler R, Ramsey-Stewart G. Pre-operative psychiatric assessment of patients presenting for gastric bariatric surgery (surgical control of morbid obesity). Aust N Z J Surg. 1986;56(2):157–61.

8.

Glinski J, Wetzler S, Goodman E. The psychology of gastric bypass surgery. Obes Surg. 2001;11:581–8.

9.

Larsen F. Psychosocial function before and after gastric banding surgery for morbid obesity. A prospective psychiatric study. Acta Psychiatr Scand, Suppl. 1990;359:1–57.

10.

Powers PS, Rosemurgy A, Boyd F, et al. Outcome of gastric restriction procedures: weight, psychiatric diagnoses, and satisfaction. Obes Surg. 1997;7:471–7.

11.

Sarwer DB, Cohn NI, Gibbons LM, et al. Psychiatric diagnoses and psychiatric treatment among bariatric surgery candidates. Obes Surg. 2004;14:1148–56.

12.

Beck AT, Beamesderfer A. Assessment of depression: the depression inventory. Mod Probl Pharmacopsychiatry. 1974;7:151–69.

13.

Walfish S, Vance D, Fabricatore AN. Psychological evaluation of bariatric surgery applicants: procedures and reasons for delay or denial of surgery. Obes Surg. 2007;17(12):1578–83.

14.

Delin CR, Watts JM, Bassett DL. An exploration of the outcomes of gastric bypass surgery for morbid obesity: patient characteristics and indices of success. Obes Surg. 1995;5(2):159–70.

15.

Dixon JB, Dixon ME, O'Brien PE. Depression in association with severe obesity: changes with weight loss. Arch Intern Med. 2003;163(17):2058–65.

16.

Dymek MP, le Grange D, Neven K, et al. Quality of life and psychosocial adjustment in patients after Roux-en-Y gastric bypass: a brief report. Obes Surg. 2001;11(1):32–9.

17.

Nickel C, Widermann C, Harms D, et al. Patients with extreme obesity: change in mental symptoms three years after gastric banding. Int J Psychiatry Med. 2005;35(2):109–22.

18.

Ryden O, Hedenbro JL, Frederiksen SG. Weight loss after vertical banded gastroplasty can be predicted: a prospective psychological study. Obes Surg. 1996;6:237–43.

19.

Waters GS, Pories WJ, Swanson MS, et al. Long-term studies of mental health after the Greenville gastric bypass operation for morbid obesity. Am J Surg. 1991;161(1):154–7. discussion 7–8.

20.

Alger SA, Malone M, Cerulli J, et al. Beneficial effects of pharmacotherapy on weight loss, depressive symptoms, and eating patterns in obese binge eaters and non-binge eaters. Obes Res. 1999;7(5):469–76.

21.

Brownell KD, Stunkard AJ. Couples training, pharmacotherapy, and behavior therapy in the treatment of obesity. Arch Gen Psychiatry. 1981;38(11):1224–9.

22.

Chaput JP, Drapeau V, Hetherington M, et al. Psychobiological impact of a progressive weight loss program in obese men. Physiol Behav. 2005;86(1–2):224–32.

23.

Fossati M, Amati F, Painot D, et al. Cognitive–behavioral therapy with simultaneous nutritional and physical activity education in obese patients with binge eating disorder. Eat Weight Disord. 2004;9(2):134–8.

24.

Painot D, Jotterand S, Kammer A, et al. Simultaneous nutritional cognitive–behavioural therapy in obese patients. Patient Educ Couns. 2001;42(1):47–52.

25.

Wadden TA, Stunkard AJ, Liebschutz J. Three-year follow-up of the treatment of obesity by very low calorie diet, behavior therapy, and their combination. J Consult Clin Psychol. 1988;56(6):925–8.

26.

Wadden TA, Vogt RA, Andersen RE, et al. Exercise in the treatment of obesity: effects of four interventions on body composition, resting energy expenditure, appetite, and mood. J Consult Clin Psychol. 1997;65(2):269–77.

27.

Beck AT, Rush AJ, Shaw BF, et al. Cognitive therapy of depression. New York: Guilford Press; 1979.

28.

Beck AT, Steer RA, Garbin MG. Psychometric properties of the Beck depression inventory: twenty-five years of evaluation. Clin Psychol Rev. 1998;8:77–100.

29.

Plumb MM, Holland J. Comparative studies of psychological function in patients with advanced cancer—I. Self-reported depressive symptoms. Psychosom Med. 1977;39(4):264–76.

30.

Clark DC, vonAmmon Cavanaugh S, Gibbons RD. The core symptoms of depression in medical and psychiatric patients. J Nerv Ment Dis. 1983;171(12):705–13.

31.

Steer RA, Iguchi MY, Platt JJ. Use of the revised Beck depression inventory with intravenous drug users not in treatment. Psychol Addict Behav. 1992;6(4):225–32.

32.

Beck AT, Steer RA. Manual for the Beck depression inventory. San Antonio: Psychological Corporation; 1987.

33.

Beck AT, Steer RA, Garbin MG. Psychometric properties of the Beck depression inventory: twenty-five years of evaluation. Clin Psychol Rev. 1988;8(1):77–100.

34.

Shafer AB. Meta-analysis of the factor structures of four depression questionnaires: Beck, CES-D, Hamilton, and Zung. J Clin Psychol. 2006;62(1):123–46.

35.

Munoz DJ, Chen E, Fischer S, et al. Considerations for the use of the Beck depression inventory in the assessment of weight-loss surgery seeking patients. Obes Surg. 2007;17(8):1097–101.

36.

Streiner DL. Figuring out factors: the use and misuse of factor analysis. Can J Psychiatry. 1994;39:135–40.

37.

American Psychiatric Association. Diagnostic and statistical manual of mental disorders. 4th ed. Washington: American Psychiatric Association; 1994.

38.

Kalarchian MA, Wilson GT, Brolin RE, et al. Binge eating in bariatric surgery patients. Int J Eat Disord. 1998;23(1):89–92.

39.

Tabachnick BG, Fidell LS. Using multivariate statistics. 3rd ed. New York: Harper Collins; 1996.

40.

Byrne BM. Structural equation modelling with AMOS: basic concepts, applications, and programming. London: Lawrence Erlbaum; 2001.

41.

Beck AT, Steer RA, Garbin MG. Psychometric properties of the Beck depression inventory: twenty-five years of evaluation. Clin Psychol Rev. 1988;8:77–100.

42.

Rosmond R. Obesity and depression: same disease, different names? Med Hypotheses. 2004;62(6):976–9.

43.

Roberts RE, Deleger S, Strawbridge WJ, et al. Prospective association between obesity and depression: evidence from the Alameda County Study. Int J Obes Relat Metab Disord. 2003;27(4):514–21.

44.

Dong C, Sanchez LE, Price RA. Relationship of obesity to depression: a family-based study. Int J Obes Relat Metab Disord. 2004;28(6):790–5.

45.

Krukowski RA, Friedman KE, Applegate KL. The utility of the Beck depression inventory in a bariatric surgery population. Obes Surg 2008 Oct 8

46.

Nuevo R, Dunn G, Dowrick C, et al. Cross-cultural equivalence of the Beck depression inventory: a five-country analysis from the ODIN study. J Affect Disord. 2009;114(1–3):156–62.
About this article
Cite this article
Hayden, M.J., Dixon, J.B., Dixon, M.E. et al. Confirmatory Factor Analysis of the Beck Depression Inventory in Obese Individuals Seeking Surgery. OBES SURG 20, 432–439 (2010). https://doi.org/10.1007/s11695-009-9977-5
Received:

Accepted:

Published:

Issue Date:
Keywords
BDI

Factor analysis

Obesity

Depression

LAGB

Bariatric surgery