Abstract
Background
Laparoscopic sleeve gastrectomy (LSG) is gaining popularity as a "per se" bariatric procedure due to its effectiveness on weight loss and comorbidity resolution. The most feared and life-threatening complication after LSG is the staple line leak and its management is still a debated issue. Aim of this paper is to analyze the incidence of leak and the treatment solutions adopted in a consecutive series of 200 LSG.
Methods
From October 2002 to November 2008, 200 patients underwent LSG. Nineteen patients (9.5%) had a body mass index (BMI) of >60 kg/m2. A 48-Fr bougie is used to obtain an 80–120-ml gastric pouch. An oversewing running suture to reinforce the staple line was performed in the last 100 cases. The technique adopted to reinforce the staple line is a running suture taken through and through the complete stomach wall.
Results
Staple line leaks occurred in six patients (mean BMI 52.5; mean age 41.6 years). Leak presentation was early in three cases (first, second, and third postoperative (PO) day), late in the remaining three cases (11th, 22nd, and 30th PO day). The most common leak location was at the esophagogastric junction (five cases). Mortality was nihil. Nonoperative management (total parenteral nutrition, proton pump inhibitor, and antibiotics) was adopted in all cases. Percutaneous abdominal drainage was placed in five patients. In one case, a small fistula was successfully treated by endoscopic injection of fibrin glue only. Self-expandable covered stent was used in three cases. Complete healing of leaks was obtained in all patients (mean healing time 71 days).
Conclusion
Nonoperative treatment (percutaneous drainage, endoscopy, stent) is feasible, safe, and effective for staple line leaks in patients undergoing LSG; furthermore, it may avoid more mutilating procedures such as total gastrectomy.
This is a preview of subscription content, log in to check access.
Access options
Buy single article
Instant access to the full article PDF.
US$ 39.95
Price includes VAT for USA
Subscribe to journal
Immediate online access to all issues from 2019. Subscription will auto renew annually.
US$ 99
This is the net price. Taxes to be calculated in checkout.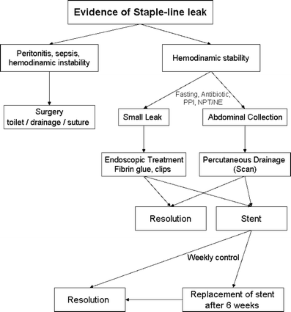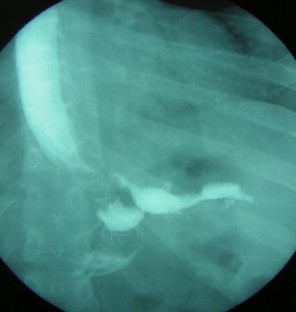 References
1.

Ren CJ, Patterson E, Gagner M. Early results of laparoscopic biliopancreatic diversion with duodenal switch: a case series of 40 consecutive patients. Obes Surg. 2000;10(6):514–23.

2.

Silecchia G, Boru C, Pecchia A, et al. Effectiveness of laparoscopic sleeve gastrectomy (first stage of biliopancreatic diversion with duodenal switch) on co-morbidities in super-obese high-risk patients. Obes Surg. 2006;16(9):1138–44.

3.

Tucker ON, Szomstein S, Rosenthal RJ. Indications for sleeve gastrectomy as a primary procedure for weight loss in the morbidly obese. J Gastrointest Surg. 2008;12(4):662–7.

4.

Frezza EE. Laparoscopic vertical sleeve gastrectomy for morbid obesity. The future procedure of choice? Surg Today. 2007;37(4):275–81.

5.

Akkary E, Duffy A, Bell R. Deciphering the sleeve: technique, indications, efficacy, and safety of sleeve gastrectomy. Obes Surg. 2008;18(10):1323–9.

6.

Karamanakos SN, Vagenas K, Kalfarentzos F, et al. Weight loss, appetite suppression, and changes in fasting and postprandial ghrelin and peptide-YY levels after Roux-en-Y gastric bypass and sleeve gastrectomy: a prospective, double blind study. Ann Surg. 2008;247(3):408–10.

7.

Lalor PF, Tucker ON, Szomstein S, et al. Complications after laparoscopic sleeve gastrectomy. Surg Obes Relat Dis. 2008;4(1):33–8.

8.

Chen B, Kiriakopoulos A, Tsakayannis D, et al. Reinforcement does not necessarily reduce the rate of staple line leaks after sleeve gastrectomy. A review of the literature and clinical experiences. Obes Surg. 2009;19:166–72.

9.

Clinical Issues Committee of American Society for Metabolic and Bariatric Surgery. Sleeve gastrectomy as a bariatric procedure. Surg Obes Relat Dis. 2007;3(6):573–6.

10.

Gumbs AA, Gagner M, Dakin G, et al. Sleeve gastrectomy for morbid obesity. Obes Surg. 2007;17(7):962–9.

11.

Kasalicky M, Michalsky D, Housova J, et al. Laparoscopic sleeve gastrectomy without an over-sewing of the staple line. Obes Surg. 2008;18(10):1257–62.

12.

Serra C, Baltasar A, Andreo L, et al. Treatment of gastric leaks with coated self-expanding stents after sleeve gastrectomy. Obes Surg. 2007;17(7):866–72.

13.

Baltasar A, Bou R, Bengochea M, et al. Use of a Roux limb to correct esophagogastric junction fistulas after sleeve gastrectomy. Obes Surg. 2007;17(10):1408–10.

14.

Serra C, Baltasar A, Pérez N, et al. Total gastrectomy for complications of the duodenal switch, with reversal. Obes Surg. 2006;16(8):1082–6.

15.

Lee CM, Cirangle PT, Jossart GH. Vertical gastrectomy for morbid obesity in 216 patients: report of two-year results. Surg Endosc. 2007;21(10):1810–6.

16.

Eubanks S, Edwards CA, Fearing NM, et al. Use of endoscopic stents to treat anastomotic complications after bariatric surgery. J Am Coll Surg. 2008;206(5):935–8.

17.

Consten EC, Dakin GF, Gagner M. Intraluminal migration of bovine pericardial strips used to reinforce the gastric staple-line in laparoscopic bariatric surgery. Obes Surg. 2004;14(4):549–54.

18.

Consten EC, Gagner M, Pomp A, et al. Decreased bleeding after laparoscopic sleeve gastrectomy with or without duodenal switch for morbid obesity using a stapled buttressed absorbable polymer membrane. Obes Surg. 2004;14(10):1360–6.

19.

Silecchia G, Rizzello M, Casella G et Al. Two-stage laparoscopic biliopancreatic diversion with duodenal switch as treatment of high-risk super-obese patients: analysis of complications. Surg Endosc. 2008;(in press)

20.

Eisendrath P, Cremer M, Himpens J, et al. Endotherapy including temporary stenting of fistulas of the upper gastrointestinal tract after laparoscopic bariatric surgery. Endoscopy. 2007;39(7):625–30.

21.

Helling TS, Willoughby TL, Maxfield DM, et al. Determinants of the need for intensive care and prolonged mechanical ventilation in patients undergoing bariatric surgery. Obes Surg. 2004;14(8):1036–41.

22.

Schwartz RW, Strodel WE, Simpson WS, et al. Gastric bypass revision: lessons learned from 920 cases. Surgery. 1988;104(4):806–12.

23.

Ballesta C, Berindoague R, Cabrera M, et al. Management of anastomotic leaks after laparoscopic Roux-en-Y gastric bypass. Obes Surg. 2008;18(6):623–30.
Disclosure
The authors have no conflict of interest.
About this article
Cite this article
Casella, G., Soricelli, E., Rizzello, M. et al. Nonsurgical Treatment of Staple Line Leaks after Laparoscopic Sleeve Gastrectomy. OBES SURG 19, 821–826 (2009). https://doi.org/10.1007/s11695-009-9840-8
Received:

Accepted:

Published:

Issue Date:
Keywords
Morbid obesity

Bariatric surgery

Sleeve gastrectomy

Complication

Leak