Abstract
The study was conducted to standardize the parameters of centrifugation method of starch isolation for sweet potato to yield better quality starch. The effects of solid-to-solvent ratio in slurry-making, numbers of blending, slurry filtration and starch washings were studied for obtaining maximum yield and purity of starch with desired color and amylose content. The goal of the study was to develop a suitable process for small scale/on-farm processing of sweet potato for preparation of starch. A widely grown pink-skinned cream fleshed cultivar (Kanjangad) was used for the experiments. The studied parameters were slurry making solid-to-solvent ratio (1:2, 1:3 and 1:4), number of blendings (1 and 2 times), number of slurry filtration water washings (2, 3 and 4 times) and starch washings (2, 3 and 4 times). The study showed that the starch yield, purity, color and amylose were influenced by altering the starch isolation procedures. The solid-to-solvent ratio of 1:2 in the starch isolation process yielded the best results. Also, the increase in number of blendings degraded the purity, amylose and color of starch. The optimal process was slurry making at 1:2 solid-to-solvent ratio and once blending, slurry filtration washing for 2 times and starch washing for 2 times. Accordingly, the starch yield, purity, amylose, and L, a and b values were 13.967 ± 1.135%, 80.640 ± 1.139%, 29.220 ± 0.759%, and 57.88 ± 2.982, 0.386 ± 0.204, and 2.68 ± 0.127, respectively. The prepared starch was characterized for chemical composition, water activity, paste clarity, swelling power, water solubility index, pasting property and granule size and morphology. The study suggested that the prepared starch was suitable for food uses.
This is a preview of subscription content, log in to check access.
Access options
Buy single article
Instant access to the full article PDF.
US$ 39.95
Price includes VAT for USA
Subscribe to journal
Immediate online access to all issues from 2019. Subscription will auto renew annually.
US$ 99
This is the net price. Taxes to be calculated in checkout.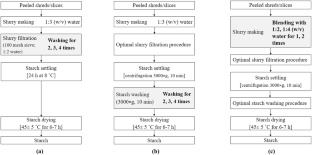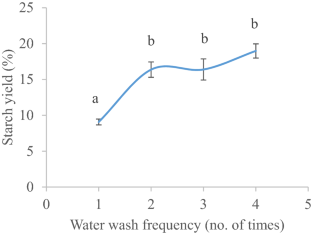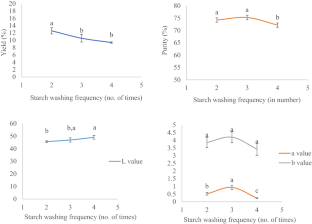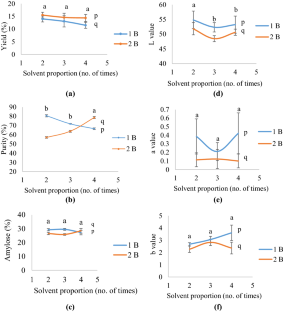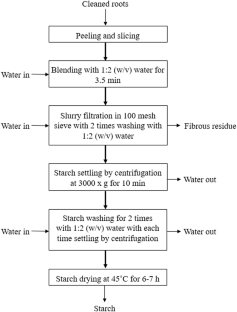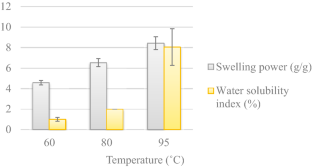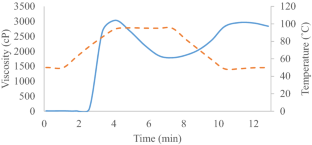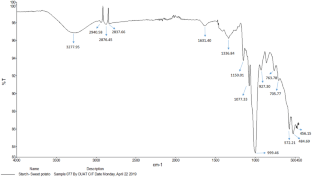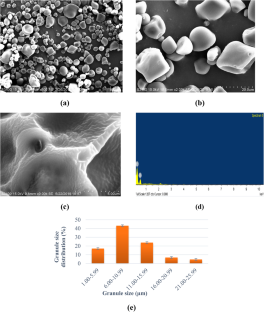 Abbreviations
%:

Percentage

°C:

Degree celsius

µm:

Micrometer

1 B:

Once blending

2 B:

Twice blending

AOAC:

Association of Official Analytical Chemists

cm:

Centimeter

cP:

Centipoise

CTCRI:

Central Tuber Crops Research Institute

cv.:

Cultivar

EDX:

Energy dispersive X-ray

FTIR:

Fourier infrared spectroscopy

g:

Gram

h:

Hour

ICAR:

Indian Council of Agricultural Research

keV:

Kilo electron volt

kV:

Kilovolt

min:

Minute

ml:

Milliliter

N:

Normal

nm:

Nanometer

no.:

Number

rpm:

Revolutions per minute

s:

Second

SAS:

Statistical analysis system

SEM:

Scanning electron microscopy

USA:

United States of America

v:

Volume

w:

Weight
References
1.

P. Vithu, S.K. Dash, K. Rayaguru, Post-harvest processing and utilization of sweet potato: a review. Food Rev. Int. (2019). https://doi.org/10.1080/87559129.2019.1600540

2.

S.C. Tsou, T.L. Hong, Improvement of sweet potato (Ipomoea batatas) in Asia (International Potato Centre, India, 1989)

3.

Z. Chen, L. Sagis, A. Legger, J.P.H. Linssen, H.A. Schols, A.G.J. Voragen, Evaluation of starch noodles made from three typical Chinese sweet-potato starches. J. Food Sci. 67(9), 3342–3347 (2002)

4.

E. Nuwamanya, Y. Baguma, E. Wembabazi, P. Rubaihayo, A comparative study of the physicochemical properties of starches from root, tuber and cereal crops. Afr. J. Biotechnol. 10(56), 12018–12030 (2011)

5.

B. Madhusudhan, N.S. Susheelamma, R.N. Tharanathan, Studies on sweet potatoes. Part II: isolation and characterization of starch. Starch-Stärke 45(1), 8–12 (1993)

6.

S.N. Moorthy, M.S. Sajeev, S. Shanavas, Sweet potato starch: physico-chemical, functional, thermal and rheological characteristics. Fruit Veg. Cereal Sci. Biotech. 6(1), 124–133 (2012)

7.

P.T.B. Trung, L.B.B. Ngoc, P.N. Hoa, N.N.T. Tien, P. Van Hung, Impact of heat-moisture and annealing treatments on physicochemical properties and digestibility of starches from different colored sweet potato varieties. Int. J. Biol. Macromol. 105, 1071–1078 (2017)

8.

G.F. Mehyar, J.H. Han, Physical and mechanical properties of high-amylose rice and pea starch films as affected by relative humidity and plasticizer. J. Food Sci. 69(9), E449–E454 (2004)

9.

A.J. Aina, K.O. Falade, J.O. Akingbala, P. Titus, P, Physicochemical properties of Caribbean sweet potato (Ipomoea batatas (L.) Lam.) starches. Food Bioprocess Tech. 5(2), 576–583 (2012)

10.

A. Aprianita, T. Vasiljevic, A. Bannikova, S. Kasapis, Physicochemical properties of flours and starches derived from traditional Indonesian tubers and roots. J. Food Sci. Technol. 51(12), 3669–3679 (2014)

11.

Y. Ma, C.G. Cai, J. Wang, D.W. Sun, Enzymatic hydrolysis of corn starch for producing fat mimetics. J. Food Eng. 73, 297–303 (2006)

12.

I.S.M. Zaidul, N.N. Norulaini, A.M. Omar, H. Yamauchi, T. Noda, RVA analysis of mixtures of wheat flour and potato, sweet potato, yam, and cassava starches. Carbohyd. Polym. 69(4), 784–791 (2007)

13.

Y. Ji, K. Seetharaman, P.J. White, Optimizing a small-scale corn-starch extraction method for use in the laboratory. Cereal Chem. 81(1), 55–58 (2004)

14.

N. Sit, S.C. Deka, S. Misra, Optimization of starch isolation from taro using combination of enzymes and comparison of properties of starches isolated by enzymatic and conventional methods. J. Food Sci. Technol. 52(7), 4324–4332 (2015)

15.

A.S. Babu, R. Parimalavalli, Effect of starch isolation method on properties of sweet potato starch. Annals of the University of Dunarea de Jos of Galati. Fascicle VI. Food Technol. 38(1), 48 (2014)

16.

M. Kaur, K.S. Sandhu, Tropical Roots and Tubers: Production Processing and Technology (IFST Advances in Food Science) (Wiley, Chichester, 2016)

17.

T. Vasanthan, in Handbook of Food Analytical Chemistry: Water, Proteins, Enzymes, Lipids, and Carbohydrates, ed. by R.E. Wrolstad, T.E. Acree, E.A. Decker, M.H. Penner, D.S. Reid, S.J. Schwartz, C.F. Shoemaker, D. Smith, P. Sporns (Wiley, Chichester, 2001), pp. E2.1.1–E2.1.6

18.

G.M. Dexter, F.H. Thurber, Process for the production of sweet-potato starch, U.S. Patent No. 2,443,897. Washington, DC, 1948

19.

A.C. Bovell-Benjamin, Sweet potato: a review of its past, present and future roles in human nutrition. Adv. Food Nutr. Res. 52, 1–59 (2007)

20.

F.M. Deng, T.H. Mu, M. Zhang, O.K. Abegunde, Composition, structure, and physicochemical properties of sweet potato starches isolated by sour liquid processing and centrifugation. Starch-Stärke 65(1–2), 162–171 (2013)

21.

H.A.M. Wickramasinghe, S. Takigawa, C. Matsuura-Endo, H. Yamauchi, T. Noda, Comparative analysis of starch properties of different root and tuber crops of Sri Lanka. Food Chem 112(1), 98–103 (2009)

22.

S.M. Rahman, C. Wheatley, S.K. Rakshit, Selection of sweet potato variety for high starch extraction. Int. J. Food Prop. 6(3), 419–430 (2013)

23.

K. Chinsamran, K. Piyachomkwan, V. Santisopasri, K. Sriroth, Effect of lactic acid fermentation on physico-chemical properties of starch derived from cassava, sweet potato and rice. Kasetsart J. (Nat Sci) 39, 76–87 (2005)

24.

S. Ranganna, Handbook of Analysis and Quality Control for Fruit and Vegetable Products, 2nd edn. (Tata McGraw-Hill Education, New Delhi, 1986)

25.

AOAC. Official Methods of Analysis, 17th edn. (The Association of Official Analytical Chemists, Gaithersburg, USA, 2000)

26.

I. Reddy, P.A. Seib, Paste properties of modified starches from partial waxy wheats. Cereal Chem. 76(3), 341–349 (1999)

27.

H. Kusumayanti, N.A. Handayani, H. Santosa, Swelling power and water solubility of cassava and sweet potatoes flour. Procedia Environ. Sci. 23, 164–167 (2015)

28.

B.H. Lee, Y.T. Lee, Physicochemical and structural properties of different colored sweet potato starches. Starch-Stärke 68, 1–9 (2016)

29.

Z. Chen, H.A. Schols, A.G.J. Voragen, Physicochemical properties of starches obtained from three varieties of Chinese sweet potatoes. J. Food Sci. 68(2), 431–437 (2003)

30.

F. Zhu, X. Yang, Y.Z. Cai, E. Bertoft, H. Corke, Physicochemical properties of sweetpotato starch. Starch-Stärke 63(5), 249–259 (2011)

31.

W.O. Ibitoye, M.O. Afolabi, B.O. Otegbayo, A.C. Akintola, Preliminary studies of the chemical composition and sensory properties of sweet potato starch-wheat flour blend noodles. Niger. Food J. 31(2), 48–51 (2013)

32.

J. Toyama, K. Ishiguro, T. Noda, T. Kumagai, O. Yamakawa, Influence of delayed harvest time on physico-chemical properties of sweetpotato starch. Starch-Stärke 55(12), 558–563 (2003)

33.

F.C. Vieira, S.B. Sarmento, Heat-moisture treatment and enzymatic digestibility of Peruvian carrot, sweet potato and ginger starches. Starch-Stärke 60(5), 223–232 (2008)

34.

O.K. Abegunde, T.H. Mu, J.W. Chen, F.M. Deng, Physicochemical characterization of sweet potato starches popularly used in Chinese starch industry. Food Hydrocoll. 33(2), 169–177 (2013)

35.

J.A. Radley, Starch production technology (Applied Science Publishers Ltd., London, 1976)

36.

L.M. Nwokocha, N.A. Aviara, C. Senan, P.A. Williams, A comparative study of properties of starches from Irish potato (Solanum tuberosum) and sweet potato (Ipomea batatas) grown in Nigeria. Starch-Stärke 66(7–8), 714–723 (2014)

37.

S.J. Schmidt, A.J. Fontana Jr., in Water activity in foods: fundamentals and applications, ed. G.V. Barbosa-Cánovas, A.J. Fontana Jr, S.J. Schmidt, T.P. Labuza (Blackwell Publishing and the Institute of Food Technologists, Iowa, 2008), pp. 407-420

38.

A.N. Jyothi, K.S. Kiran, B. Wilson, S.N. Moorthy, B. Nambisan, Wet storage of cassava starch: use of sodium metabisulphite and acetic acid and the effect on starch properties. Starch-Stärke 59(3–4), 141–148 (2007)

39.

R. Hoover, T. Vasanthan, Studies on isolation and characterization of starch from oat (Avena nuda) grains. Carbohydr. Polym. 19(4), 285–297 (1992)

40.

Y.J. Wang, P. White, L. Pollak, Physicochemical properties of starches from mutant genotypes of the Oh43 inbred line. Cereal Chem. 70, 199–199 (1993)

41.

S.C. Alcázar-Alay, M.A.A. Meireles, Physicochemical properties, modifications and applications of starches from different botanical sources. Food Sci. Technol. (Campinas) 35(2), 215–236 (2015)

42.

M. Tsakama, A.M. Mwangwela, T.A. Manani, N.M. Mahungu, Physicochemical and pasting properties of starch extracted from eleven sweet potato varieties. Afr. J. Food Sci. Technol. 1(4), 090–098 (2010)

43.

J. Guo, L. Liu, X. Lian, L. Li, H. Wu, The properties of different cultivars of Jinhai sweet potato starches in China. Int. J. Biol. Macromol. 67, 1–6 (2014)

44.

B.L. Karwasra, B.S. Gill, M. Kaur, Rheological and structural properties of starches from different Indian wheat cultivars and their relationships. Int. J. Food Prop. 20(1), S1093–S1106 (2017)

45.

C. Pozo, S. Rodríguez-Llamazares, R. Bouza, L. Barral, J. Castaño, N. Müller, I. Restrepo, Study of the structural order of native starch granules using combined FTIR and XRD analysis. J. Polym. Res. 25(12), 266 (2018)
Acknowledgements
The authors acknowledge regional centre, ICAR-CTCRI, Bhubaneswar, for their supports with raw material. Also, the authors are thankful to Central Instrumentation Facility, OUAT, Bhubaneswar, for their guidance and assistance in laboratory analyses.
Additional information
Publisher's Note
Springer Nature remains neutral with regard to jurisdictional claims in published maps and institutional affiliations.
About this article
Cite this article
Vithu, P., Dash, S.K., Rayaguru, K. et al. Optimization of starch isolation process for sweet potato and characterization of the prepared starch. Food Measure (2020). https://doi.org/10.1007/s11694-020-00401-8
Received:

Accepted:

Published:
Keywords
Sweet potato

Starch yield

Starch purity

Starch isolation

Isolation procedure