Abstract
This study investigated the influence of replacing One-humped camel meat instead of cow meat (0, 25, 50, 75 and 100 %) on quality characteristics and frozen storage stability in burgers. For this purpose thiobarbituric acid test (TBA-RS), cooking characteristics, color parameters, texture and sensory properties were studied during 3 months at −18 °C. Significant differences (p < 0.05) were observed in the moisture retention, diameter reduction, sensory properties, lightness, yellowness and springiness. Cooking yield, TBA-RS, fat retention, cohesiveness, flavor and texture showed significant differences (p < 0.05) through storage. Other evaluated properties of burgers showed no significant differences (p > 0.05) in various levels of camel meat and over storage term. Moisture retention of burgers increased with increasing of camel meat content. The sensory panel scores for flavor, texture, juiciness and overall acceptability increased but color scores decreased with increasing the level of camel meat. Cooking yield, fat retention and cohesiveness decreased by increasing the storage period.
This is a preview of subscription content, log in to check access.
Access options
Buy single article
Instant access to the full article PDF.
US$ 39.95
Price includes VAT for USA
Subscribe to journal
Immediate online access to all issues from 2019. Subscription will auto renew annually.
US$ 99
This is the net price. Taxes to be calculated in checkout.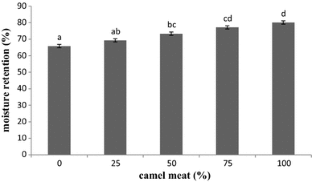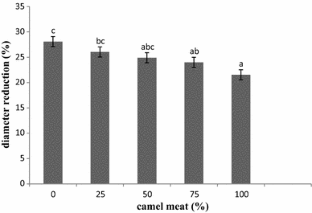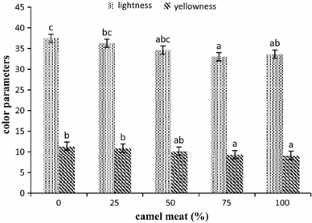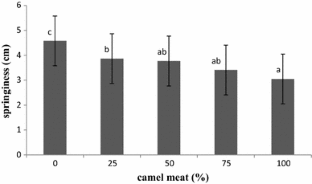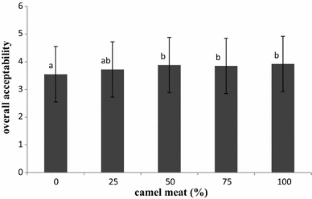 References
1.

Z. Farah, A. Fischer, Milk and Meat from the Camel. Handbook on Products and Processing (vdf Hochschulverlag AG an der ETH Zürich, Zürich, 2004)

2.

M. Jouki, N. Khazaei, Effects of storage time on some characteristics of packed camel meat in low temperature. Int. J. Anim. Vet. Adv. 3(6), 460–464 (2011)

3.

H.J.D. Schwartz, The One-Humped Camel in Eastern Africa (Verlag Josef Margraf, Weikersheim, 1992)

4.

B. Kaufmann, Analysis of pastoral camel husbandry in northern Kenya. Ph.D. Diss., Hohenheim University, Germany, 1998

5.

C. Hülsebusch, Immunoglobulin G status of camels during 6 months post natum. Ph.D. dissertation, Hohenheim University, Germany, 1999

6.

S.N. Tandon, U.K. Bissa, N.D. Khanna, Camel meat: present status and future prospects. Ann. Arid Zone 27, 23–28 (1988)

7.

D.E. Wilson, D.M. Reeder, Mammal Species of the World: A Taxonomic and Geographic Reference (Johns Hopkins University Press, Baltimore, 2005)

8.

FAO,(2010), http://faostst.fao.org

9.

S.A. Babiker, I.M. Tibin, A note on desert camel meat production and characteristics, in Proceedings of the international symposium on the development of animal resources in the Sudan. pp. 116–120 (1989)

10.

E.A. Elgasim, M.A. Alkanhal, Proximate composition, amino acids and inorganic minerals content of Arabian camel meat: comparative study. J. Food Chem. 45, 1–4 (1992)

11.

E.A. Elgasim, G.A. El-Hag, F.A. Elnawawi, Quality attributes of camel meat. Second congress report, The Scientific Council, King Fasil University, Alhash, KSA 1987

12.

K.I. Sallam, A.M.A. Morshedy, Organochlorine pesticide residues in camel, cattle and sheep carcasses slaughtered in Sharkia Province Egypt. J. Food Chem. 108, 154–164 (2008)

13.

N. Soltanizadeh, M. Kadivar, J. Keramat, M. Fazilati, Comparison of fresh beef and camel meat proteolysis during cold storage. J. Meat. Sci. 80, 892–895 (2008)

14.

I. Kadim, O. Mahgoub, W. Al-Marzooqi, Meat quality and composition of longissimus thoracis from Arabian Camel (Camelus dromedaries) and Omani Beef: a comparative study. J. Cam. Sci. 1, 37–47 (2008)

15.

AOAC Official Methods of Analysis (15th ed.). Washington, DC, USA: Association of Official Analytical Chemists. pp. 951–960 (1990)

16.

AOAC Official Methods of Analysis (16th ed.). Washington, DC, USA: Association of Official Analytical Chemists (1995)

17.

B.G. Tarladgis, A.M. Pearson, L. Dugan Jr, Chemistry of the 2- thiobarbituric acid test for determination of oxidative rancidity in foods. II. Formation of the TBA malonaldehyde complex without acid heat treatment. J. Sci. Food Agric. 15, 602–607 (1964)

18.

A.M. Salih, D.M. Smith, J.F. Price, L.E. Dawson, Modified extraction 2- thiobarbituric acid method for measuring lipid oxidation in poultry. J. Poult. Sci. 66, 1483–1488 (1947)

19.

AMSA, Research guidelines for cookery, sensory evaluation and instrumental tenderness measurements of fresh meat. Chicago: American Meat Science Association in cooperation with National Livestock and Meat Board (1995)

20.

M.C. Bourne, Texture profile analysis (p. 72). J. Food Technol. 32, 62–66 (1978)

21.

B.B. Marsh, The basis of tenderness in muscle foods. J. Food Sci. 42, 295–297 (1977)

22.

J. Thompson, Managing meat tenderness. J. Meat Sci. 62, 295–308 (2002)

23.

FAO, Guideline for slaughtering, meat cutting and further processing. Animal production and health paper. Meat as raw material—non meat ingredient and basic techniques in further processing of meat, vol. 91. 48. Rome (1991)

24.

F. Guingnot, Y. Quilichini, M. Renerre, A. Lacourt, G. Morin, Relationship between muscle type and some traits influencing veal colour. J. Sci. Food Agric. 4, 523–529 (1992)

25.

J. Lopez, Quality characteristics of ostrich (Struthio camelus) burgers. J. Meat Sci. 73, 295–303 (2006)

26.

G.A. Ibrahim, I.A. Nour, Physical and chemical properties of camel meat burgers. J. Camelid Sci. 3, 39–43 (2010)

27.

A.S. Fathi-Elrhman, Effect of fat type and packaging method on camel Frankfurter, M.Sc thesis, University of Khartoum 2005

28.

M.A.E. Elsharif, Effect of added camel meat on physicochemical properties of fresh beef sausages. Meat Science Thesis. University of Khartoum 2008

29.

S.A. Babiker, I.M. Tibin, Comparative study of camel meat and beef. Camel research project. Ann. Rep. 1(1), 99–124 (1986)

30.

FAO, Small-scale sausage production. FAO animal production and health paper 52 by Savic I.V (1985)

31.

M. Serdaroglu, O. Degırmencioglu, Effects of fat level (5 %, 10 %, 20 %) and corn flour (0 %, 2 %, 4 %) on some properties of Turkish type meatballs (koefte). J. Meat Sci. 68, 291–296 (2004)

32.

M. Serdaroglu, G. YıldızTurp, K. Abrodımov, Quality of low-fat meatballs containing Legume flours as extenders. J. Meat Sci. 70, 99–105 (2005)

33.

E. Sánchez-Zapata, C.M. Muñoz, E. Fuentes, J. Fernández-López, E. Sendra, E. Sayas, C. Navarro, J.A. Pérez-Alvarez, Effect of tiger nut fibre on quality characteristics of pork burger. J. Meat Sci. 85, 70–76 (2010)

34.

S. Besbes, H. Attia, C. Deroanne, S. Makni, C. Blecker, Partial replacement of meat by pea fibre and wheat fibre: effect on the chemical composition, cooking characteristics and sensory properties of beef burgers. J. Food Qual 31, 480–489 (2008)

35.

M.M. Farouk, W.K. Hall, J.E. Swan, Attributes of beef sausages, batters, patties and restructured roasts from two boning systems. J. Muscle Foods 11, 197–212 (2000)

36.

C.J. Du, D.W. Sun, Correlating shrinkage with yield, water content and texture of pork ham by computer vision. J. Food Process Eng. 28(3), 219–232 (2005)

37.

L. Mayor, A.M. Sereno, Modelling shrinkage during convective drying of food materials: a review. J. Food Eng. 61(3), 373–386 (2004)

38.

W. Al-Qadi, The daily star Egypt. Fifth Business Roundtable with the Government of Egypt Turning Egypt into priority market for international business Cairo (2007)

39.

A.L. Phillips, R. Mancini, Q. Sun, M.P. Lynch, C. Faustman, Effect of erythorvic acid on cooked color in ground beef. J. Meat Sci. 57, 31 (2001)

40.

O.R. Fennema, S.R. Tannenbaum, Introduction to food chemistry, in Food Chem, ed. by O.R. Fennema (Marcel Dekker, New York, 1996), pp. 1–15

41.

M.C. Hunt, J.C. Acton, R.C. Benedict, C.R. Calkins, D.P. Cornforth, L.E. Jeremiah et al., Guidelines for meat color evaluation. In Chicago7 American Meat Science Association and National Live Stock and Meat Board pp. 1–12, (1991)

42.

P.C. Coggins, Attributes of muscle foods: Color texture flavour, in Handbook of Meat, Poultry & Seafood Quality, ed. by L.M.L. Nollet (Blackwell Publishing, Iowa, 2007), pp. 89–97

43.

L.L. Gregg, J.R. Claus, C.R. Hackney, N.G. Marriott, Low-fat, high added water bologna from massaged, minced batter. J. Food Sci. 58, 259–264 (1993)

44.

J.R. Claus, M.C. Hunt, C.L. Kastner, Effects of substituting added water for fat on the textural sensory and processing characteristics of bologna. J. Muscle Foods 1, 1–21 (1989)

45.

P.O. Ahmed, M.F. Miller, C.E. Lyon, H.M. Vaughters, J.O. Reagan, Physical and sensory characteristics of low fat fresh pork sausage processed with various levels of added water. J. Food Sci. 55, 625–628 (1990)

46.

Serdaroglu, M., & SapancıO zsumer, M. Effects of soy protein, whey powder and wheat gluten on quality characteristics of cooked beef sausages formulated with 5%, 10% and 20% fat. Electronic Journal of Polish Agricultural University, Series: j.Food Scie. Technol, 6(2) (2003)

47.

J.G. Bloukas, E.D. Paneras, Quality characteristics of lowfat frankfurters manufactured with potato starch, finely ground toasted bread and rice bran. J. Muscle Foods 7, 109–129 (1996)

48.

J. Carballo, N. Mota, G. Barreto, F. Jimenez-Colmenero, Binding properties and colour of Bologna sausages made with varying fat levels protein levels and cooking temperatures. J. Meat Sci. 41, 301–313 (1995)

49.

A. Yang, G.R. Trout, and B.J. Shay, Evaluation of carrageenan, isolated soy protein and a modified starch in low-fat frankfurters. in Proceedings of the 41st annual international congress of meat science and technology, San Antonio, Texas, USA, 20–25 August, p. 435 (1995)

50.

S. Cofrades, J. Carballo, F. Jimenez-Colmenero, Heating rate effects on high-fat and low-fat frankfurters with a high content of added water. J. Meat Sci. 47, 105–114 (1997)

51.

S.J. Eilert, D.S. Blackmer, R.W. Mandigo, C.R. Calkins, Characteristics of low-fat frankfurters manufactured with modified beef connective tissue. J. Muscle Food 4, 269–289 (1993)

52.

M.K. Youssef, S. Barbut, Effects of two types of soy protein isolates, native and preheated whey protein isolates on emulsified meat batters prepared at different protein levels. J. Meat Sci. 05194, 7 (2010)

53.

J. Park, K.S. Rhee, J.T. Keeton, K.C. Rhee, Properties of low-fat frankfurters containing monounsaturated and omega-3 polyunsaturated oils. J. Food Sci. 54(3), 500–504 (1989)

54.

H.V. Johnson, Water content changes of poultry held in frozen storage as related to patability. Ph.D. thesis lowa state collage, USA 1946

55.

F.G. Detherage, The effect of water and inorganic salts on tendermess. in Proc. 18th Ann. Reciprocal meat confrence. USA. p. 45 (1963)

56.

M. Hunt, O. Sorheim, E. Slinde, Color and heat denaturation of myoglobin forms in ground beef. J. Food Sci. 64, 847 (1999)

57.

B. Berry, R. Joseph, M. Stanfield, Use of electrical stimulation, hot processing and carrageenan for processing low-fat ground beef. J. Meat Sci. 42(1), 111–123 (1996)

58.

E. Troutt, M. Hunt, D. Johnson, J. Claus, C. Kastener, D. Kropf, S. Stroda, Characteristics of low-fat ground beef containing texture-modifying ingredients. J. Food Sci. 57(1), 19–23 (1992)
Ethics declarations
Ethical statements
The manuscript does not contain clinical studies or patient data.
About this article
Cite this article
Heydari, F., Varidi, M.J., Varidi, M. et al. Study on quality characteristics of camel burger and evaluating its stability during frozen storage. Food Measure 10, 148–155 (2016). https://doi.org/10.1007/s11694-015-9288-6
Received:

Accepted:

Published:

Issue Date:
Keywords
Burger

Frozen storage

One-humped camel