Abstract
Tomato fiber pectin (TFP) recovered from tomato pomace was characterized. Application of TFP as a potential fiber source and fat replacer in low-fat beef burger was investigated. The recovery of fiber pectin from tomato pomace was high (83.5 %). Alcohol insoluble solids in TFP were characterized by high protein, fat and carbohydrate contents (32.2, 17.1, and 47.0 %, respectively) whereas ash content was 2.45 %. Leucine was the main amino acid found in TFP (1.46 g/100 g protein). Essential fatty acids represent 58.4 % of total fatty acids with linoleic acid as the most abundant (55.8 %). Swelling capacity of TFP was found to be 4.50 mL/g, water holding capacity was 3.57 mL/g and oil holding capacity was 2.65 mL/g. Beef burger formulated with different fat replacement level of TFP showed decrease in cooking loss and reduction in diameter of burgers was decreased. Samples with fat replacement levels of 12.5 and 25 % of TFP had the highest acceptance. This substitution may reduce the production cost without affecting functional and sensory properties of the product.
This is a preview of subscription content, log in to check access.
Access options
Buy single article
Instant access to the full article PDF.
US$ 39.95
Price includes VAT for USA
Subscribe to journal
Immediate online access to all issues from 2019. Subscription will auto renew annually.
US$ 99
This is the net price. Taxes to be calculated in checkout.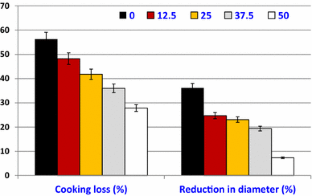 References
1.

FAO, Food and Agriculture Organization of the United Nations, FAOSTAT database (2012), http://www.FAO.Org

2.

M. Fehr, M.D.R. Calcado, D.C. Romao, The basis of a policy for minimizing and recycling food waste. Environ. Sci. Pol. 5, 247–253 (2002)

3.

D.S. Sogi, R. Bhatia, S.K. Garg, A.S. Bawa, Biological evaluation of tomato waste seed meals and protein concentrate. Food Chem. 89, 53–56 (2005)

4.

M. Del Valle, M. Cámara, M.-E. Torija, Chemical characterization of tomato pomace. J. Sci. Food Agric. 86, 1232–1236 (2006)

5.

X. Duan, G. Cheng, E. Yang, C. Yi, N. Ruenroengklin, W. Lu, Modification of pectin polysaccharides during ripening of postharvest banana fruit. Food Chem. 111, 144–149 (2008)

6.

Y. Xin, F. Chen, H. Yang, P. Zhang, Y. Deng, B. Yang, Morphology, profile and role of chelate-soluble pectin on tomato properties during ripening. Food Chem. 121, 372–380 (2010)

7.

AACC, American Association of Cereal Chemical Approved Methods. The American Association of Cereal Chemists, St. Paul, Minnesota, USA (2000)

8.

S. Besbes, H. Attia, C. Deroanne, S. Makni, C. Blecker, Partial replacement of meat by pea fiber and wheat fiber: effect on the chemical composition, cooking characteristics and sensory properties of beef burgers. J. Food Qual. 31, 480–489 (2008)

9.

J. Giese, Fats, oils and fat replacers. Food Technol. 50, 78–83 (1996)

10.

E.S. Troutt, M.C. Hunt, D.E. Johnson, J.R. Claus, C.L. Kastner, D.H. Kropf, Characteristics of low-fat ground beef containing texture-modifying ingredients. J. Food Sci. 57, 19–24 (1992)

11.

S. Turhan, I. Sagir, N.S. Ustun, Utilization of hazelnut pellicle in tow-fat beef burgers. J. Meat Sci. 71, 312–316 (2005)

12.

B. Nowak, T. Von MueTimg, J. Grotheer, G. Klein, B.M. Watkinson, Energy content, sensory properties and microbiological shelf life of German bologna type sausages produced with citrate or phosphate and with inulin as fat replacer. J. Food Sci. 72, 629–638 (2007)

13.

H. Siliha, Effect of method of extraction and raw material on the quality of lime pectin. Alex. Sci. Exch. 14, 539 (1993)

14.

AOAC, Official Methods of Analysis of Association of Official Analytical Chemists. Published by the A.O.A.C International 17th CD, Washington, D.C. (2000)

15.

L. Simon-Sarkadi, W. Holzapfel, Determination of biogenic amines in leafy vegetables by amino acid analyser. Zeitschrift für Lebensmittel Untersuchung und-Forschung A 198, 220–233 (1994)

16.

E. Csomos, L. Simon-Sarkadi, Characterisation of Tokaj wines based on free amino acid and biogenic amine using ion-exchange chromatography. Chromatographia 56, 185–188 (2002)

17.

M. Arens, E. Schulte, K. Weber, Fettsäuremethylester, Umesterung mit Trimethylsulfoniumhydroxid (Schnellverfahren). Fat Sci. Technol. 96, 67–68 (1994)

18.

M.C. Garau, S. Simal, C. Rosselló, A. Femenia, Effect of air-drying temperature on physicochemical properties of dietary fibre and antioxidant capacity of orange (Citrus aurantium v. Canoneta) by-products. Food Chem. 104, 1014–1024 (2007)

19.

C.-F. Chau, Y.-L. Huang, Comparison of the chemical composition and physicochemical properties of different fibers prepared from the peel of Citrus sinensis L. cv. Liucheng. J. Agric. Food Chem. 51, 2615–2618 (2003)

20.

E.H. Mansour, A.H. Khalil, Characteristics of low fat beef burgers as influenced by various types of wheat fibers. Food Res. Int. 30, 199–205 (1997)

21.

A.M.B.A. Sulieman, Studies on Food Wastes. Ph.D. Thesis. Food Technology, Faculty of Agriculture, Zagazig Universilty, Egypt (2000)

22.

D. May, Industrial pectin, source, production and applications. Carbohydr. Polym. 12, 79–99 (1990)

23.

P.J. Reeds, Dispensable and indispensable amino acids for humans. J. Nutr. 130, 1835S–1840S (2000)

24.

P. Fürst, P. Stehle, What are the essential elements needed for the determination of amino acid requirements in humans? J. Nutr. 134, 1558S–1565S (2004)

25.

L. Bagnasco, M. Elisabetta Cosulich, G. Speranza, L. Medini, P. Oliveri, S. Lanteri, Application of a voltammetric electronic tongue and near infrared spectroscopy for a rapid umami taste assessment. Food Chem. 157, 421–428 (2014)

26.

A.M. Gafer, Chemical and Technological Studies on Preparing Edible Protein Product from Citrus Seeds. M.Sc. Thesis, Faculty of Agriculture, Menofiya University, Shibin El-Kom, Egypt (1995)

27.

S.H.M. Moussa, Utilization of Some Agricultural Wastes, Ph.D. Thesis, Faculty of Agriculture, Menufia University, Egypt (1990)

28.

J.E.M. Ferrao, A.M.B.C. Ferrao, M.T.S. Patricio, Tomato by-products. Fat in tomato seeds and carotenoids in tomato skins. Boletim-Instituto-do-Azeite-e-Productos-Oleaginosos 13, 41–60 (1986)

29.

R. Cantarelli, M. Regitano-d'Arce, E.R. Palma, Physicochemical characteristics and fatty acid composition of tomato seed oils from processing wastes. Sci. Agric. Piracicaba Braz. 50, 117–120 (1993)

30.

F. Badr, S. Abou El-Maati, S.E. El-Namer, Evaluation of some agricultural wastes as unconventional sources for oil production in Egypt. Ann. Agric. Sci. Moshtohor. 32, 111–117 (1994)

31.

M.H.A.S. El-Din, M.M.A. El-Kader, Chemical and biological evaluation of tomato processing wastes. Egypt. J. Food Sci. 25, 151–162 (1997)

32.

F. Figuerola, M.L. Hurtado, A.M. Estevez, I. Chiffelle, F. Asenjo, Fibre concentrates from apple pomace and citrus peel as potential fibre sources for food enrichment. Food Chem. 91, 395–401 (2005)

33.

J.L. Slavin, Dietary fiber and body weight. Nutrition 21, 411–418 (2005)

34.

H. Siliha, K. El-Sahy, A. Sulieman, R. Carle, A. El-Badawi, Citrus wastes: composition, functional properties and utilization. Obst-Gemuese und Kartoffelverarbeitung 85, 31–36 (2000)

35.

Y. Kun, U.S. Lule, D. Xiao-Lin, Lycopene: its properties and relationship to human health. Food Rev. Int. 22, 309–333 (2006)

36.

C.M. Rossell, J.A. Rojas, C. De Barber, Influence of hydrocolloïds in dough rheology and bread quality. Food Hydrocoll. 15, 75–82 (2001)

37.

N. Grigelmo-Miguel, M. Abadias-Seros, O. Martinbelloso, Characterisation of low-fat high dietary fiber frankfurters. Meat Sci. 52, 247–256 (1999)

38.

E. Hughes, S. Cofrades, D.J. Troy, Effects of fat level, oat fibre and carrageenan on frankfurters formulated with 5, 12 and 30% fat. Meat Sci. 45, 273–281 (1997)

39.

M.L. Garcia, R. Dominguez, M.Z. Galvez, C. Casas, M.D. Selgas, Utilization of cereal and fruit fibers in low fat dry fermented sausages. J. Meat Sci. 60, 227–236 (2002)

40.

E.T. Anderson, B.W. Berry, Effects of inner pea fiber on fat retention and cooking yield in high fat ground beef. Food Res. Int. 34, 689–694 (2001)

41.

I. Yilmaz, Effects of rye bran addition on fatty acid composition and quality characteristics of low-fat meatballs. J. Meat Sci. 67, 245–249 (2003)

42.

D.J. Troy, E.M. Desmond, D.J. Buckley, Eating quality of low-fat beef burgers containing fat-replacing functional blends. J. Food Sci. Agric. 79, 507–516 (1999)
Conflict of interest
None.
Compliance with Ethics Requirements
This article does not contain any studies with human or animal subjects.
About this article
Cite this article
Namir, M., Siliha, H. & Ramadan, M.F. Fiber pectin from tomato pomace: characteristics, functional properties and application in low-fat beef burger. Food Measure 9, 305–312 (2015). https://doi.org/10.1007/s11694-015-9236-5
Received:

Accepted:

Published:

Issue Date:
Keywords
Processing wastes

Lycopersicon esculentum

Novel foods

Meat products