Humeral bone grafting in stemless shoulder arthroplasty
Open Access
Technical Note
Humerale autologe Graftaugmentation im Rahmen der schaftfreien Schulterendoprothetik
Background
Stemless shoulder arthroplasty with metaphyseal fixation of the humeral component is increasingly used in the treatment of primary or secondary osteoarthritis, achieving significant pain relief and improving both range of motion and patient satisfaction [
1
,
4
,
6
]. The major advantages of the stemless humeral design are preservation of humeral bone stock, anatomical reconstruction regardless of humeral malalignment, fewer stem-related complications, and ease of revision [
2
]. Hawi et al. recently showed good long-term clinical and radiological outcomes with a revision rate of approximately 7% without humeral implant-related complications [
6
]. Currently, poor bone quality, including osteoporosis or metaphyseal cystic changes, is described to be a contraindication for stemless shoulder prostheses [
5
]. Thus, it is generally recommended to switch to a stemmed prosthesis to provide bone ingrowth and primary stability. The purpose of the following technique is to embrace the advantages of the stemless design when treating severe primary or secondary osteoarthritis, even in the presence of a large humeral bone defect, using the Eclipse prosthesis (Arthrex, Naples, FL, USA) combined with a humeral autograft (Fig. 
1
a–d).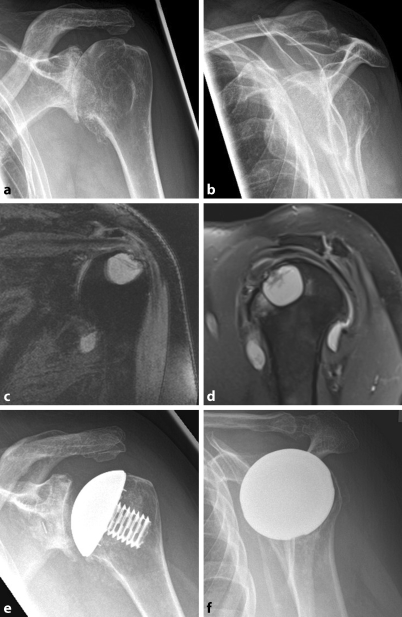 Discussion
The main concern regarding the metaphyseal fixation of the humeral stemless components is poor bone quality due to osteoporosis, osteopenia, or metabolic bone diseases. The second major problem is the presence of a bone defect in the proximal humerus such as a subchondral cyst formation, which may be found in many articular diseases [7]. In those cases, a stemmed prosthesis is currently a viable option to utilize diaphyseal fixation and enable primary implant stability, even though several stem-related complications have been reported, including intraoperative humeral fractures and postoperative stress-shielding, stem loosening, or osteolysis [8].
Among the various stemless humeral prostheses available to treat primary and secondary osteoarthritis, the Eclipse prosthesis is the only stemless system providing metaphyseal fixation by a fully threaded cylindrical central cage screw. Compared to the prostheses which are implanted using an impaction technique, the screw-in application is thought to be more bone preserving and leads to excellent compression of the autograft into the metaphysis.
Our technique represents a reliable option when treating patients with osteoarthritis in combination with a significant metaphyseal humeral bone defect using a stemless humeral prosthesis, together with a readily available humeral autograft.
Notes
Compliance with ethical guidelines
Conflict of interest
F. Plachel declares that he has no competing interests. M. Scheibel is an advisor at Arthrex.
All procedures followed were in accordance with the ethical standards of the responsible committee on human experimentation (institutional and national) and with the Helsinki Declaration of 1975 (in its most recently amended version). Informed consent was obtained from all individual participants included in the study.
Supplementary material
Humeral bone grafting in stemless shoulder arthroplasty
Copyright information
© The Author(s) 2017
Open Access. This article is distributed under the terms of the Creative Commons Attribution 4.0 International License (http://creativecommons.org/licenses/by/4.0/), which permits unrestricted use, distribution, and reproduction in any medium, provided you give appropriate credit to the original author(s) and the source, provide a link to the Creative Commons license, and indicate if changes were made.