This is a preview of subscription content, log in to check access.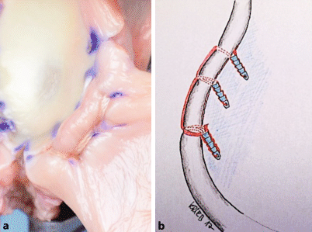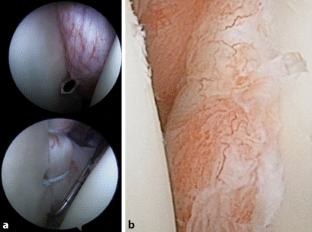 Literatur
1.

Cole BJ, Romeo AA (2001) Arthroscopic shoulder stabilization with suture anchors: technique, technology, and pitfalls. Clin Orthop Relat Res 390:17–30

2.

van der Linde JA, van Kampen DA, Terwee CB, Dijksman LM, Kleinjan G, Willems WJ (2011) Long-term results after arthroscopic shoulder stabilization using suture anchors: an 8‑ to 10-year follow-up. Am J Sports Med 39(11):2396–2403

3.

Mohtadi NG, Chan DS (2014) A randomized clinical trial comparing open and arthroscopic stabilization for recurrent traumatic anterior shoulder instability: two-year follow-up with disease-specific quality-of-life outcomes. J Bone Joint Surg Am 96(5):353–360

4.

Fehringer EV, Schmidt GR, Boorman RS, Churchill S, Smith KL, Norman AG, Sidles JA, Matsen FA 3rd (2003) The anteroinferior labrum helps center the humeral head on the glenoid. J Shoulder Elbow Surg 12(1):53–58

5.

Lazarus MD, Sidles JA, Harryman DT II, Matsen FA III (1996) Effect of a chondral-labral defect on glenoid concavity and glenohumeral stability. A cadaveric model. J Bone Joint Surg Am 78:94–102
Ethics declarations
Interessenkonflikt
R.C. Ostermann ist Berater der Firma Arthrex. P. Heuberer ist Berater der Firma Arthrex.
Dieser Beitrag beinhaltet keine von den Autoren durchgeführten Studien an Menschen oder Tieren.
Caption Electronic Supplementary Material
"Die "Labral Bridge"-Technik – eine neue arthroskopische Technik zur anatomischen knotenlosen Versorgung der vorderen Schulterinstabilität". Video mit freundl. Genehmigung von R.C. Ostermann, St. Vincent Schulter- und Sportklinik, Wien 2017, all rights reserved.
About this article
Cite this article
Ostermann, R.C., Heuberer, P. Die "Labral-Bridge"-Technik. Obere Extremität 12, 119–121 (2017). https://doi.org/10.1007/s11678-017-0412-6