Abstract
In Ethiopia, Cupressus lusitanica and Juniperus procera are important tree species. The incidence of the cypress aphid, Cinara cupressi, which has not been reported before on the exotic Cupressus lusitanica is becoming catastrophic. The appearance of the insect was reported for the first time in 2003 in Ethiopia. However, information is scarce on the status of this species in northeast Amhara state. The objectives of this study were to assess the extent of damage, abundance and status of the cypress aphid on C. lusitanica and J. procera in the protected and cultivated forests of South Wollo, Ethiopia. Results reveal that tree compositions of the three study areas differed. The dominant tree species were C. lucitanica (15–80%), Olea europaea (5–90%) and J. procera (14–70%). The cypress aphid showed significantly higher levels of infestation on C. lusitanica (35–90%) than on J. procera (1–16%). Moreover, there was higher C. lusitanica mortality (40–93%). In contrast, there was low infestation (1–16%) on J. procera and no mortality. The results reveal that the cypress aphid causes enormous losses of C. lusitanica. Therefore, it is recommended that insect surveillance be strengthened and the introduction bioagents be considered and integrated with other insecticides to minimize the degree of C. lusitanica infestation and loss.
This is a preview of subscription content, log in to check access.
Access options
Buy single article
Instant access to the full article PDF.
US$ 39.95
Price includes VAT for USA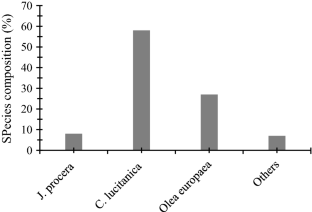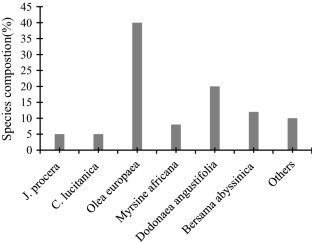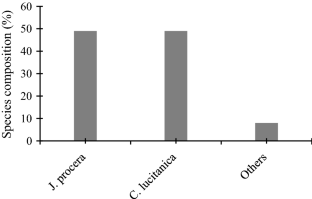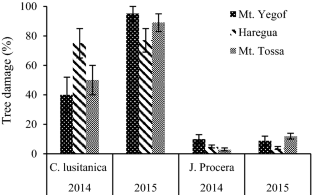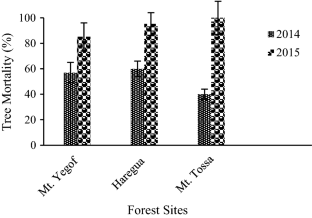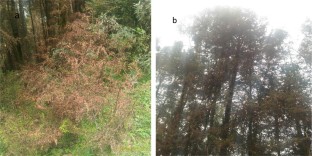 References
Alleck M, Seewooruthun SI, Ramlugun D (2005) Cypress aphid status in Mauritius and trial releases of Pauesiajuniperunum (hymenoptera: Braconidae), a promising bio-control agent. Food Agric Res Counc Maurit 81:313–321

Baldini A, Aguayo J (2005) Global invasive species database: Cinara cuppressivora. National biological informational infrastructure [http://www.issg.org]. Accessed 24 Feb 2014

CABI (2005) Crop Protection Compendium CD-ROM

Chilima CZ (1991) The status and development of conifer aphid damage in Malawi. In: Proceedings of the exotic aphid pests of conifer Muguga. FAO, Rome, 1991

Chilima CZ (1995) Cypress aphid control: first African release of Pauesia juniperorum. FRIM Newsletter (Forestry Research Institute of Malawi), no. 74:2

Ciesla WM (1991) Cypress aphid. A new threat to African's forest. FAO Plant Prot Bull 39(42):82–93

Ciesla WM (2003) Cinara cupressivora. NAFC-Exfor pest report. www.spfnic.fs.fed.us/exfor/data/pestreport.cfm?pestidval=161&langdisplay=EnglishSite. Accessed 23 July 2017

Day RK, Kairo MTK, Abraham Y, Kfir R, Murphy ST, Mutitu KE, Chilima CZ (2003) Biological control of homopteran pests of conifers in Africa. In: Neuenschwander P, Borgemeister C, Langewald J (eds) Biological control in IPM systems in Africa. CAB International, Wallingford, pp 101–112

FAO (2011) [Food and Agriculture Organization of the United Nations] Cypress aphid control in Ethiopia. FAO Sub Regional Office for Eastern Africa, Addis Ababa

Kairo MT, Murphy ST (2005) Comparative studies on populations of Pauesia juniperorum (Hymenoptera: Braconidae), a biological control agent for Cinara cupressivora (Hemiptera: Aphididae). Bul Entom Res 6:597–603

Madoffe SS, Day R (1996) Plantation forest insect pests in Eastern Africa: present status and management options. In: Chamshama SAO, Iddi S (eds) Proceedings of the management of forest plantations in Tanzania, 4–8 September 1995, Arusha, Tanzania, pp 99–108

Million B (2011) Forest plantations and woodlots in Ethiopia. Afr For Forum Work Pap Ser 1(12):56

Montalva C, Rojas E, Ruiz C, Lanfranco D (2010) The cypress aphid in Chile: a review of the current situation and preliminary data of the biological control. Bosque 31(2):81–88

Murphy ST, Nair KSS, Sharma JK (1996) Status and impact of invasive conifer aphid pests in Africa. In: Varma RV (ed) Impact of diseases and insect pests in tropical forests. Proceedings of the IUFRO Symposium, Peechi, India, 23–26 November 1993. Kerala Forest Research Institute (KFRI), Peechi, India, pp 289–297

Orondo SBO, Day RK (1994) Cypress aphid (Cinara cupressi) damage to a cypress (Cupressus lusitanica) stand in Kenya. Int J Pest Mag 40(02):141–144

Remaudiere G, Binazzi A (2003) Les Cinara du Pakistan. II. Le sous-genre Cupressobium (Hemiptera, Aphidinae, Lachninae). Revue francaise d'entomologie 25(2):85–96

Watson GW, Voegtlin DJ, Murphy ST, Foottit RG (1999) Biogeography of the Cinara cupressi complex (Hemiptera: Aphididae) on Cupressaceae, with description of a pest species introduced into Africa. Bull Entom Res 89(03):271–283
Acknowledgements
The author thanks the South Wollo and Dessie city agriculture offices for providing information on the forest areas and encouraging this research. Wollo University is highly appreciated for support of the field work.
Additional information
Project funding: This work was financially supported by Wollo University, Ethiopia.
The online version is available at http://www.springerlink.com
Corresponding editor: Chai Ruihai.
About this article
Cite this article
Demeke, A.D. Status of cypress aphid on Cupressus lusitanica and Juniperus procera in protected and cultivated forests of South Wollo, Ethiopia. J. For. Res. 31, 333–337 (2020). https://doi.org/10.1007/s11676-018-0819-y
Received:

Accepted:

Published:

Issue Date:
Keywords
Aphididae

Cupressus lusitanica
Cinara cupressi
Juniperus procera