Be-Si (Beryllium-Silicon)
Supplemental Literature Review
Keywords
Experimental Data 
Mass Transfer 
Phase Diagram 
Phase Boundary 
Boundary Data 
These keywords were added by machine and not by the authors. This process is experimental and the keywords may be updated as the learning algorithm improves.
The Be-Si phase diagram in [Massalski2] was adopted from [1988Oka]. Phase boundaries were mostly speculative due to uncertainty in the experimental data.
Figure 
1
shows the Be-Si phase diagram thermodynamically assessed by [
2005Pan
] based on experimental phase boundary data published later by [
2006Pan
].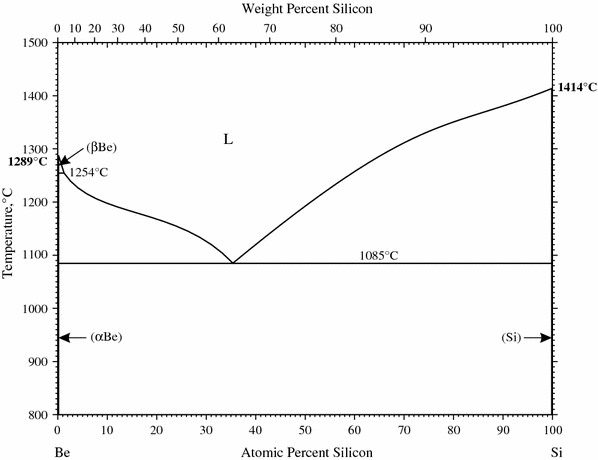 References
1988Oka.

H. Okamoto and L.E. Tanner, The Be-Si (Beryllium-Silicon) System,

Phase Diagrams of Binary Beryllium Alloys

, H. Okamoto and L.E. Tanner, Eds., ASM International, Materials Park, OH, 1988, p 186-188

Google Scholar

2005Pan.

Z. Pan, Y. Du, and B. Huang, "Experimental Investigation and Thermodynamic Calculation in the Al-Be-Si Ternary System," Z. Metallkd., 2005, 96(11), p. 1301-1307

Google Scholar

2006Pan.

Z. Pan, Y. Du, B. Huang, H. Xu, Y. Liu, H. Chan, and W. Xiong, "Experimental Study of the Be-Si Phase Diagram," J. Mater. Sci., 2006, 41, p. 2525-2528

CrossRef

Google Scholar