Bluehill 3 Materials Testing Software Integrated with TrendTracker Results Management
Instron has released the latest version of
Bluehill 3 Materials Testing Software, v3.31.
This version integrates Bluehill 3 with Instron's TrendTracker software for results management using powerful database archiving and search capabilities. It also offers features for improved control and data acquisition, simplified testing workflows, and new results visualization options.
Version 3.31 provides seamless connectivity with Eurotherm controlled environment chambers and high-temperature furnaces, and new application test methods. These features specifically make it easier to set up, run, and analyze advanced tests in the areas of metals, composites, and plastics.

TrendTracker plugin for Bluehill automatically exports Bluehill results to the TrendTracker database at the end of the test. The plugin includes a Batch Export feature that migrates years of existing Bluehill 2 and Bluehill 3 results into the database, making the data searchable overnight.

New 5900 Advanced Performance Option extends data rates up to 2.5 kHz and 0.5% load cell accuracy up to an industry-leading 1/1000th of the load cell capacity. Automatic strain rate control adapts to system compliance on the fly and simplifies the test setup workflow for standards such as ISO 6892.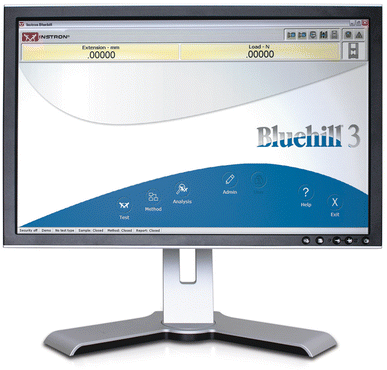 For more information: Instron Worldwide Headquarters, 825 University Ave., Norwood, MA 02062-2643; tel: 800/877-6674 or 781/828-2500 (Outside the U.S.); web: www.instron.us/wa/product/Whats-new-in-Bluehill-Testing-Software.aspx.