Abstract
Cervical cancer is among the most prevalent malignancies for women. An increasing number of evidences have been proved that long non-coding RNAs (lncRNAs) play significant role in the initiation and progression of cervical cancer. However, the function of long intergenic non-protein coding RNA 319 (LINC00319) in cervical cancer still remains vague. In this study, our purpose was to investigate the effects of LINC00319 on cell migration, invasion and epithelial-mesenchymal transition (EMT) process in cervical cancer. It confirmed that LINC00319 was highly expressed in tissues and cell lines in cervical cancer. Further, overexpression of LINC00319 accelerates cell migration, invasion and EMT in cervical cancer. Moreover, LINC00319 could bind with miR-3127-5p and negatively regulated its expression. Besides, RPP25 was targeted by miR-3127-5p, and its expression was negatively/positively regulated by miR-3127-5p/LINC00319. Additionally, miR-3127-5p mimics or RPP25 insufficiency could offset the encouraging effects of LINC00319 overexpression on migration, invasion and EMT process in cervical cancer. Generally speaking, LINC00319 promotes migration, invasion and EMT process in cervical cancer by regulating miR-3127-5p/RPP25 axis, which may be conductive to cervical cancer treatment.
This is a preview of subscription content, log in to check access.
Access options
Buy single article
Instant unlimited access to the full article PDF.
US$ 39.95
Price includes VAT for USA
Subscribe to journal
Immediate online access to all issues from 2019. Subscription will auto renew annually.
US$ 99
This is the net price. Taxes to be calculated in checkout.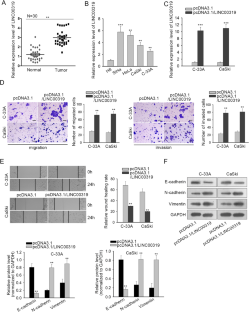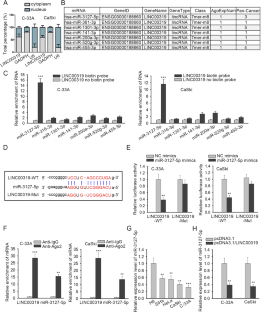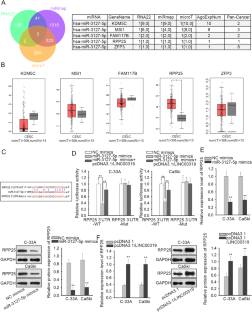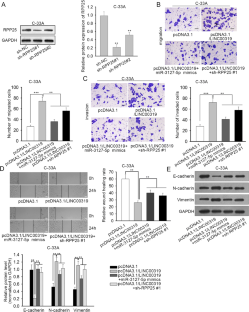 References
Derks M, van der Velden J, de Kroon CD, Nijman HW, van Lonkhuijzen L, van der Zee AGJ, Zwinderman AH, Kenter GG (2018) Surgical treatment of early-stage cervical Cancer: a multi-institution experience in 2124 cases in the Netherlands over a 30-year period. Int J Gynecol Cancer 28:757–763

Du W, Feng Z, Sun Q (2018) LncRNA LINC00319 accelerates ovarian cancer progression through miR-423-5p/NACC1 pathway. Biochem Biophys Res Commun 507:198–202

Hou Z, Zhao W, Zhou J, Shen L, Zhan P, Xu C, Chang C, Bi H, Zou J, Yao X, Huang R, Yu L, Yan J (2014) A long noncoding RNA Sox2ot regulates lung cancer cell proliferation and is a prognostic indicator of poor survival. Int J Biochem Cell Biol 53:380–388

Hu Y, Sun X, Mao C, Guo G, Ye S, Xu J, Zou R, Chen J, Wang L, Duan P, Xue X (2017) Upregulation of long noncoding RNA TUG1 promotes cervical cancer cell proliferation and migration. Cancer Med 6:471–482

Jiao F, Hu H, Yuan C, Wang L, Jiang W, Jin Z, Guo Z, Wang L (2014) Elevated expression level of long noncoding RNA MALAT-1 facilitates cell growth, migration and invasion in pancreatic cancer. Oncol Rep 32:2485–2492

Kim JJ, Campos NG, Sy S, Burger EA, Cuzick J, Castle PE, Hunt WC, Waxman A, Wheeler CM (2015) Inefficiencies and high-value improvements in U.S. cervical Cancer screening practice: a cost-effectiveness analysis. Ann Intern Med 163:589–597

Lahue BJ, Baginska E, Li SS, Parisi M (2015) Health technology assessment on cervical cancer screening, 2000-2014. Int J Technol Assess Health Care 31:171–180

Li H, Wang X, Wen C, Huo Z, Wang W, Zhan Q, Cheng D, Chen H, Deng X, Peng C, Shen B (2017) Long noncoding RNA NORAD, a novel competing endogenous RNA, enhances the hypoxia-induced epithelial-mesenchymal transition to promote metastasis in pancreatic cancer. Mol Cancer 16:169

Li M, Huo X, Davuljigari CB, Dai Q, Xu X (2019a) MicroRNAs and their role in environmental chemical carcinogenesis. Environ Geochem Health 41:225–247

Li X, Zhang H, Wu X (2019b) Long noncoding RNA DLX6-AS1 accelerates the glioma carcinogenesis by competing endogenous sponging miR-197-5p to relieve E2F1. Gene 686:1–7

Lv Y, Li H, Li F, Liu P, Zhao X (2017) Long noncoding RNA MNX1-AS1 knockdown inhibits cell proliferation and migration in ovarian Cancer. Cancer Biother Radiopharm 32:91–99

Meijer CJ, Snijders PJ (2014) Cervical cancer in 2013: screening comes of age and treatment progress continues. Nat Rev Clin Oncol 11:77–78

Morris E, Roett MA (2015) Genital cancers in women: cervical cancer. FP Essent 438:18–23

Pimple S, Mishra G, Shastri S (2016) Global strategies for cervical cancer prevention. Curr Opin Obstet Gynecol 28:4–10

Shrestha AD, Neupane D, Vedsted P, Kallestrup P (2018) Cervical Cancer prevalence, incidence and mortality in low and middle income countries: a systematic review. Asian Pac J Cancer Prev 19:319–324

Smith RA, Brooks D, Cokkinides V, Saslow D, Brawley OW (2013) Cancer screening in the United States, 2013: a review of current American Cancer Society guidelines, current issues in cancer screening, and new guidance on cervical cancer screening and lung cancer screening. CA Cancer J Clin 63:88–105

Song P, Yin SC (2019) Long non-coding RNA 319 facilitates nasopharyngeal carcinoma carcinogenesis through regulation of miR-1207-5p/KLF12 axis. Gene 680:51–58

Su W, Xu M, Chen X, Chen N, Gong J, Nie L, Li L, Li X, Zhang M, Zhou Q (2017) Long noncoding RNA ZEB1-AS1 epigenetically regulates the expressions of ZEB1 and downstream molecules in prostate cancer. Mol Cancer 16:142

Wang F, Zu Y, Zhu S, Yang Y, Huang W, Xie H, Li G (2018) Long noncoding RNA MAGI2-AS3 regulates CCDC19 expression by sponging miR-15b-5p and suppresses bladder cancer progression. Biochem Biophys Res Commun 507:231–235

Wang X, Li M, Wang Z, Han S, Tang X, Ge Y, Zhou L, Zhou C, Yuan Q, Yang M (2015) Silencing of long noncoding RNA MALAT1 by miR-101 and miR-217 inhibits proliferation, migration, and invasion of esophageal squamous cell carcinoma cells. J Biol Chem 290:3925–3935

Wu X, Zhang P, Zhu H, Li S, Chen X, Shi L (2017) Long noncoding RNA FEZF1-AS1 indicates a poor prognosis of gastric cancer and promotes tumorigenesis via activation of Wnt signaling pathway. Biomed Pharmacother 96:1103–1108

Wu X, Zheng Y, Han B, Dong X (2018) Long noncoding RNA BLACAT1 modulates ABCB1 to promote oxaliplatin resistance of gastric cancer via sponging miR-361. Biomed Pharmacother 99:832–838

Xiaoguang Z, Meirong L, Jingjing Z, Ruishen Z, Qing Z, Xiaofeng T (2017) Long noncoding RNA CPS1-IT1 suppresses cell proliferation and metastasis in human lung Cancer. Oncol Res 25:373–380

Yang L, Xue Y, Liu J, Zhuang J, Shen L, Shen B, Yan J, Guo H (2017) Long noncoding RNA ASAP1-IT1 promotes cancer stemness and predicts a poor prognosis in patients with bladder cancer. Neoplasma 64:847–855

Zhou W, Tao Z, Wang Z, Hu W, Shen M, Zhou L, Wen Z, Yu Z, Wu X, Huang K, Hu Y, Lin X (2014) Long noncoding RNA PCA3 gene promoter region is related to the risk of prostate cancer on Chinese males. Exp Mol Pathol 97:550–553

Zhuang M, Gao W, Xu J, Wang P, Shu Y (2014) The long non-coding RNA H19-derived miR-675 modulates human gastric cancer cell proliferation by targeting tumor suppressor RUNX1. Biochem Biophys Res Commun 448:315–322
Acknowledgements
We appreciate the technical supports of laboratory members.
Funding information
This project was supported by Young Medical Talents of Jiangsu Province (QNRC2016243). Maternal and Child Health Research Project of Jiangsu Province (F201680).
Ethics declarations
Conflict of interest
Authors declare no conflicts of interest in this study.
About this article
Cite this article
Yang, J., Hou, S. & Liang, B. LINC00319 promotes migration, invasion and epithelial-mesenchymal transition process in cervical cancer by regulating miR-3127-5p/RPP25 axis. In Vitro Cell.Dev.Biol.-Animal (2020) doi:10.1007/s11626-019-00425-5
Received:

Accepted:

Published:
Keywords
Cervical cancer

LINC00319

miR-3127-5p

RPP25